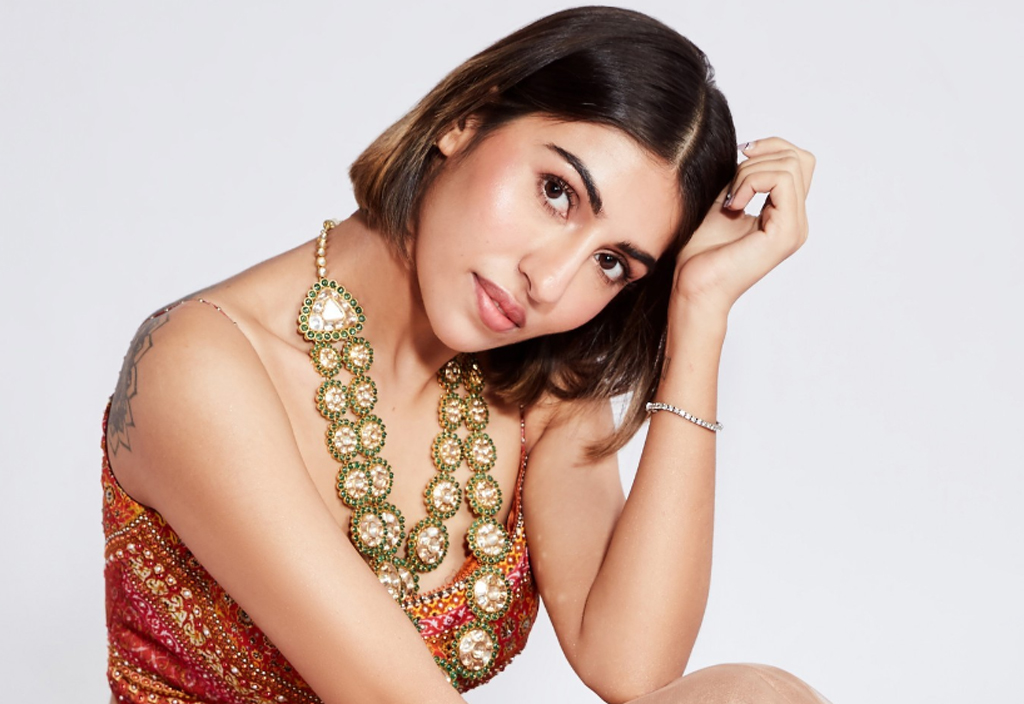 Wedding Jewellery Sneak Peek – Rose's Latest Bridal Collection That You'll Fall in Love With!
A majority of brides today choose between the sultry Sultana look and the more dainty princess vibe when selecting their wedding jewellery. While both looks are great, the powerful young women of today don't shy away from bold choices reminiscent of a warrior queen.
Rose creates dazzling, diamond masterpieces, and also caters to these vivacious women with pride. Hence the birth of the Jadau Collection to create gorgeously regal jewellery sets for weddings. This bridal jewellery collection is an ode to exquisite Indian craftsmanship, inherited over generations and mastered over time. Resplendent with the glory of the Mughal Era, these pieces are embedded with precious gemstones and uncut diamonds into gold. Finished with splendid 'meenakari' enamel work at the back, it is a must-have for every discerning bride.
Emerald Chandbala Set
With their Mughal roots and Rajput patronage, the Chandbalis have been an ode to the crescent moon set in uncut diamonds and gold. Our homage to this age-old design is this wedding set, visualized by the creative genius, BeeVee and brought to life by especially skilled craftsmen who are steeped in the Jadau tradition. Ovoid emerald beads dazzlingly dangle from the chandbala motifs set in yellow gold and studded with uncut diamonds to create a youthful choker and long earrings. This set can be worn to stunning effect with almost any bridal lehnga and can be paired with a long necklace for a more dramatic effect.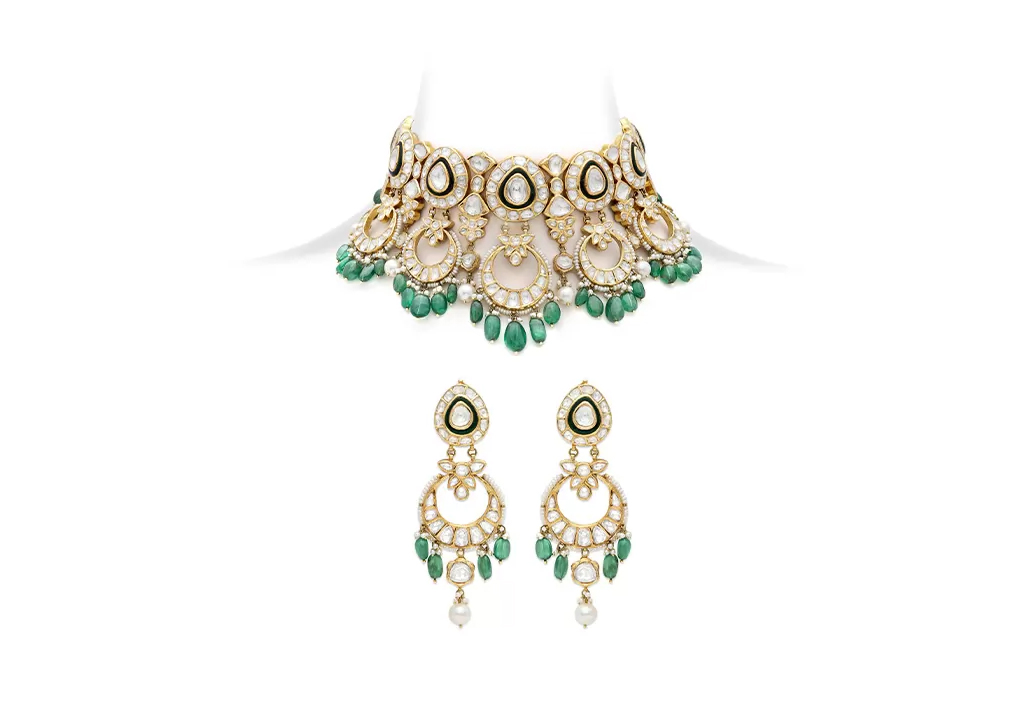 Chaand Haseen Jadau Set
Wedding jewellery is never complete without a long vilandi necklace. Radiating the bright glow of the moon, this bespoke jewel completes the bridal look with bold grace. Pair it with the Emerald Chandbala Necklace or wear it on its own to dazzle your already besotted groom and all those bearing witness to your vows. The accompanying jhumkis dance at the ear in a merry trance, hypnotizing with their frolicky movements. Full moon-like motifs of uncut diamonds and gold in the necklace, are surrounded by deep-hued Emerald beads, creating two V-shaped strands of beauty and fullness.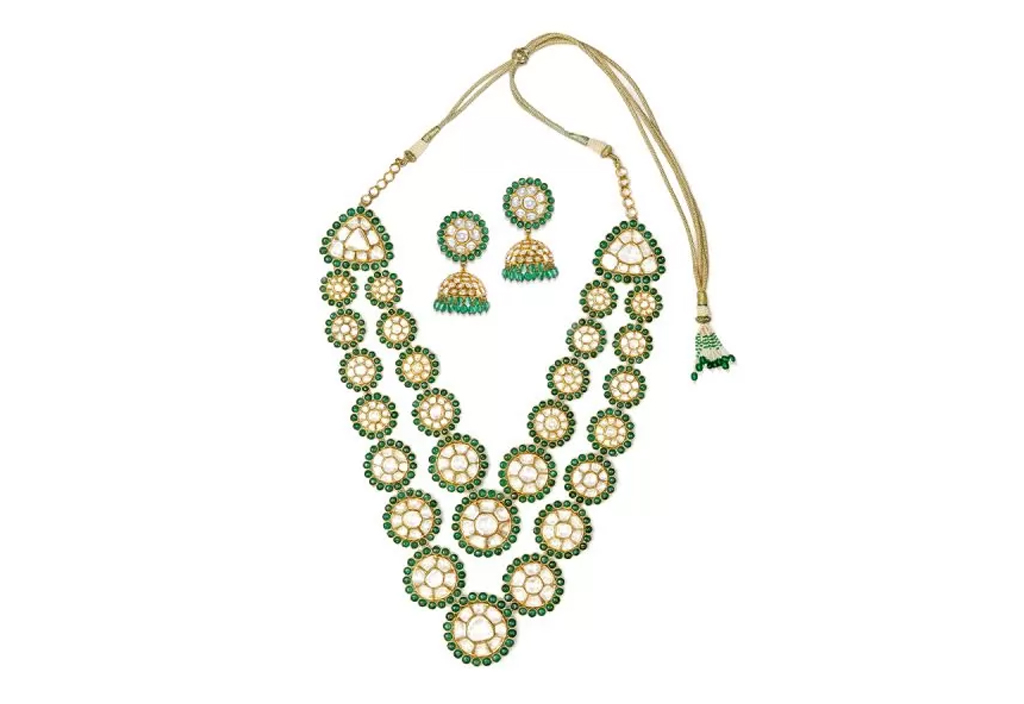 Emerald Jadau Bracelet
Wedding sets are not purely about necklaces and earrings, bracelets are a prominent part of the look as well. Jadau bracelets have a subtle delicacy that only a truly appreciative wearer understands when looking beyond the sizable gemstones. This loose bracelet has three rows of vilandis set in 18K gold-bearing emerald ovoids that astound with their intensity. The bracelet covers a good portion of the wrist with its glorious form, giving a truly bridal look on your wedding day. This enchanting piece can easily be worn for various festivities after the big day as well, it and pairs well with most other vilandi jewellery sets.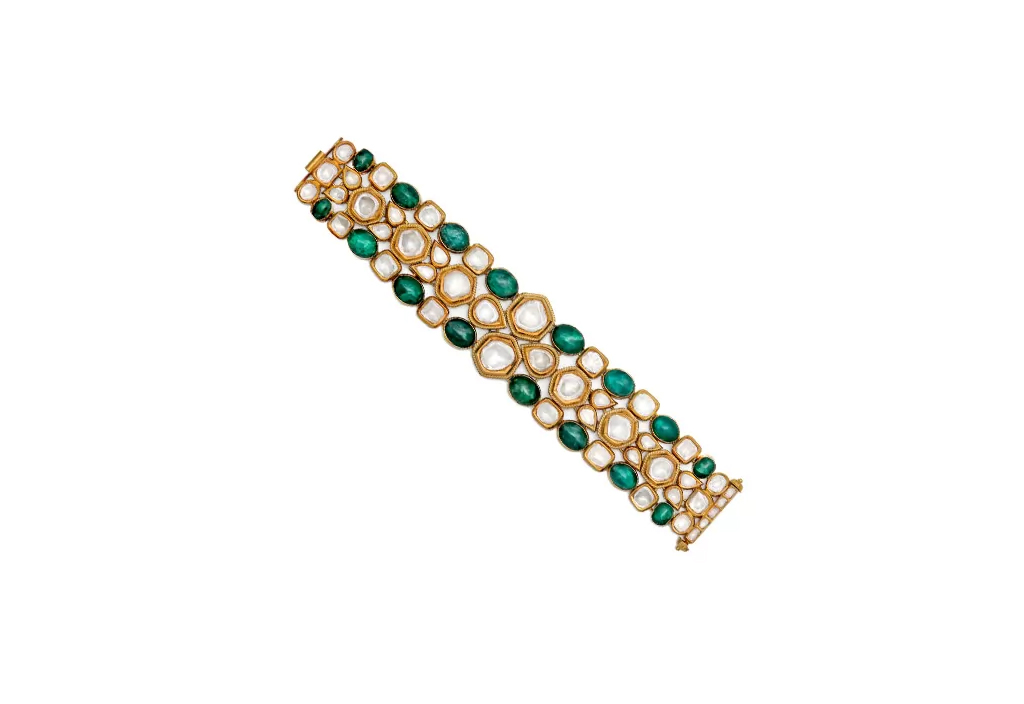 Scarlet Peony Jadau Set
A lace-like jaal of floral motifs is accentuated with peony-hued ruby and vilandi drops to drape gracefully around the neck in its mesh-like glory. These heightened, dome-like drops contrast well with the flattened look of the flower buds. The earrings have three vilandi flowers in graduating sizes culminating in the signature ruby and vilandi drops to create a scintillating effect. This unique wedding set is all a bride needs to match her bridal regalia. The deep red of the rubies contrasts well with pastel ensembles or strikingly complements your jewel tones.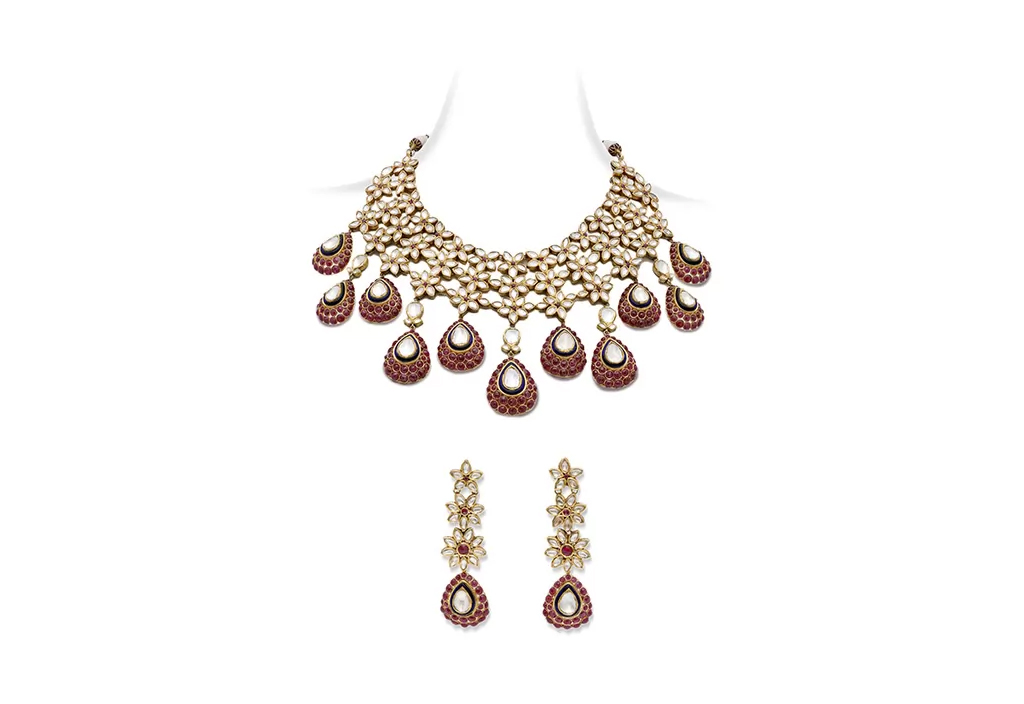 Russian Emerald Jadau Set
This Jadau bridal set is a truly mesmerizing addition to your wedding look. The pale beauty of pastel-toned Russian emeralds arrests the attention where other jewel tones may fail. There is an unexpected symphony that is created between the pale emeralds, the deep flourishes of green enamel amidst a matte white, and the scintillating brightness of uncut diamonds set in 18K gold with a smattering of freshwater pearls. The central square piece flaunts meenakari craftsmanship and earns the pride of place with its wondrous beauty. This wedding set works well with most outfits and is not restrictive in its wearability.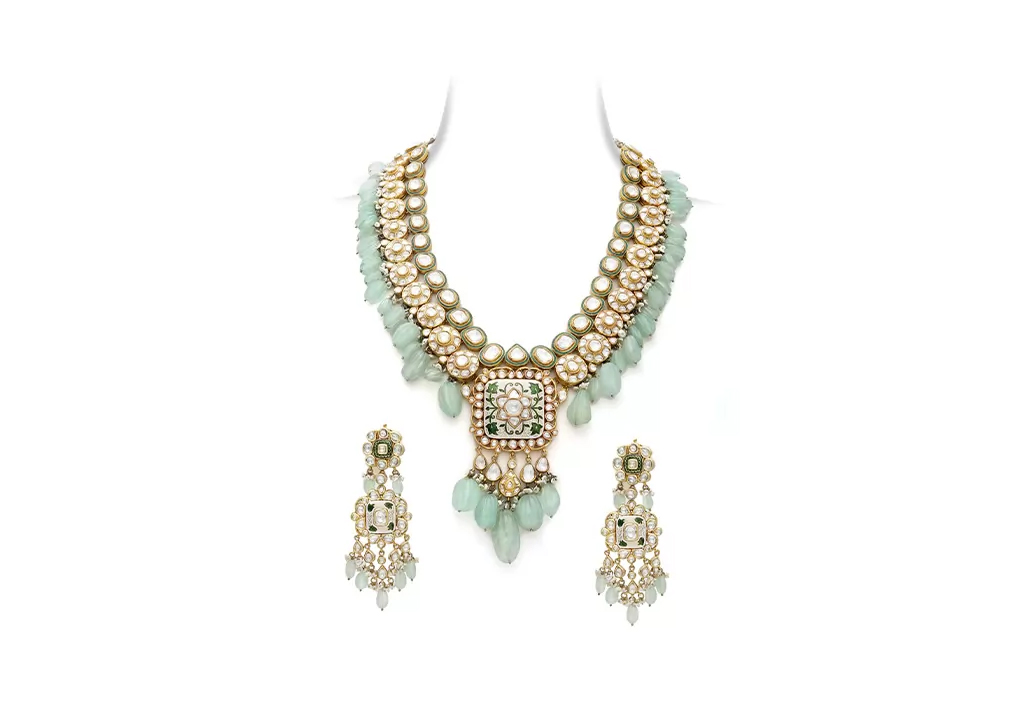 Mukut Pachelli Jadau Bracelet
The royal bride needs a spell-binding and glamourous masterpiece on the wrist to add to her bridal jewellery. Steeped in tradition, evocative in its beauty, and a true representation of pure genius craftsmanship, this Pacheli bracelet is one artistic wonder that any bride would covet. With 279 cts of deep-toned Emerald beads, uncut diamonds, and intricately carved gold, this bangle bracelet weaves its magic around any connoisseur of age-old beauty and skill. Pair this with other bangles or wear it singularly to let it shine in the spotlight, this bracelet will complement most other jewellery with ease.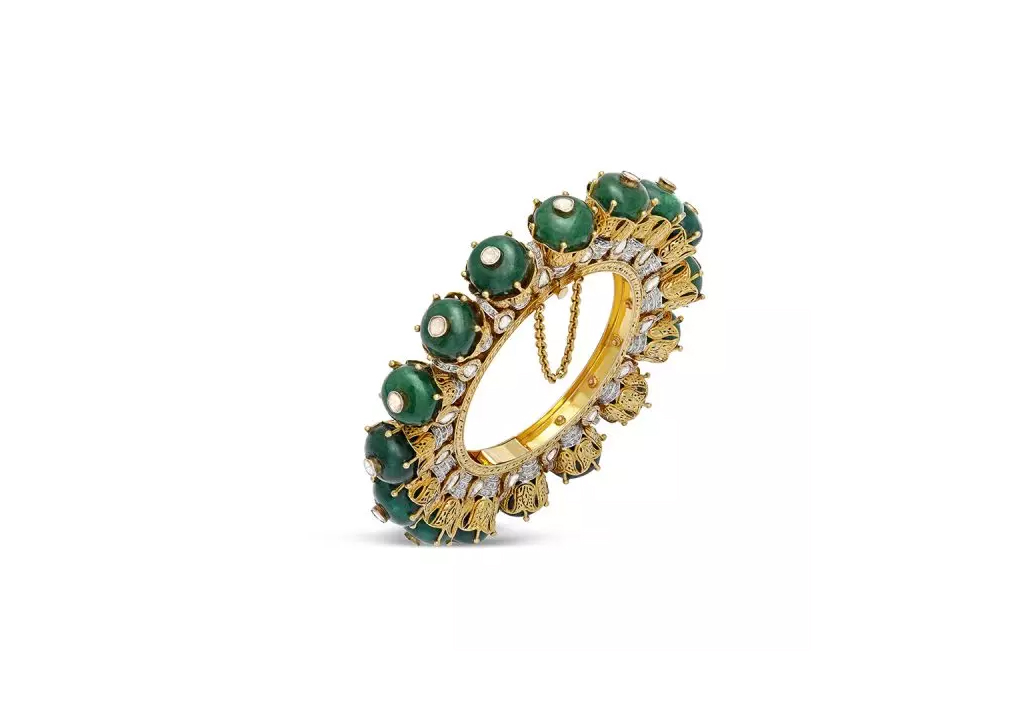 Don't shy away from the bold enchantment of vilandi and jadau jewellery for your bridal sets. The aura of regality that matches your proud gait can only be got by the truly stunning creations from the House of Rose. While these pieces are for your perusal, many brides have come to us for customization or for new creations that appeal to them. We are happy to bring the uniqueness of Rose's design language to your vision for your bridal jewellery.