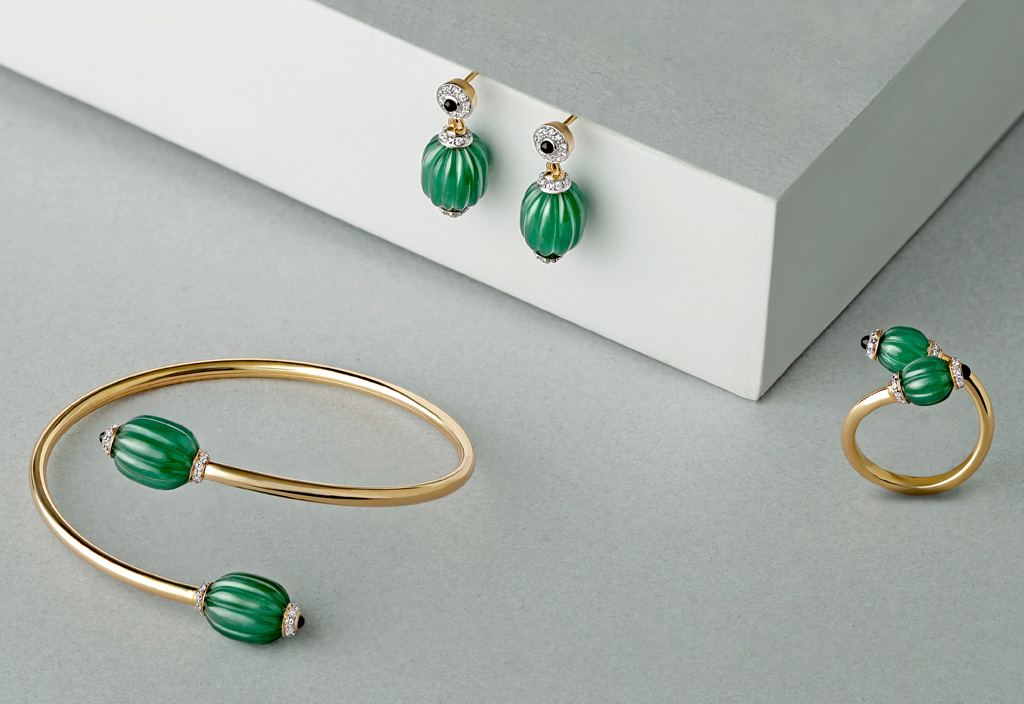 Pull Out All the Stops with These Sparkling Raksha Bandhan Gifts for Your Sister
Raksha Bandhan is around the corner. And it's time to pay up for all those pranks, fights, and general moments of evilness with an irresistible gift. After all, there is nothing more sinister than a peeved-off sister. So, win your brownie points with these easy-to-wear diamond jewellery gifts from The House of Rose. 
Here are our top picks:
Tanzanite and Diamond Floral Ring
This diamond ring is a sweet floral piece that makes up for all those times you deliberately pushed your sister dearest's buttons. A heartfelt way of saying the words that hardly make it past your lips – "I Love You, Sis!" The floral motif bears pale Tanzanite petals around a cluster of diamonds. From our Tivoli Collection, it represents the profuse beauty of the eponymous gardens of Italy. An enchanting piece that is bound to be cherished forever.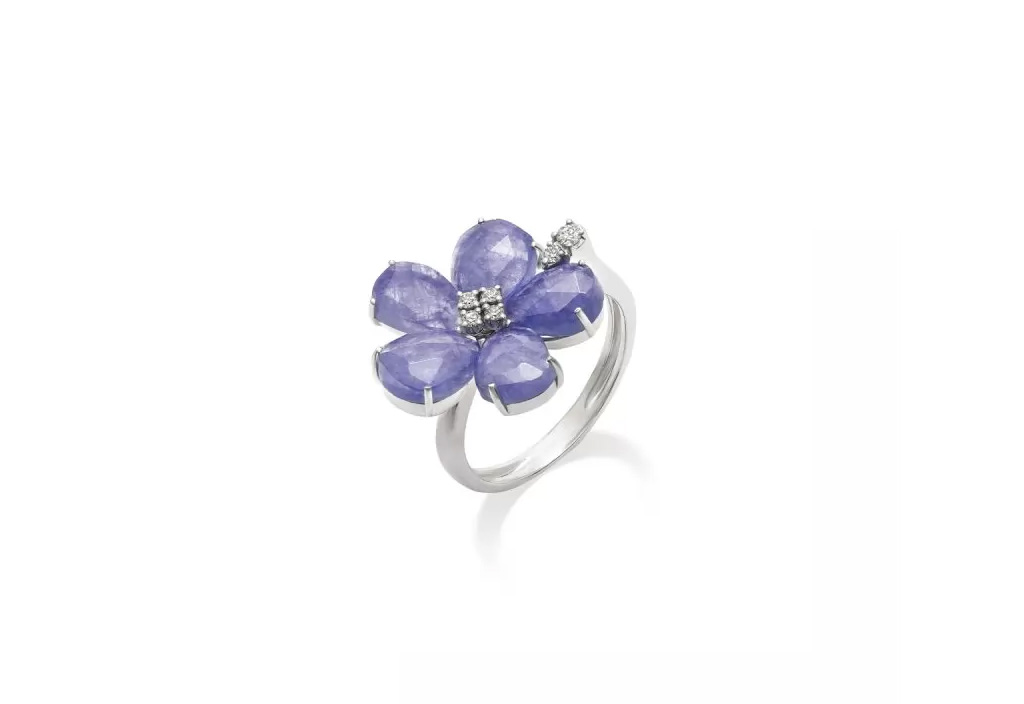 Evil Eye Pendant Necklace
From our Porta Fortuna Collection, this mystical pendant brings protection and style to your beloved sis. After all, she ties you that rakhi in the hopes of keeping you safe, expecting the same in return. And the evil eye motif is known to ward off evil intentions with ease. Diamonds and 18K gold come together to create this sought-after pendant. A piece she can easily wear through the day or night, remembering her brother each time.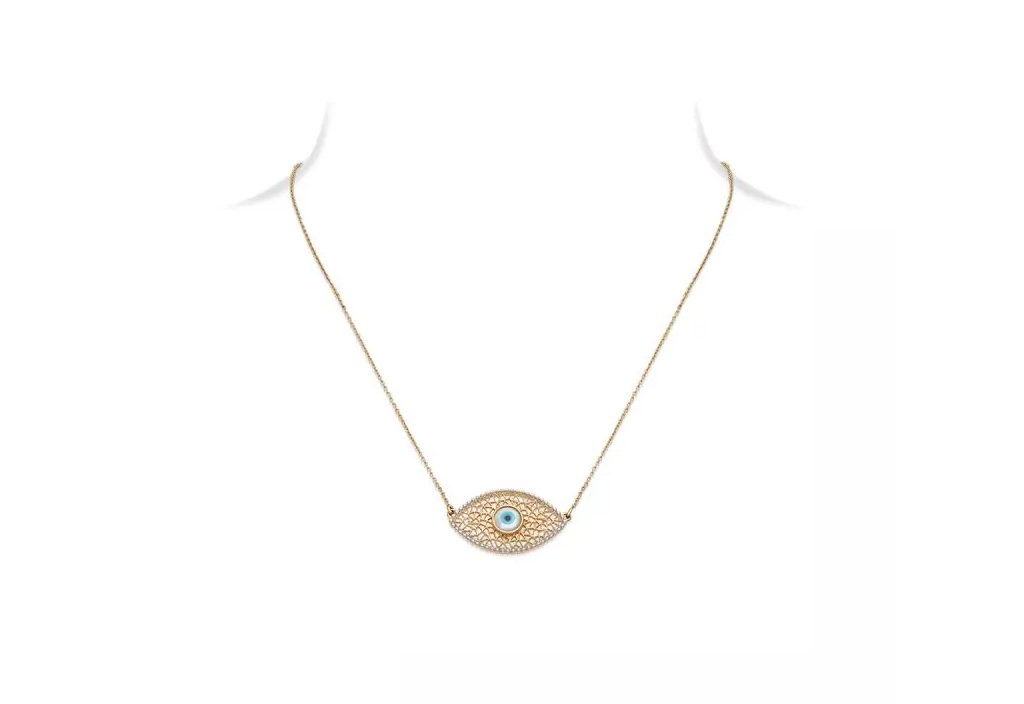 Chalcedony Diamond Hanging Earrings
These little wonders are from our Bella Rosa Collection, a prêt range for younger patrons. This smart diamond earring pair is a compelling and contemporary addition to her jewellery collection. Black onyx and diamonds grace the circular tops, while chalcedony melon beads form the highlights of the dangling drops. A smart pair that represents the freshness of your bond and keeps that imp of a sibling happy.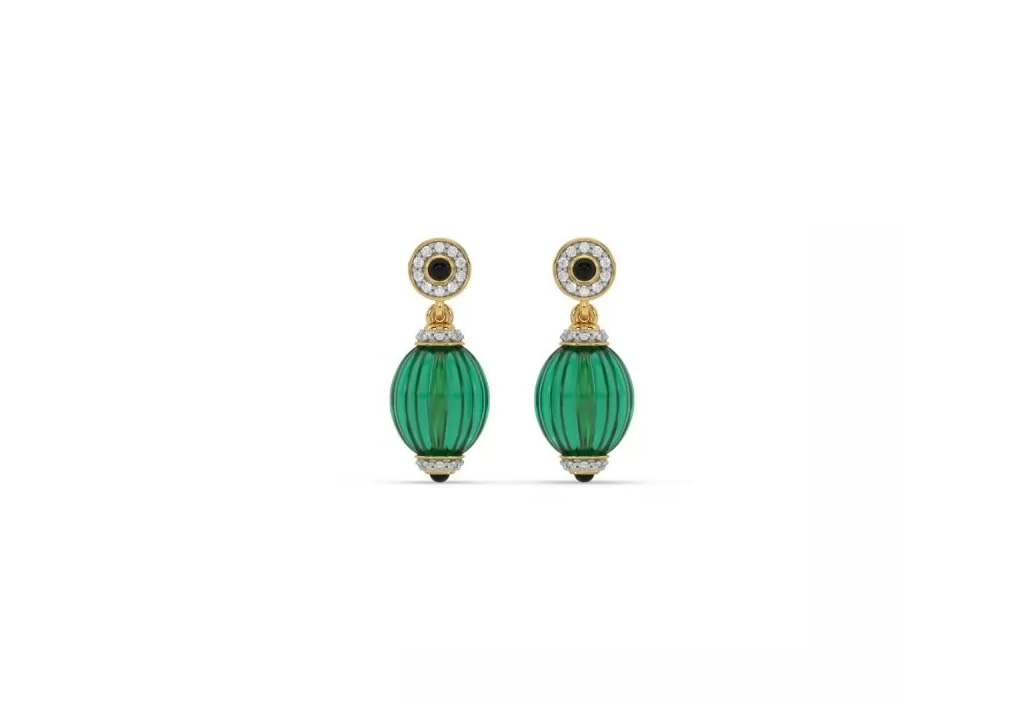 Iconic Ruby Tanzanite Bracelet
This spring bracelet is made with diamonds, ruby disks, and carved Tanzanites set in 18K white gold. And it is truly symbolic of how a sibling pair springs back from any disagreements or strife because of an indestructible bond. The vibrance of hues and the uniqueness of design makes this a meaningful jewel to gift to the sister who was your childhood partner-in-mischief and merriment.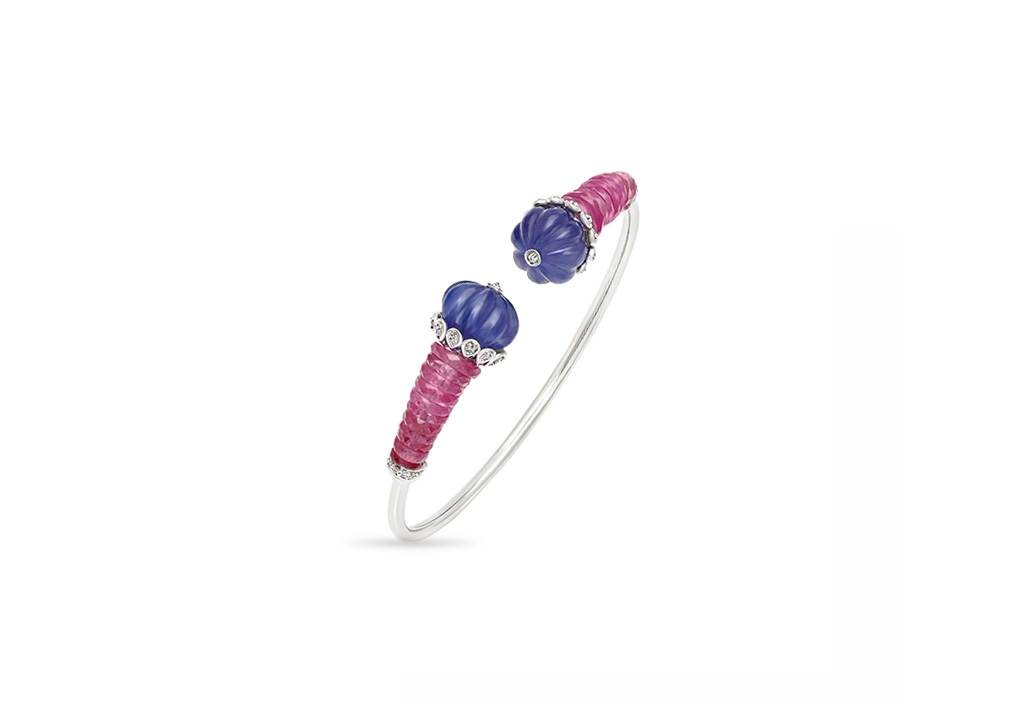 Emerald And Pearl Flower Ring
When she wants only the best, your Rakhi gift ought to be in the same vein. By that, we mean this masterpiece from our Purely Pearls Collection. In this modern statement ring, a luscious green emerald is highlighted by the soft sheen of Keshi pearl and diamond petals. The floral motif created is spellbinding in its beauty. It is a symbol of delicacy and strength – perfect for that formidable force you call sister.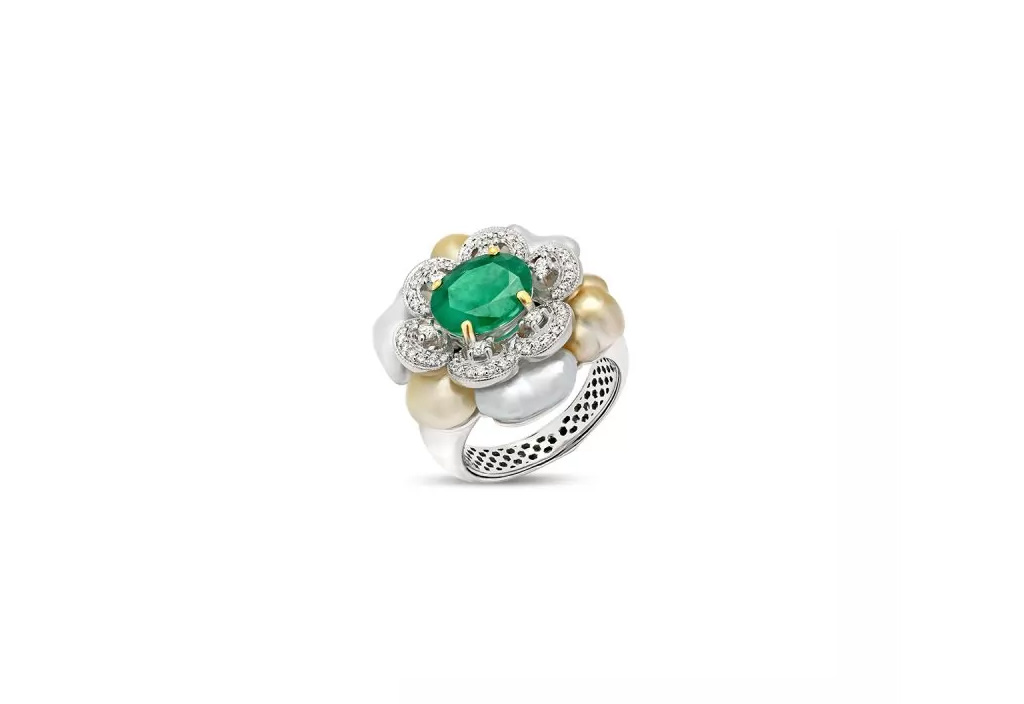 Uncut Solitaire Diamond Jadau Pendant
So simple and yet so versatile! This 'jadau' diamond pendant holds a large-sized vilandi (uncut diamond) at its core, surrounded by a halo of diamonds. It is held by the delicate clasp of a gleaming gold chain. What you get is moon-like beauty, power-packed style, and majestic charm – just like your sibling. This necklace is the perfect Raksha Bandhan gift for your sister dearest.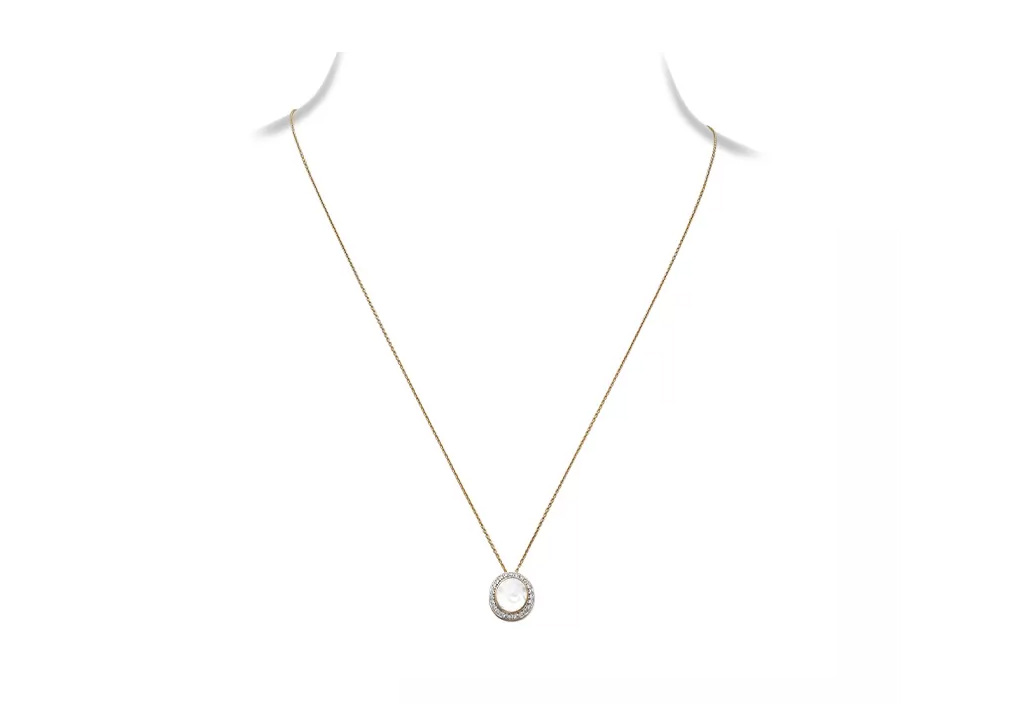 Ruby And Chalcedony Drop Spring Bracelet
A touch of colour and a ton of fresh beauty adds vibrance to this spring diamond bracelet. A chalcedony pear with diamonds graces one end while connected to a Ruby and Diamond floral motif attached to the other. The result is a Nature-inspired piece that brings a spring to the step as it elevates almost any look – western or ethnic, casual or formal. It will certainly bring a smile to your much-adored sister as you present it on Raksha Bandhan. 
Got more to celebrate? Or are you looking for a gift that's precious and beyond the bounds of your budget? The House of Rose has solitaire diamond stud earrings and pendants with a splash of colour that would make the perfect Rakhi gift. Just look at the Rocks N Rose Collection to be dazzled by our new-age solitaire jewellery. From an infinitely beautiful pearl necklace to an inimitable diamond and emerald necklace and beyond, there are options for every kind of patron. What we certainly have is fine jewellery of exquisite craftsmanship, unparalleled design, and high-quality materials. So, browse the e-store or step into our doors in Mumbai and Delhi to peruse our entire range and choose only the best for your sister.