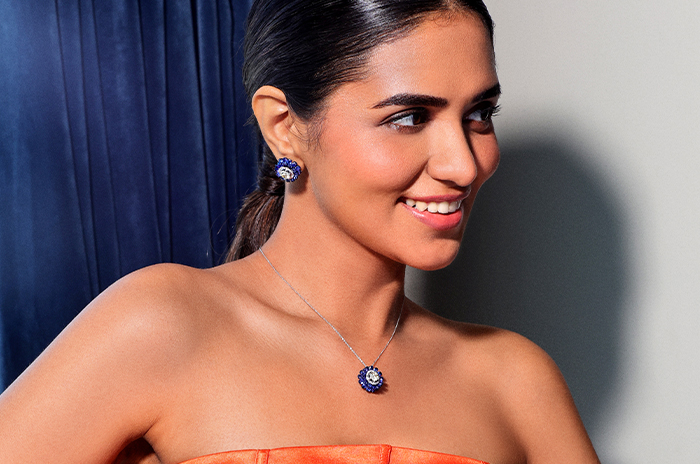 The House of Rose Showers Patrons with Diamond Jewellery That's Perfect for the Monsoons
After the scorching heat of March through June, the gloominess of a rainy day is a welcome relief. With cooled-down temperatures, a dewy, clean look to the city, and a lingering earthy scent in the air, everyone's in a tranquil space as they gaze out of the window. Of course, when it's time to step out, many rainy-day considerations impact what we put on.
Here are some easy-to-wear diamond jewellery options to elevate your monsoon look:
Solitaire Jewellery:
Minimal yet striking jewellery is the way to go in this weather. We have the perfect solitaire jewellery collection for when you want to feel unencumbered and yet look stunning. Our Rocks N Rose Collection is a tribute to a woman's love for her rocks. Here a central solitaire diamond is highlighted through the surrounding coloured gemstones that give it an edgy, modern twist.
KYANITE DIAMOND SOLITAIRE FLOSS STUD EARRINGS
Embark on a journey of elegance with these captivating stud earrings from the Rocks N Rose collection. The halo-bearing, central solitaire diamond shines brighter amidst the surrounding deep-blue Kyanites. The contrasting beauty of these ear studs showcases a harmonious symphony of colour and light, exquisite design, and meticulous craftsmanship. The intensity of the blue, matched with the sparkle of diamonds, is perfectly suited to a drizzling day or a stormy monsoon evening.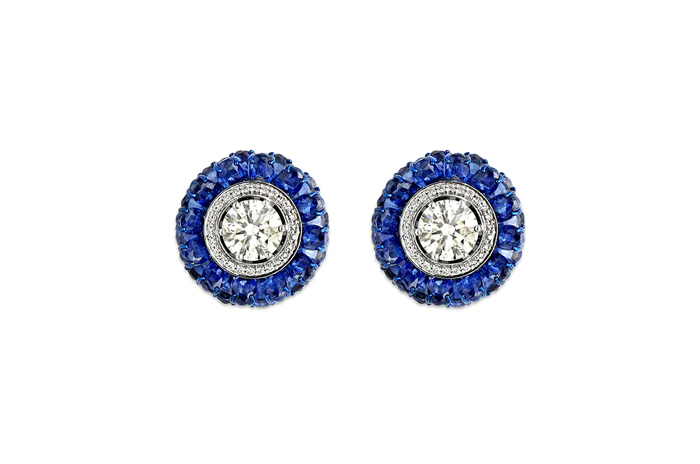 Floral Fantasies: 
Monsoons are when nature is at its most glorious – a time when our connection to Mother Earth is the strongest. Everything looks fresh after its been drenched clean courtesy of the elements. It's only fitting then, to wear your floral best when the occasion calls for it. Paying tribute to the glory of nature is just what the monsoons demand.
RUBY EMERALD DIAMOND BEAD STUD EARRINGS
A captivating pair of ear studs that pay homage to the Colours of Life with its profusion of hues and light. Emeralds as green as dewy leaves combine with ruby beads of a pink hue and diamonds that glisten like sunlight on water drops. The floral motif of the rubies is accompanied by a swish of diamonds and foliage-like emerald pears. These earrings beautifully represent the abundance and vibrancy of the natural world.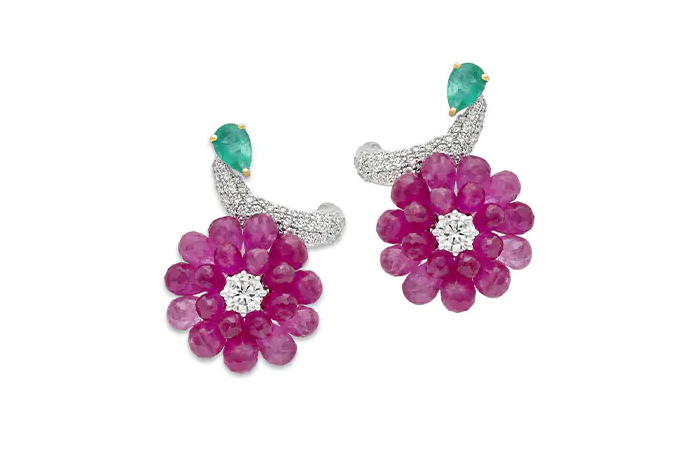 Cocktail Rings: 
Rain or shine, you need to step out for those social occasions that are a part of city life. The weather may compel you to opt for minimal jewellery at these times. However, simple ear studs can be elevated with an easy-to-wear, look-at-me-I'm-so-pretty cocktail ring to give your appearance that touch of oomph. So don't contemplate "rain or shine" but choose to shine despite the rain.
KYANITE EMERALD DIAMOND RING
Now here's a bold choice for a fiercely unapologetic woman. A lush, halo-bearing emerald captures attention on its pedestal at the centre of this ring. Kyanites and baguette diamonds create a checkered pattern along the wide shank, flanked by graduating diamonds on either side. What you have is an unmissable jewel that easily pairs with any attire.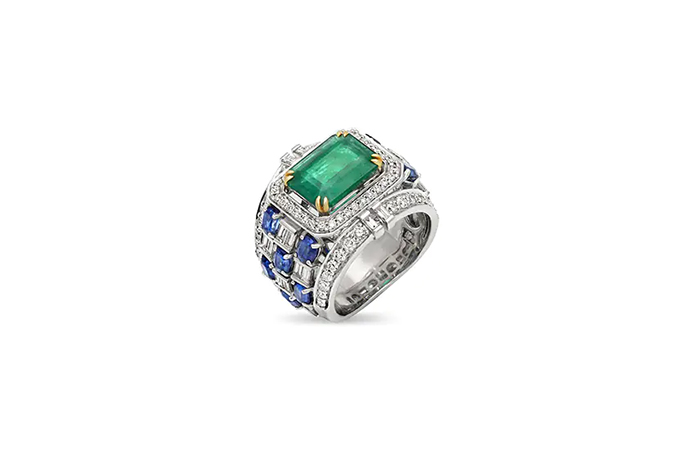 Bold Colours:
When it's all grey and gloomy, your jewels need a touch of extra vibrancy to spark joy. Just like a rainbow on a rainy day. So paint a picture of vividness, popping out among the drab greys of the monsoon, with your brightly coloured jewels.
ART DECO RUBY TANZANITE EARRINGS
This enchanting art deco hanging earring from the Opera collection is designed with a captivating blend of rosy-hued tubies and icy-blue Tanzanites. The geometric pattern brings alive the glamour and sophistication of the Art Deco era of the 1920s. The striking colours only serve to add to the elegance of the pair as they draw all eyes to their vibrant beauty. Complete the look with the matched sautoir necklace, also from the Opera collection.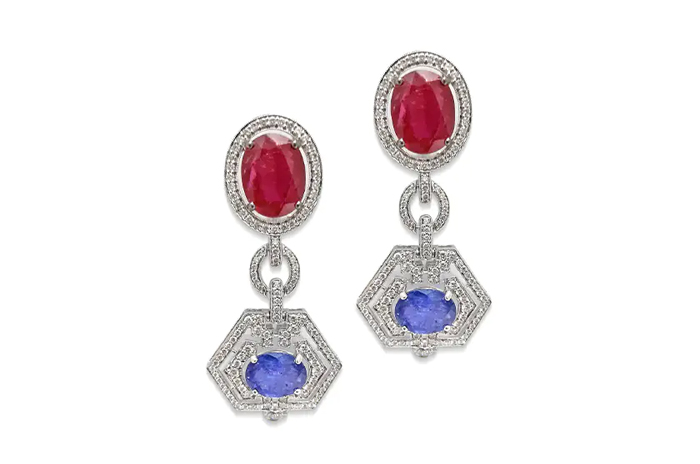 Pearl Preciousness: 
Pearls are a gift of the water goddesses. Their luminous beauty paints an idyllic picture of beauty and serenity, calmness and purity. Pearl jewellery, for this reason, makes a wondrous accent on rainy days when the land is blessed with Nature's bounty.
PEARL DIAMOND NECKLACE
When you need to up your monsoon glam quotient, bring out this pearl necklace set. It is perfectly sized and perfectly poised to enchant without weighing you down. Stormy grey Keshi pearls rumble and tumble with their multi-hued counterparts and dazzling white diamonds in all their sparkling glory. This mesmerizing neckpiece exudes timeless elegance and sophistication, capturing the essence of refined beauty.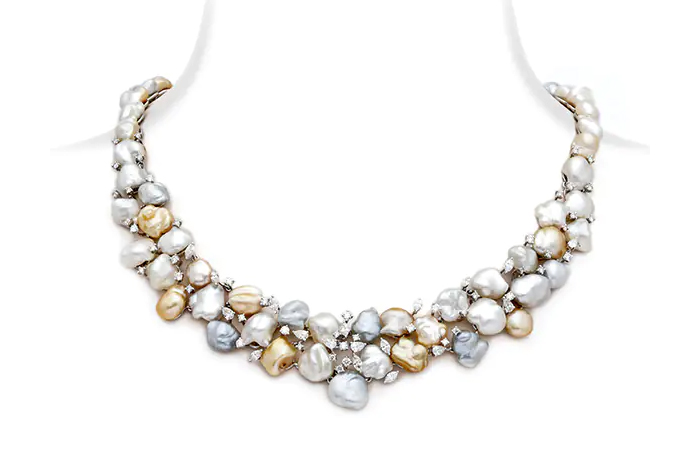 From gemstone rings and gemstone bracelets to minimal jewellery to pearl jewellery and more, The House of Rose has all that you can dream of. Our inimitable pieces are wondrously designed and painstakingly crafted to create jewels of otherworldly beauty. So, whether you're looking for monsoon jewellery, bridal jewellery, or anything in between, just step into our stores to find what your heart desires.