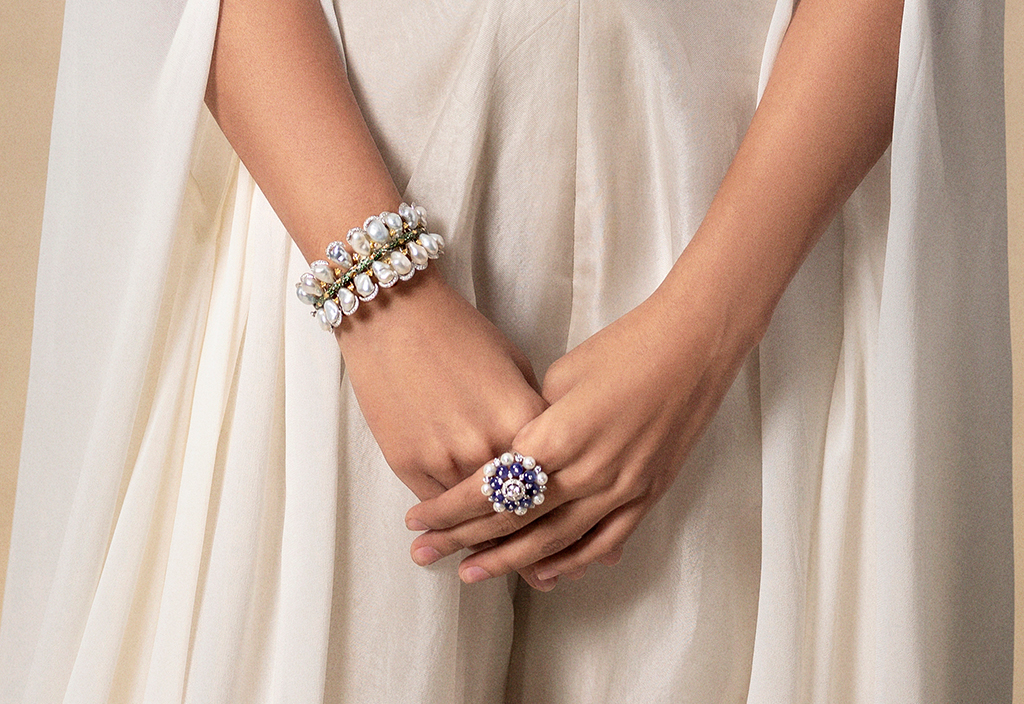 Leave The 'Wrist' To Us
It's time to adorn your wrist with sparkle. If you're a bracelet-loving, diamond and gemstone connoisseur, then your heart's likely to flutter now. We are taking you on a guided tour of stunning diamond bracelets that have made it to the Rose Hall of Fame.
Here are our top 9 picks:
Ruby & Diamond Mazzo di Fiori Bracelet
A divine floral fantasy comes to life with this nature-inspired bracelet from our My Trousseau, My Treasure Collection. Round and fancy-cut diamonds scatter around pink-toned Ruby flowers and exquisite solitaires to create a picture of surreal beauty.
3-dimensional appeal comes to life with this medley of dips and curves, diamonds and coloured stones, boldness, and elegance.
Cognac Diamond Bracelet
Another sensational piece from the My Trousseau, My Treasure Collection. Unique style finds poetic expression here with cognac-coloured and brilliant white diamonds. The two tones of gold add to the distinctiveness of this piece, as the amber tones only serve to add to the versatility. This stunner accentuates any look with ease.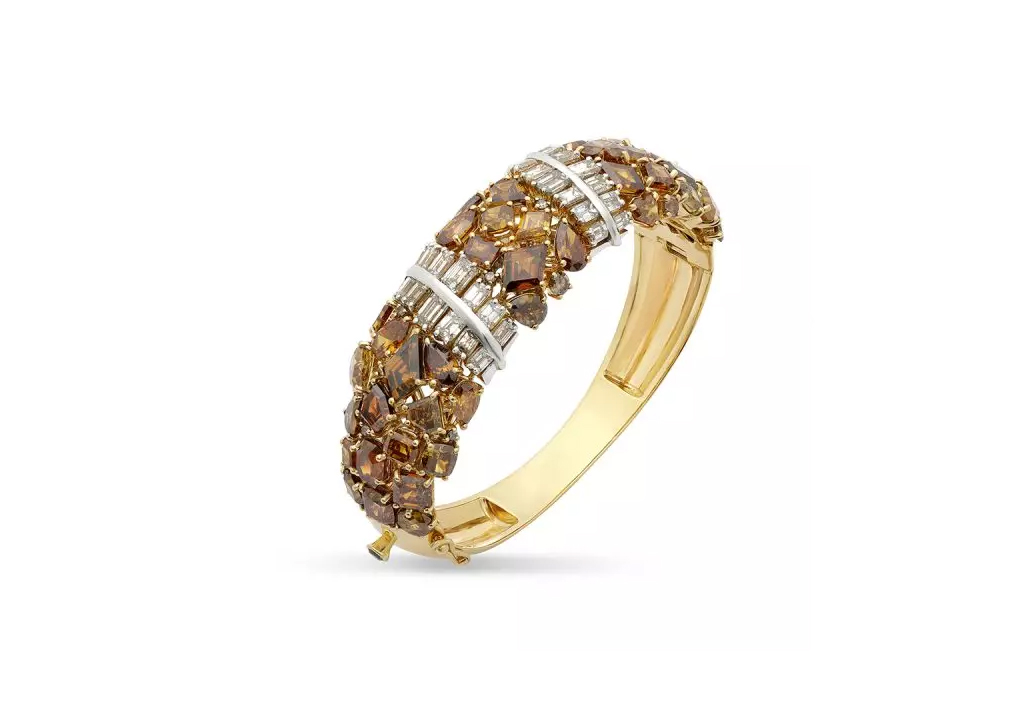 Ruby Lapis Bead Bracelet
The architectural beauty of columns and domes finds form in this exquisite diamond bracelet from The Colours of Life Collection. Azul Lapis gemstones create contrast with pink-toned Rubies and brilliantly sparkling Diamonds to create soulful beauty. An impactful piece that tells a captivating story of elegance and refinement.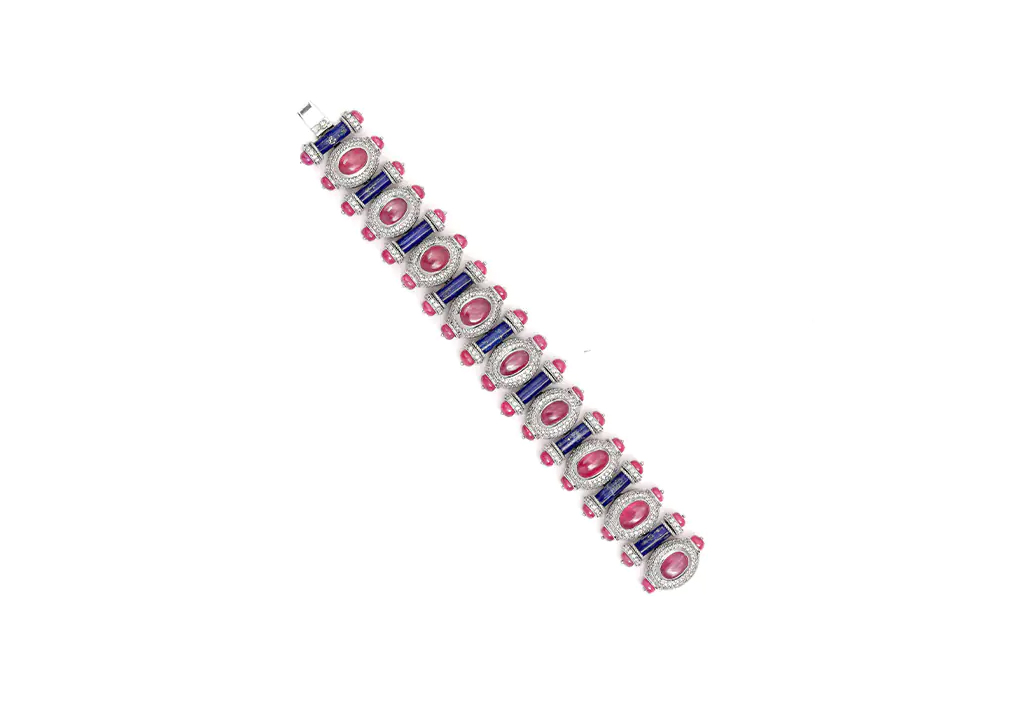 Ocean Angel Cuff Bracelet
This cuff bracelet from our Colours of Life Collection is an ode to the glorious beauty of the ocean and all its mythical beings. Tanzanite's and Emeralds add their blue-green hues to the radiant whiteness of Diamonds to create an 'angel wings' motif that rises out of an ocean of verdant beads. This showstopping masterpiece draws attention wherever it goes.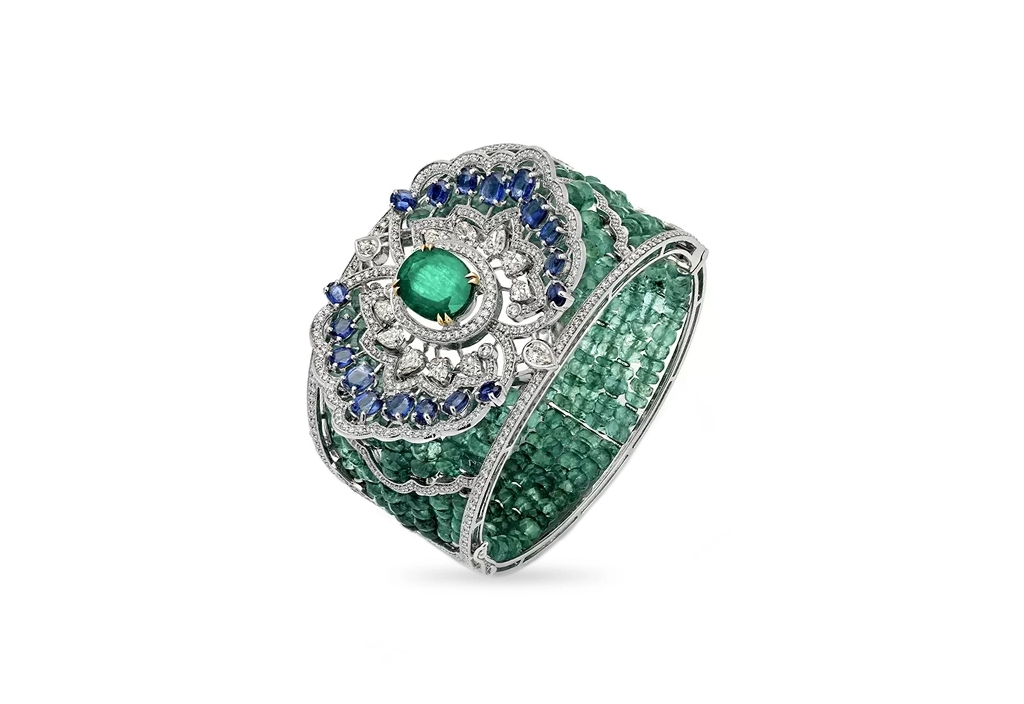 Tanzanite Emerald Art Deco Bracelet
We're transporting you to a bygone era with this stunning Art Deco bracelet from our Opera Collection. Inspired by the roaring 20s, this bracelet is the epitome of glamour and sophistication. Carved, melon-cut Tanzanites, Emeralds, and Diamonds come together to create a symmetrical, bold form. A refined piece of skilled craftsmanship, with vibrant hues, and unmistakable style.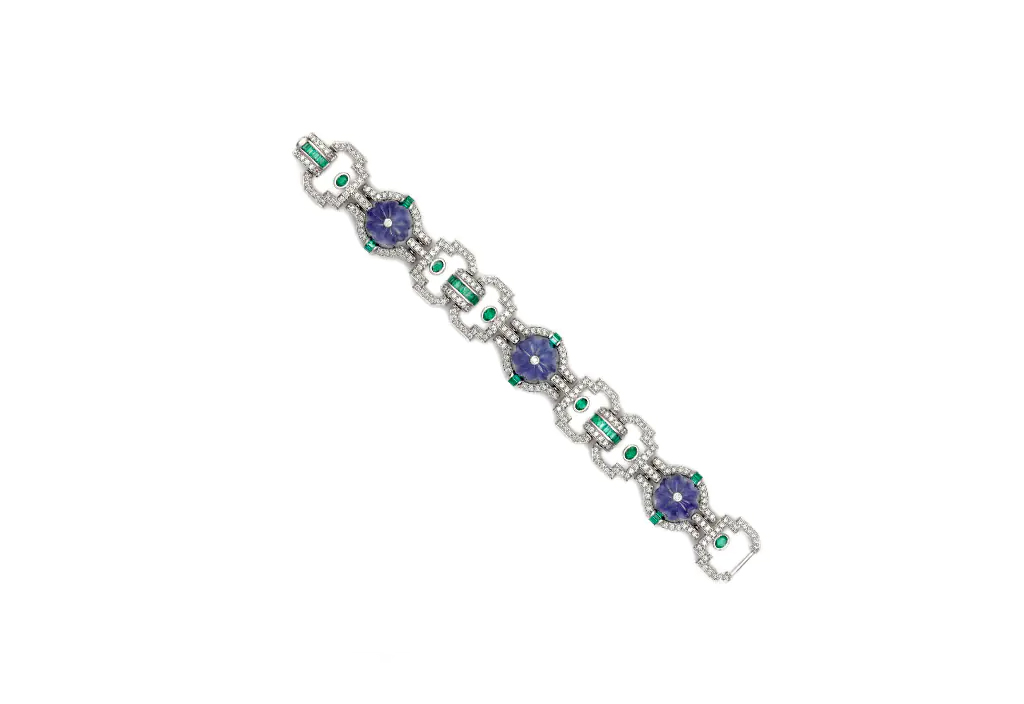 Emerald Diamond Art Deco Bracelet
Absolutely divine in beauty and enchanting in its allure, this Art Deco bracelet from our Opera collection makes heads turn. Green-hued Emeralds lie surrounded by brilliant Diamonds and sleek hints of Black Onyx to create the striking form. The symmetry and boldness of the piece are reminiscent of the 1920s and the vivacious women of the era. Wear this to elevate your look and make a statement of unquestionable glamour.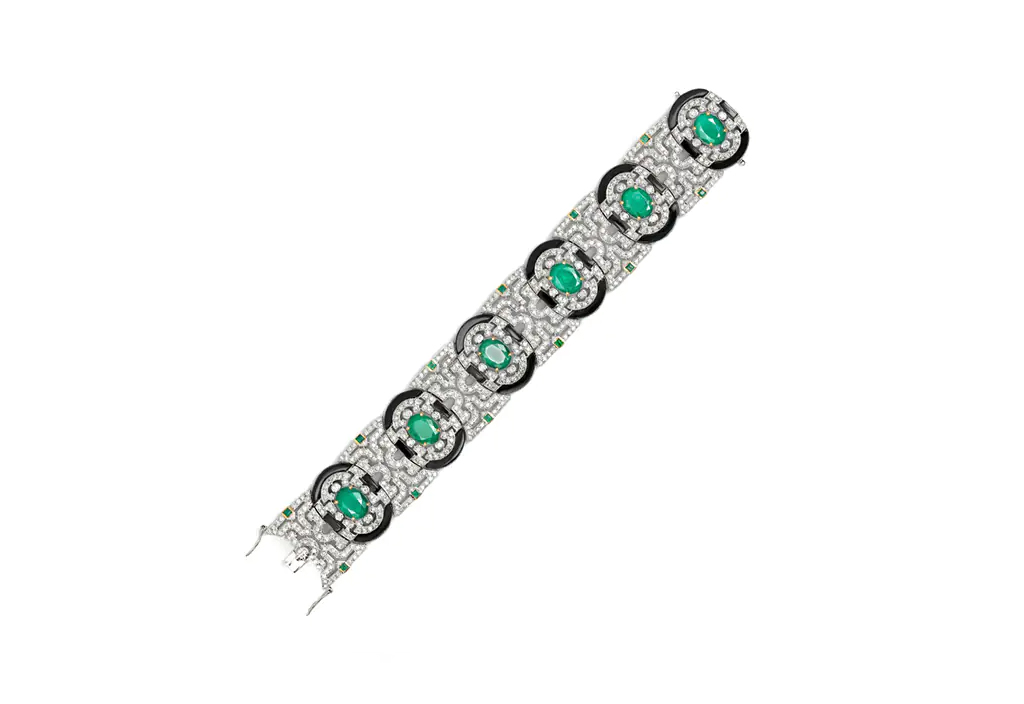 Keshi Pearl Diamond Bracelet
A stunner from our Purely Pearls Collection, this cuff bracelet is an enchanting work of art. Like stepping stones, Keshi Pearls of multiple hues lie scattered across the wrist amid a bed of diamonds. The effect is elegant and simply gorgeous. This versatile piece adds timeless beauty and luminous grace to your celebratory look.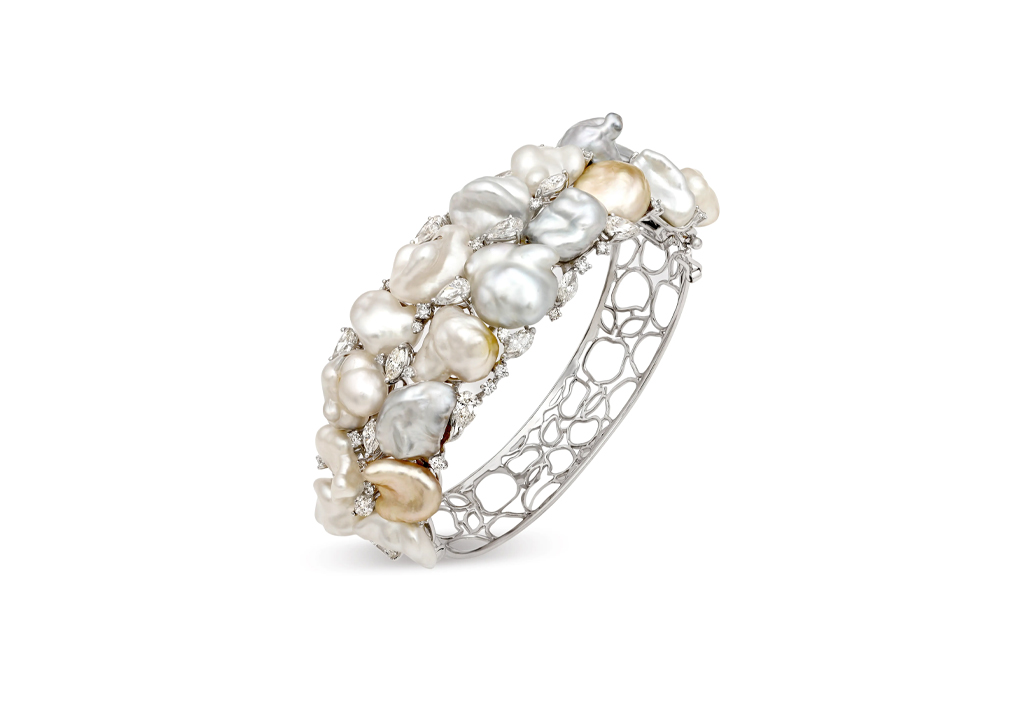 Ruby Diamond Solitaire Wrap Bracelet
A solitaire bracelet is a lovely way to elevate your everyday look. With our newly launched Rocks N Rose Collection, we bring you solitaire diamond jewellery with a twist. Here, deep-toned Rubies add a striking burst of colour to this diamond wrap bracelet as they surround a joyously sparkling solitaire. A great ornament to uplift your daily look, bringing timeless beauty with new-age boldness.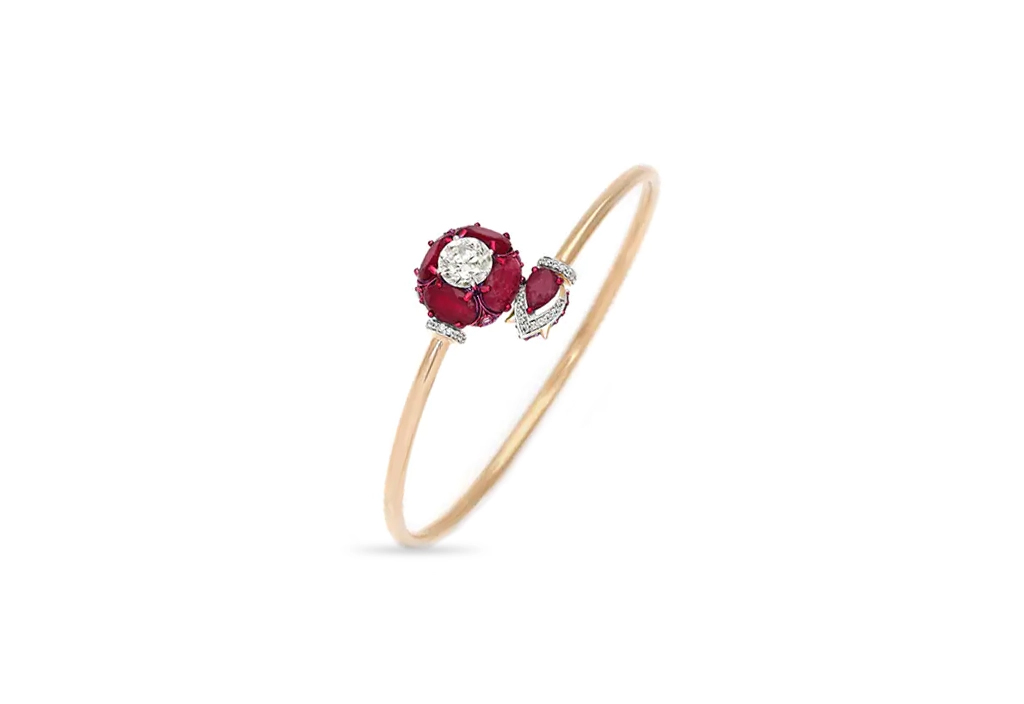 Butterfly Diamond Cuff Bracelet
A symbol of transformation and bringing positive changes to your life, the butterfly is a wondrous creature that sparks joy. With the Butterfly Diamond Cuff Bracelet, we spark joy too – the joy of colour, shine, and versatility. 18K Rose gold gleams bright in butterfly motifs interspersed with halo-bearings Forever Mark Diamonds. The interchangeable enamel plate helps you transform your accent according to your mood.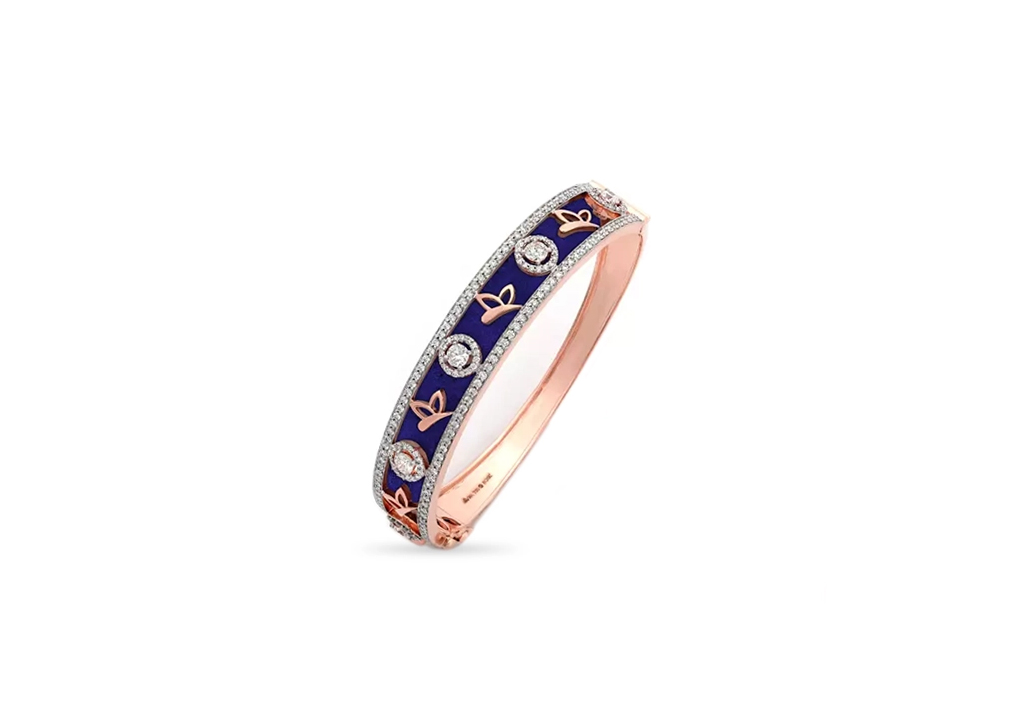 The House of Rose specializes in diamond jewellery, including diamond bracelets for women. Step into our store in Mumbai or Delhi to feel the enchantment of inimitable masterpieces. Our e-store also allows you to safely enjoy certified jewellery from the comfort of your home, include innumerable diamond bracelet designs, etc. So, let yourself experience the magical allure of rare beauty that is innate to our every piece.