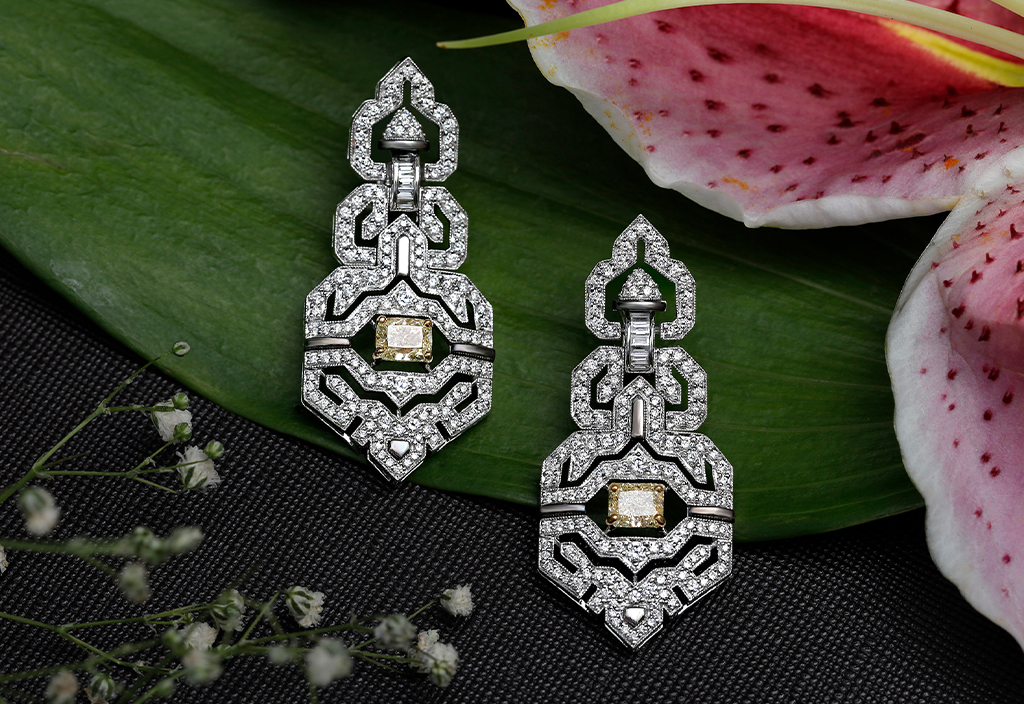 Yellow Diamonds: Some of the Rarest Diamonds in the World
A yellow diamond is one of the most precious types of diamond in the world. It is to a woman what a Bugatti La Voiture Noire is to a car connoisseur. It is the thing of every woman's dream and for good reason.
A yellow diamond is rare and valuable for its hue, caused by traces of elements like nitrogen, which modify light and absorb the blue part of the visible spectrum. So rare is this occurrence that only one diamond in almost every 10,000 is yellow! A majority of these gemstones are found in South Africa. In fact, the first yellow diamond was discovered in 1867 in Hopetown – 816 km northeast of Cape Town.
Like all gemstones, yellow diamonds are graded as per the 4Cs – Cut, Colour, Clarity, and Carat Size. However, to ensure that these diamonds are appropriately valued, they are graded using a unique set of criteria to determine the intensity of their "Fancy" yellow colour. Developed by the Gemological Institute of America, the GIA Colored Diamond Grading System classifies them as Fancy Light, Fancy, Fancy Intense, Fancy Dark, Fancy Deep, or Fancy Vivid according to the tone and saturation of their yellow colour.
The next step in the grading process is to assess the diamond's clarity and cut. A diamond's clarity refers to its internal characteristics such as blemishes and inclusions. The cut of a diamond is also taken into consideration and evaluated based on its proportions, symmetry, facets, and polish. Naturally, a diamond with fewer inclusions and an excellent cut fetches a better price. Finally, the diamond's carat weight – a measure of its size – is taken into account. A carat is equivalent to one-fifth of a gram. The larger the diamond, the more its value.
Yellow diamonds add to the incandescence of luxury jewels. Their sheer beauty inspires The House of Rose to craft inimitable jewels with them for discerning patrons. Here are a few of our favourite masterpieces with these precious gemstones:
Art Deco Diamond Earrings
These mesmerizing earrings from the Opera collection exude a classic charm with a modern twist. The centerpiece is a captivating yellow diamond surrounded by white diamonds and black Onyx in a geometric arrangement characteristic of Art Deco jewellery.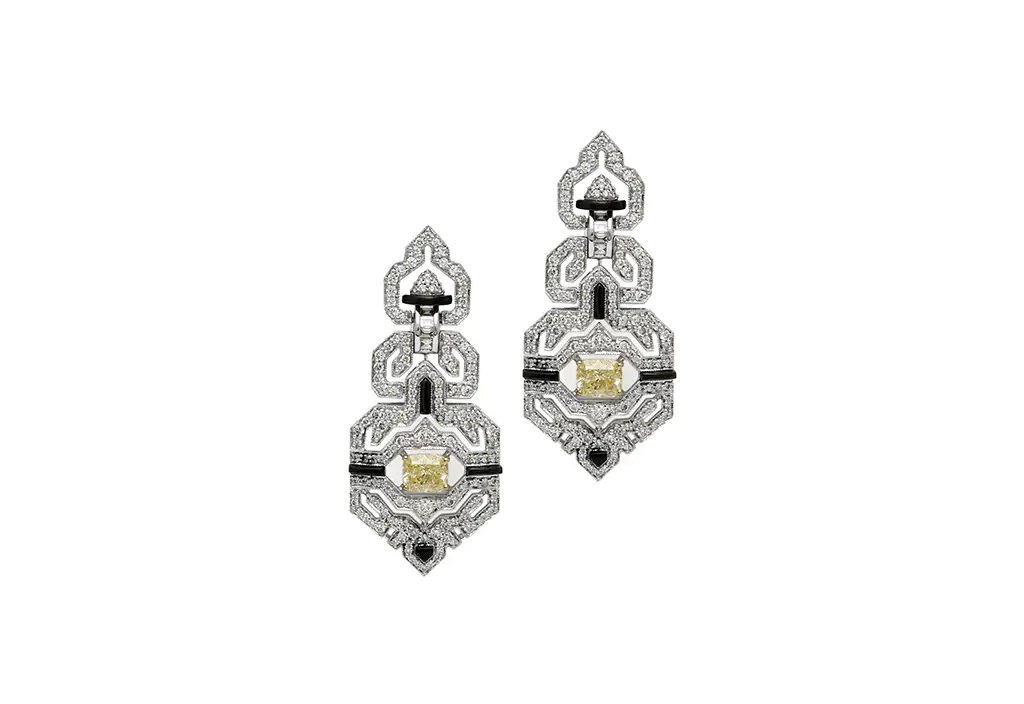 Song Of India Earrings
The Song of India leaves are famed for their bright green centres and gold-like yellow margins. We bring their bright beauty to life with these exquisite Yellow Diamond and Tsavorite Earrings. With its bold use of colour and dangling drops, this is a playful pair of inimitable style.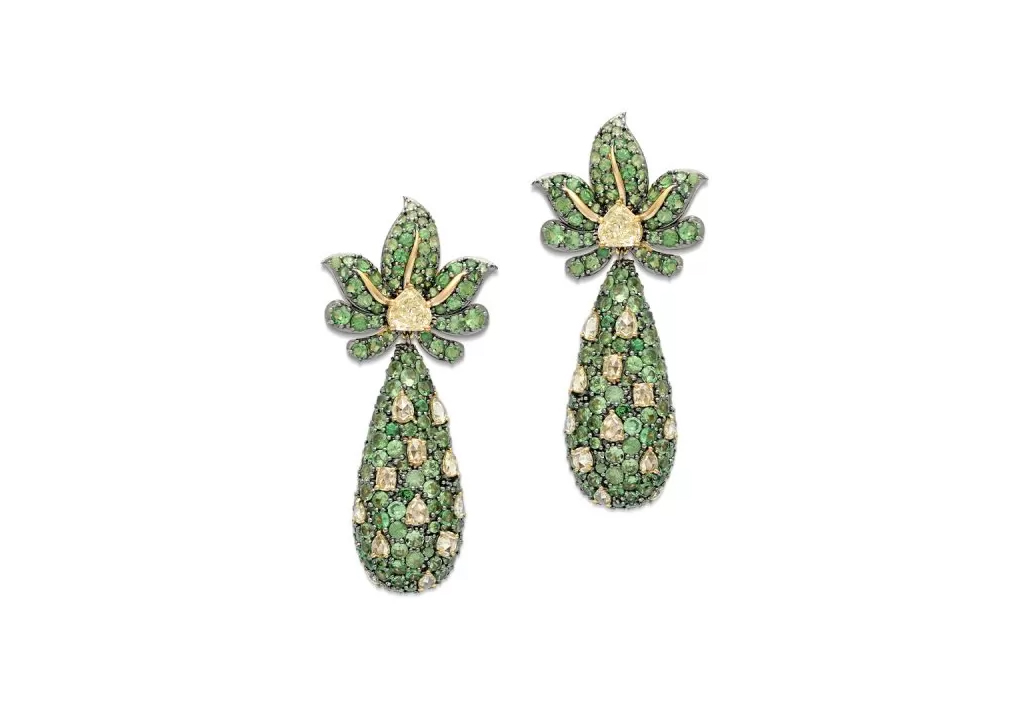 Yellow Diamond Emerald Bouquet Necklace
"What is this life so full of care, if you don't have time to stand and stare." Well, this nature-inspired bridal necklace will give you a good reason to stare. Precious yellow and white diamonds create a striking contrast with deep-toned Emeralds to create this stunning masterpiece – perfect for bridal regalia.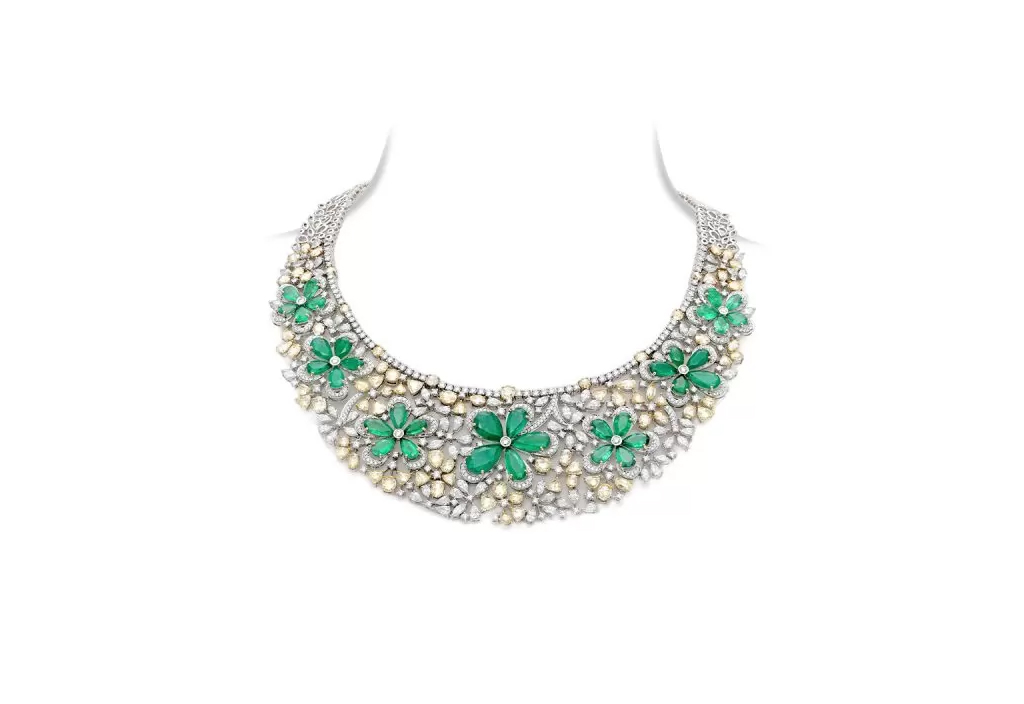 Canary Keshi Pearl & Diamond Earrings
Here's presenting new age chandelier earrings with a medley of South Sea Pearls with white and yellow Diamonds. The central yellow diamond solitaire is what transforms and transcends the look of this masterpiece. A modern twist to a classic look that relays tasteful elegance.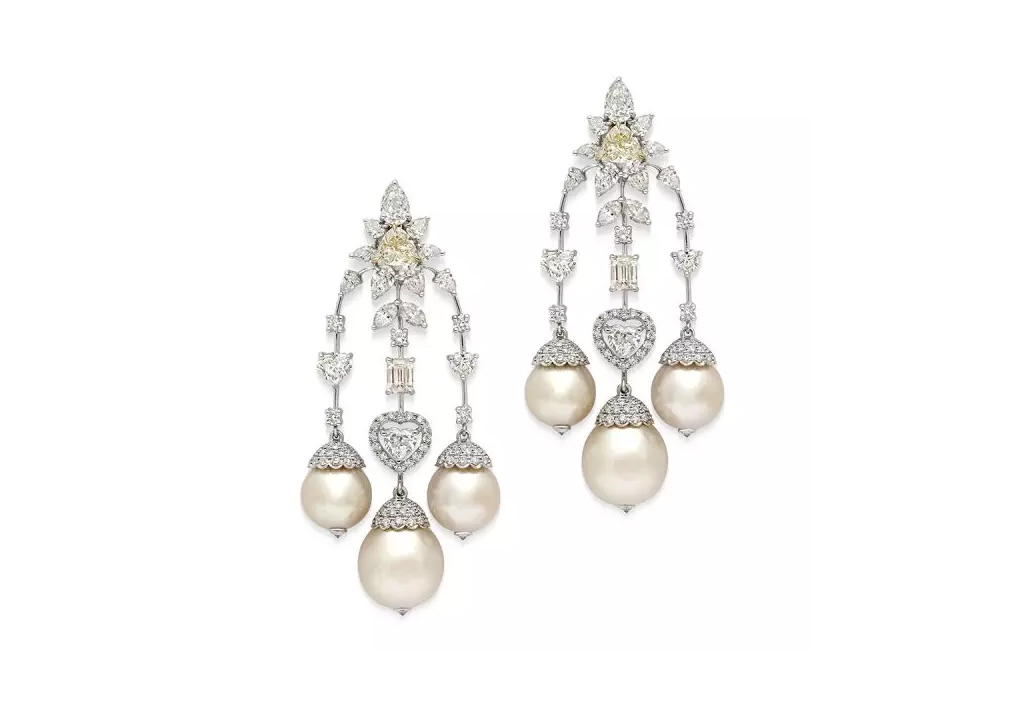 Golden Iris Diamond Earrings
These earrings make a perfect set with their matched cocktail ring. Eight halo-bearing, rose-cut Diamond petals surround a Mitchell-cut yellow diamond in each earring. A stunning example of an assortment of fancy-cut diamonds coming together in perfect harmony to give a one-of-a-kind look.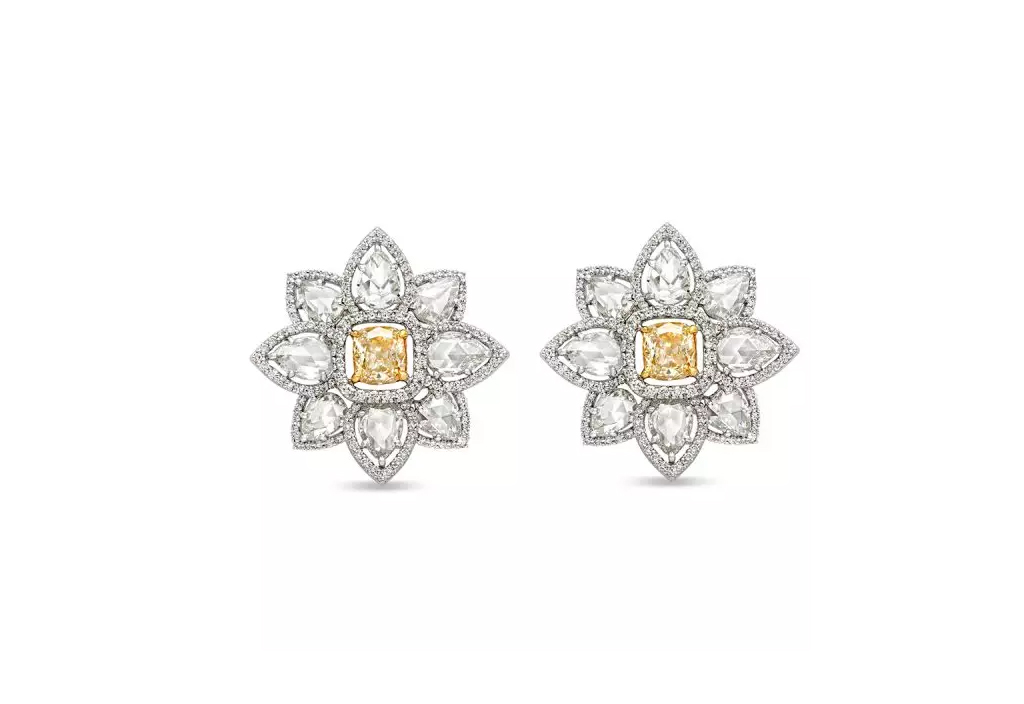 Owing to their colour, yellow diamonds are often associated with love and optimism. Spiritually it is believed that the yellow diamond allows the light of the soul to shine through and promotes spiritual growth. It cleanses and detoxifies the entire body – resetting the metabolism, and increasing stamina and strength while healing allergies and chronic illnesses. It also relieves glaucoma and improves vision. Not to mention that it looks fabulous. Good enough reasons to opt for one.
We at The House of Rose can custom-create one-of-a-kind coloured Diamond jewellery for you. Just step into our stores in Mumbai or Delhi to speak to our in-house experts and commission an ethereal masterpiece that's uniquely your own.