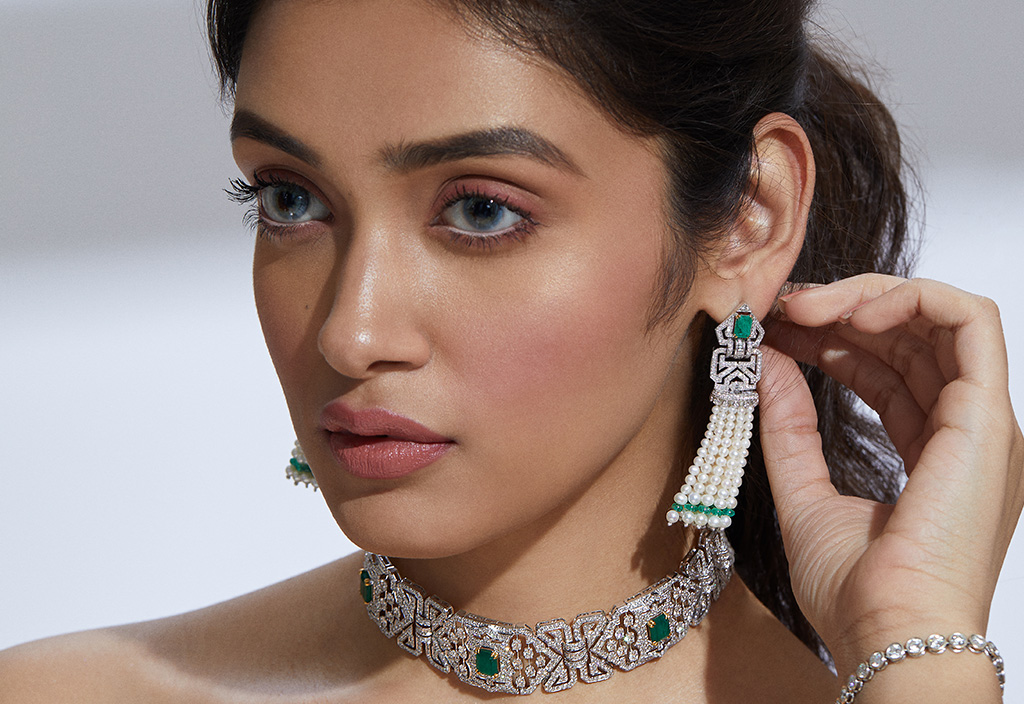 The Vintage Romanticism of Art Deco Jewellery: What is it and why do you need it?
The Art Deco movement made itself widely known to the world in the Roaring 20s, extending to the 1930s. Popularized by the likes of Coco Chanel and Jean Patou, the 'Style Moderne' was a favourite of the crème de la crème of society.
Back then, Art Deco jewellery celebrated the optimism and innovation of the post-World War period. It sought inspiration from a range of sources, including Cubism, Futurism, Constructivism, and especially modern industrial design. It was also heavily influenced by the Bauhaus Art School in Germany and the craft traditions of ancient cultures.
Art Deco Jewellery reminds us of a time when society was breaking the strictures of the past, embracing a newfound liberation. The women too discarded their corsets, fripperies, and submissiveness all in one go. Their understated dresses and bold life choices called for the accentuation of Art Deco necklaces, rings, bracelets, brooches, and more.
What is Art Deco Jewellery:
Breaking away from the wild naturalism of Art Nouveau, or the bows and garlands of Belle Epoque, Art Deco jewellery has a unique fierceness. Most pieces are characterized by their geometric form, bold use of gemstones, and striking designs. From the signature milgrain effect to the use of chevron, edges, and sunbursts, the pieces often have one-of-a-kind traits that separate them from the rest. Today, this vintage style has become a timeless classic and continues to earn the patronage of discerning jewellery connoisseurs.
Why You Need to Have It:
Make a Bold Statement: Why blend in when you look extraordinary as you stand out? Art Deco jewellery, with its bold forms and vibrant use of gemstones, veers away from a washed-up look. Want to know how? Consider this Rose masterpiece
The Greco-Art Deco Bracelet
A feat of design and craftsmanship, this signature cuff bracelet transcends through colours into classic design. Ruby and Tanzanite beads are strung to form an elaborate arrangement of stones on the wrist, while the center dawns a tanzanite cabochon giving it that extra pop.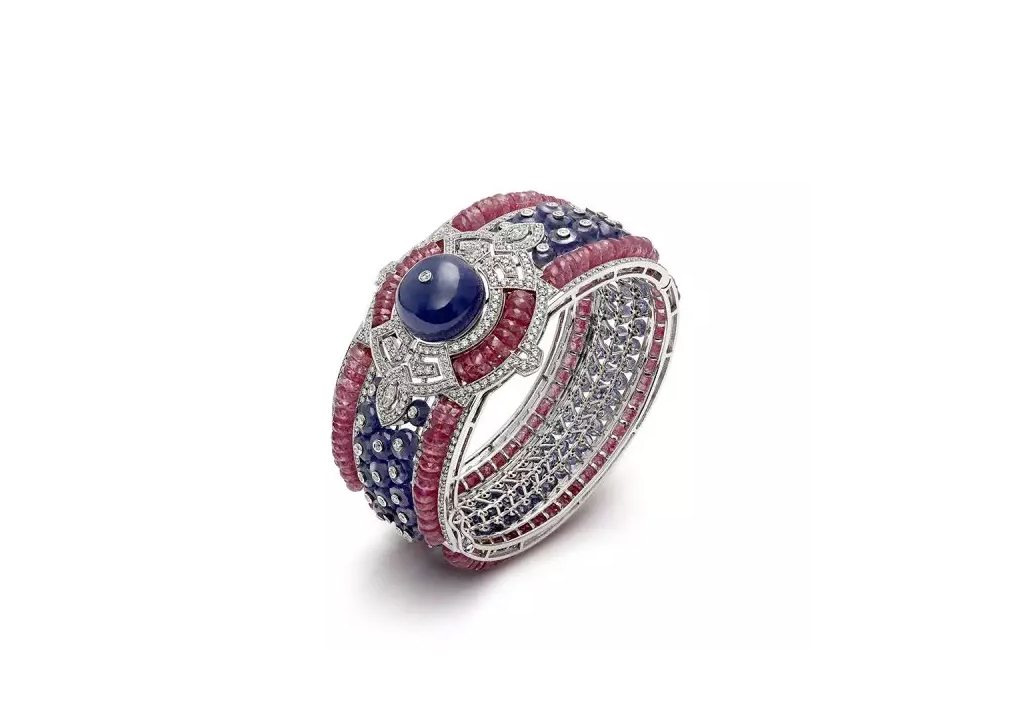 Showcase Vintage Romanticism: Step back into an era that is historic for its progressiveness. Channel the bold women of the time who earned the right to vote, flouted convention, and wore bold jewellery to underground bars to thumb their noses at the system. A worthy showcase is this masterpiece
Art Deco Sautoir Necklace
An amalgamation of vivid colour: octagonal Zambian emeralds, brilliant cut diamonds, and black onyx accents, all come together in this true art deco beauty. Captivating and elegant, it is a timeless classic that pays homage to the 1920s.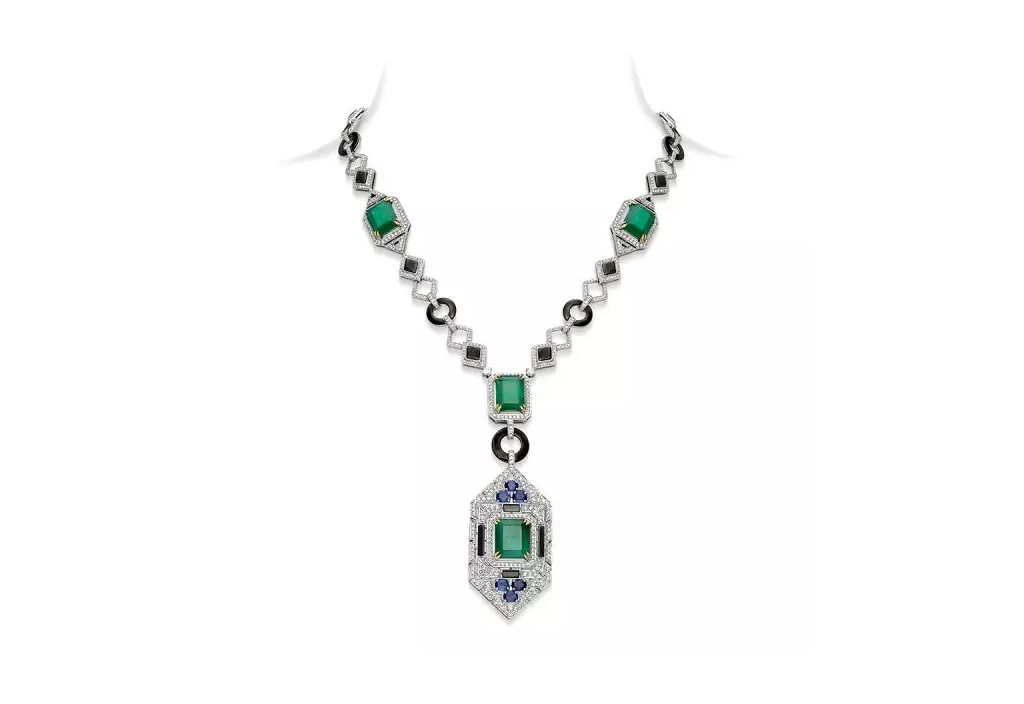 Choose Versatile Glamour: Bold colours and symmetric forms don't limit your jewellery. The beauty of the Art Deco style lies in its versatility. It has only gained favour over time because it seamlessly matches any contemporary ensemble. You can enjoy the easy-to-pair grace of these stunning earrings
Emerald Diamond Flair Earrings
The angular design of these earrings meets the fluid vibrancy of the cascading strands of gemstone tassels. Emeralds, Black Onyx, and Diamonds come together to create this enigmatically beautiful piece. Despite the pop of colour, this pair lends its playful elegance to almost any look.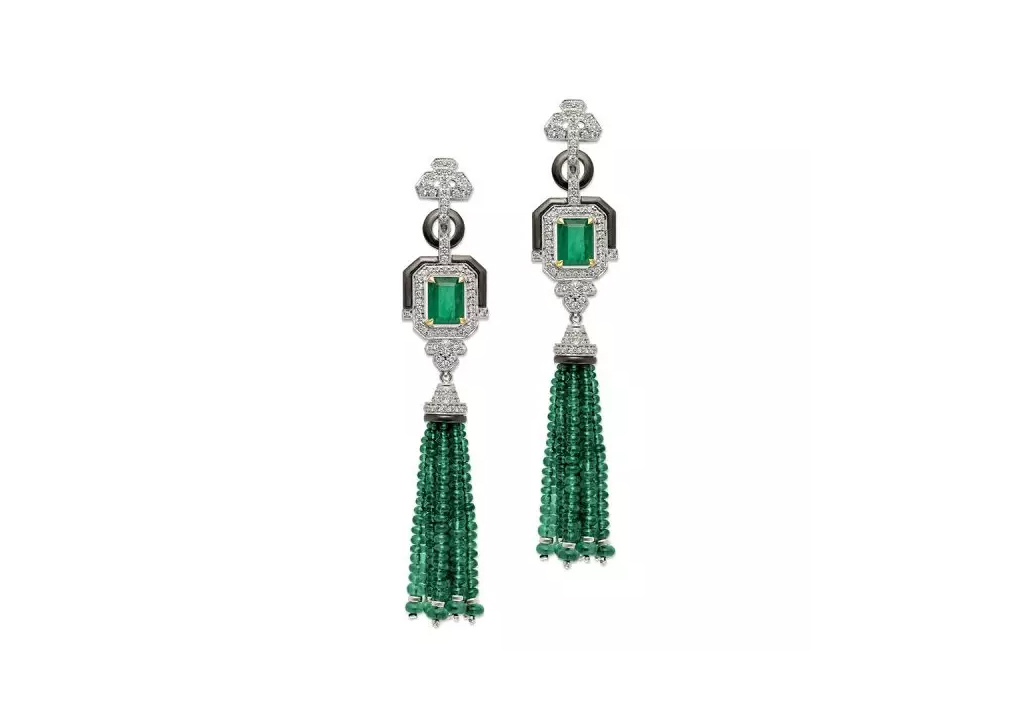 Diversify To Be Different: Your jewellery collection needs a varied mix to make it truly stand out. While some pieces may be modern contemporary, some may have traditional ostentation. Adding the symmetric allure of Art Deco jewellery, allows you to wear something special for every different occasion.
Art Deco Pearl Emerald Necklace
Art Deco at its finest, this versatile necklace has two geometric pieces on either side. Emeralds and Diamonds take on a structured form to offset the flowy grace of the four Pearl strands connecting them. Pair this with almost any outfit – western or ethnic – to showcase infinite exquisiteness.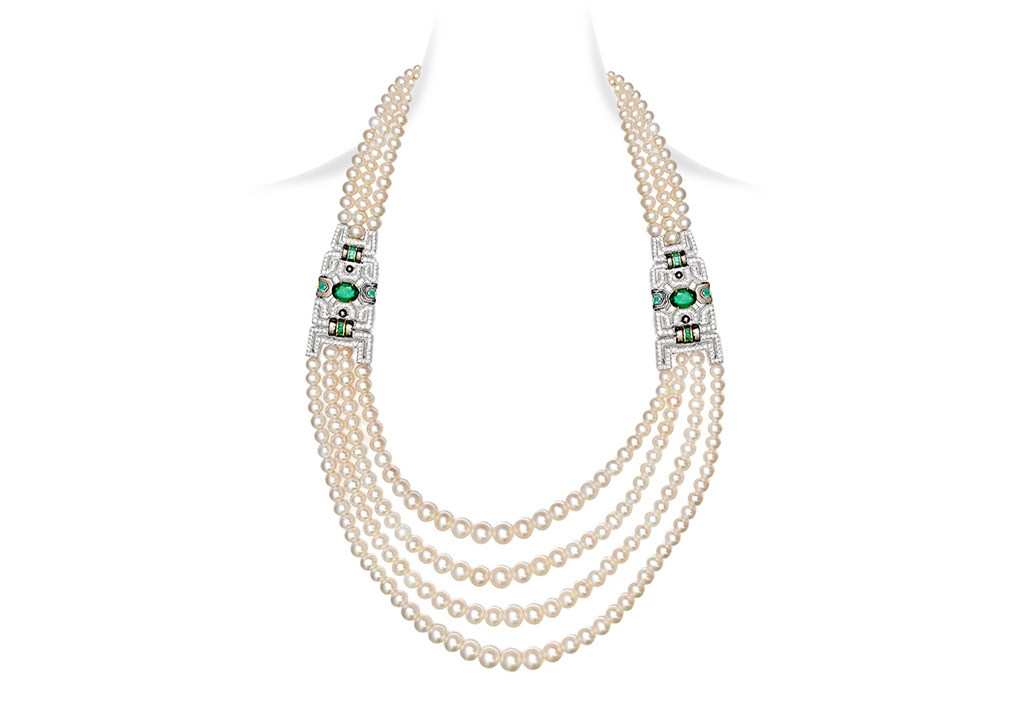 These pieces, amongst others, are a part of Rose's Opera Collection. Each jewel brings you the wonderment of streamlined forms and unmissable vibrancy. From Art Deco rings, earrings, and necklaces to bracelets, there is an array of glamorous refinement for everyone.
If you're looking for custom pieces, our in-store experts can help create something unique that reflects your style and tastes. So, step into our premises in Mumbai and Delhi to commission your very own Rose masterpiece.