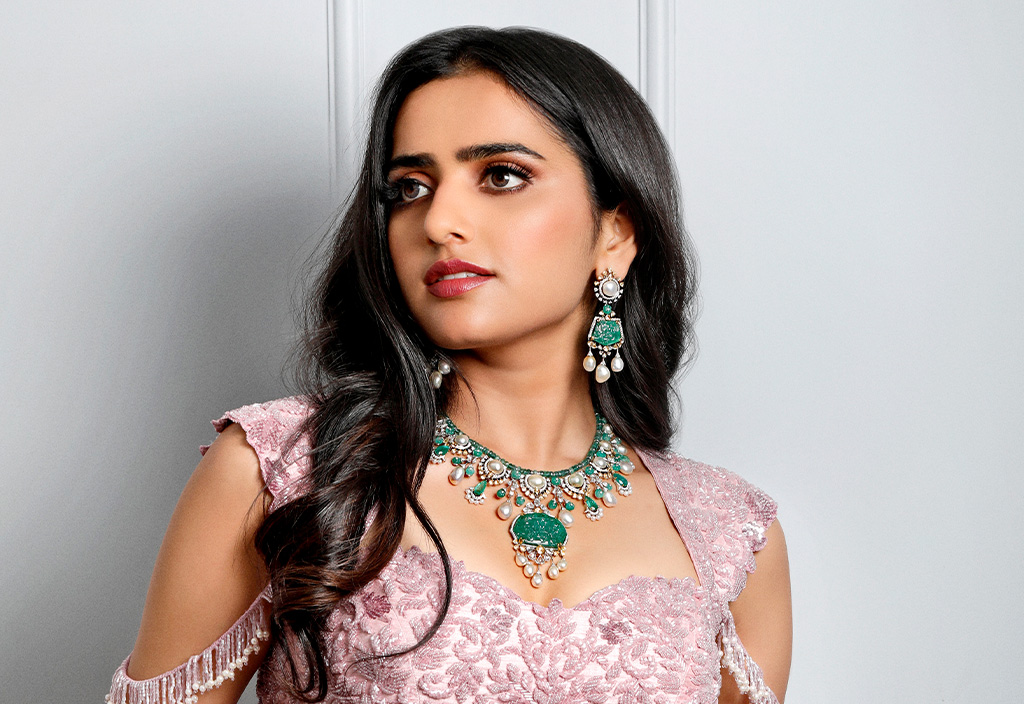 A Bridal Guide to Pearls
Pearls have often been associated closely with weddings as a symbol of love. As mythology has it, Lord Vishnu plucked perfect pearls from the deepest recesses of the sea to give to his daughter on her wedding day. Julius Caesar revered pearls so much that he declared only royalty could wear them. From crowns, veils, and gowns to headbands and bridal jewellery, pearls are a timeless choice for brides across the globe.
The House of Rose pays homage to these luminous wonders and their iridescent beauty with its

Purely Pearls Collection

. Ethereal and magical in their being, Pearls are the only precious stones created by a living organism. Rose breathes life into signature jewellery pieces with their beauty and inimitability.
The Bridal Neckcessities
Pearl And Diamond Wreath Necklace
This classic pearl necklace is a refined bride's dream. South Sea Pearls, fancy-cut Diamonds, and White Gold seamlessly come together to create a vision of ethereal beauty. This wreath pairs easily with most bridals hues, necklines, and outfit types. An elegant wear for the day or night, it can be a singular showstopper or layered easily with a longer neckpiece for added splendour.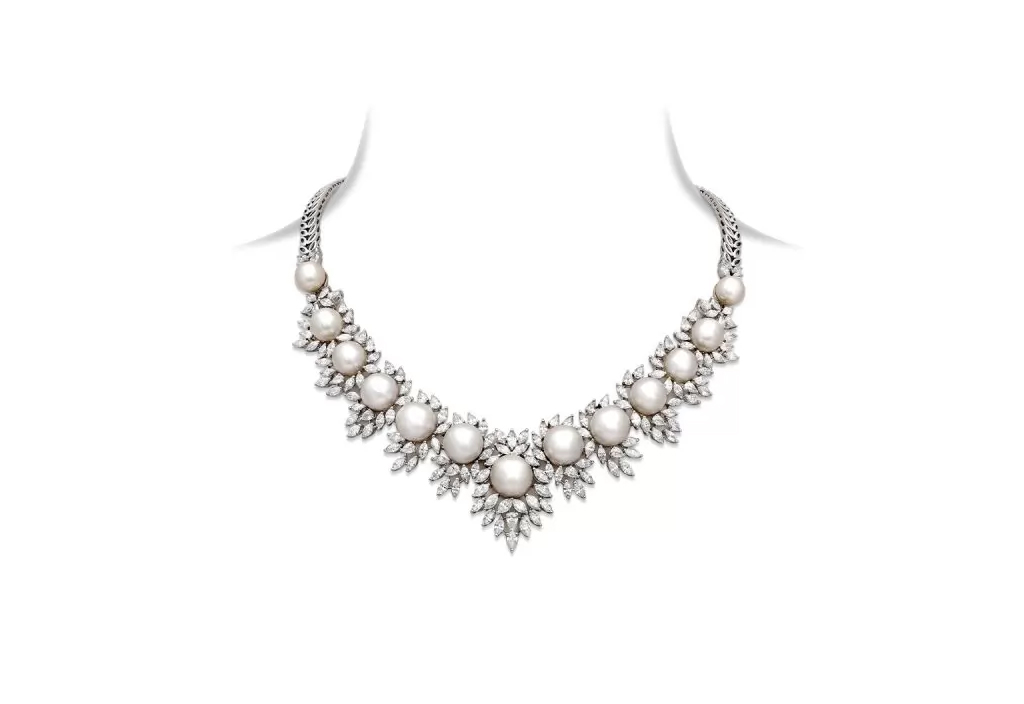 Carved Emerald And Pearl Bridal Necklace
When you're channeling a maharani of yore, you want the Rajputana bridal necklace to match. Propelling you into a bygone era of intricacy and grandiosity, this masterpiece is an absolute treasure for the wedding day. A hand-carved emerald takes centre stage as brilliant-cut white and yellow Diamonds, Pearls and more Emeralds create an enchanting piece of haunting beauty. A perfect wedding day wonder.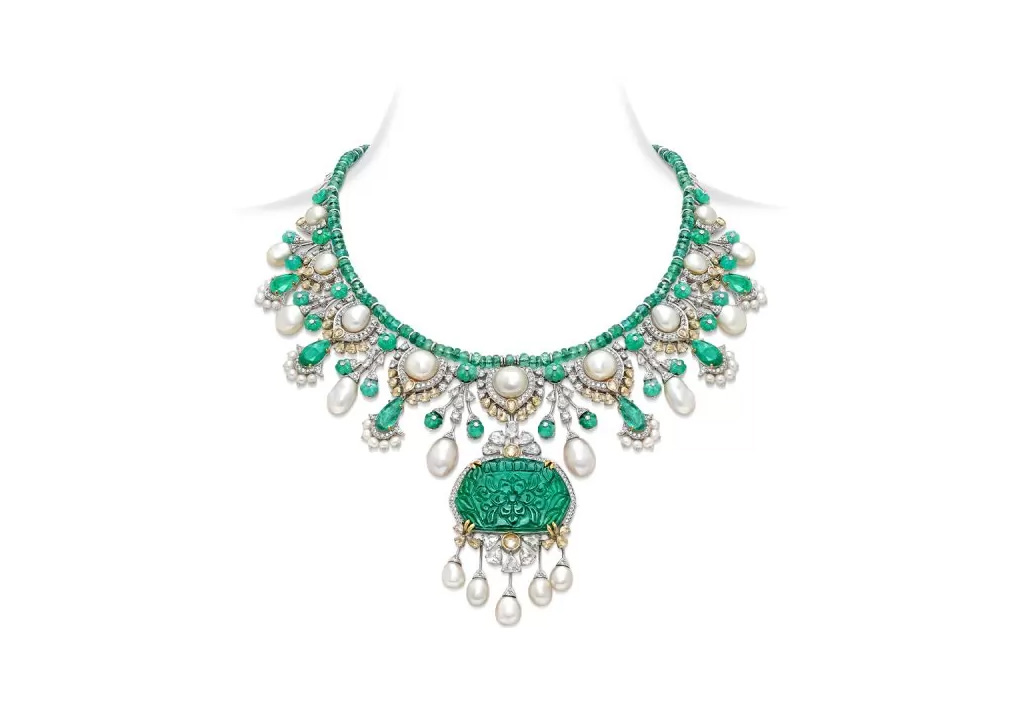 I Lobe It Earrings
Emerald, Diamond & Pearl Bridal Earring
Crafted for timeless style, these

bridal pearl earrings

are a vital addition to the trousseau. Deep-hued Emeralds are surrounded by fancy-cut Diamonds in a stately motif. The pair is trimmed with South Sea Pearl hangings and enhanced with a flourish of yellow diamonds. The harmony of tones only adds to the versatility of these earrings. When paired with the matched pearl necklace set, the effect is pure poetry with a dramatic retelling.

Keshi Pearl Diamond Hoop Earrings
Versatility meets inimitable design in these unique

wedding pearl earrings

. Tulip-like studded tops make way for Diamond and Keshi pearl studded hoops for an eclectic and stunning effect. The myriad hues of the pearls do a hypnotic number on you as the hoops sway merrily at the ear. A wholesome pair for a unique bride, these earrings are perfect for wedding functions and for singular wear on special occasions.

The Loving Em'Brace'-let 
Art Deco Motif Pearl Diamond Bracelet
A symphony of colour and materials, this bracelet with its geometric form and vintage milgrain effect makes a gorgeous bridal bracelet. Flawless, flowy freshwater pearl strands wrap around your wrist with a bold elegance. Luscious green emeralds add a touch of colour and royalty to the diamond-studded art deco motif in the centre. This showstopper is guaranteed to arrest attention and enhance that bridal glow.

Pearl And Yellow Diamond Bangle
Bridal bracelets have their own charm but sometimes the look demands layered beauty for the occasion. This pearl bangle showcases freshwater Pearls and yellow Diamonds held together by a line of brilliant cut Diamonds. Intricate and stackable, this bangle is the perfect combination of grace, sophistry, and versatility. After the bridal fanfare, this gorgeous piece can be worn individually with ease – day or night.

Band-ed For Life Rings
Spiral Reef Pearl Ring
A fantastic whirl of elegance and luminescence, this ring is an irresistible addition to your

pearl bridal jewellery

. A central solitaire Diamond is embellished with brilliant-cut and rose-cut Marquise Diamonds and Keshi Pearls. The swirling circular motif is Rose's unique take on the classic solitaire ring. This enchanting masterpiece is a perfect accent for the wedding day ostentation and can later be worn on special occasions with ease.

Emerald And Pearl Flower Ring
A modern and lush take on the floral motif, this statement ring is an attention grabber to be sure. Multi-hued Keshi Pearls add iridescent beauty to the central Emerald and its surrounding Diamonds. With their natural asymmetric forms, the Pearls create a visual of Mother Earth's true beauty. This bridal ring isn't one to be relegated to the recesses of your jewellery box. It pairs easily and well with most jewellery and ensembles – western or ethnic.

Pearls are an innate part of

bridal jewellery

owing to their evergreen lustre, their regal look, and their versatility. They add an element of majesty to wedding jewellery that makes us want to bask in their moonlit glory. The House of Rose understands the precious nature of these treasures and crafts masterpieces around their natural beauty. Step into our stores in Mumbai and Delhi for custom-created pearl jewellery or go through our e-shop to choose from wondrous pieces in our collection.