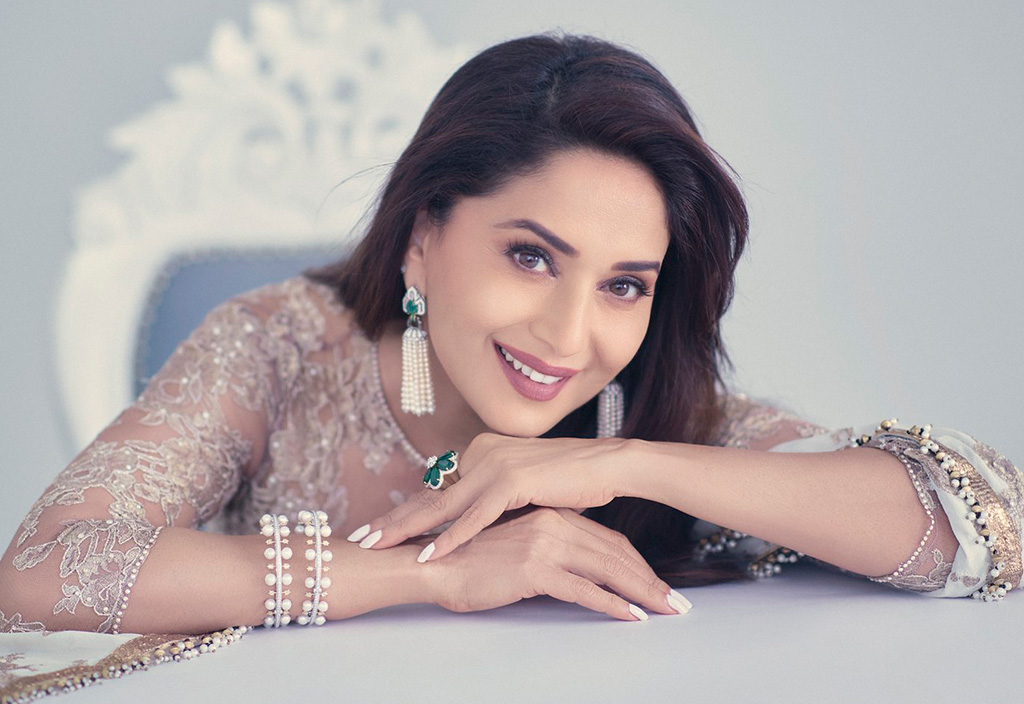 Tassels – A Timeless Jewellery Style with Undiminished Allure
Way back in time, circa the 4th Century BC, ancient Egyptians first conjured the idea of using tassels as a form of ornamentation in jewellery, clothes, headdresses, and amulets. Since then, there has been no looking back. Tassels have made an appearance in haute couture fast forwarding past the Medieval era, the Renaissance period, and even through contemporary trends. And in the jewellery world, they are still elevating glamour and style today.
We at the House of Rose simply love the playful sophistication of tassels in fine jewellery. The play of precious metals, diamonds, coloured gemstones, or pearls makes an arresting visual as those tassels dance freely. Here's a look at some of our favourites:
1. Ruby Diamond Tanzanite Tassel Earrings
This stunning rendition of tassel jewellery is a vibrant choice for special occasions, adding a touch of dramatic style to your look. A central Tanzanite holds court, surrounded by Rubies and Diamonds in a triangular floral motif at the ear. Cascading strands of Rubies and Tanzanites graciously flow from a pyramid-like diamond basket, dangling from the tops. We're talking mesmerizing beauty as the dangling gemstones draw you in with hypnotic movements. Club this without Fiori Cuff Bracelet to truly make a spectacular impact.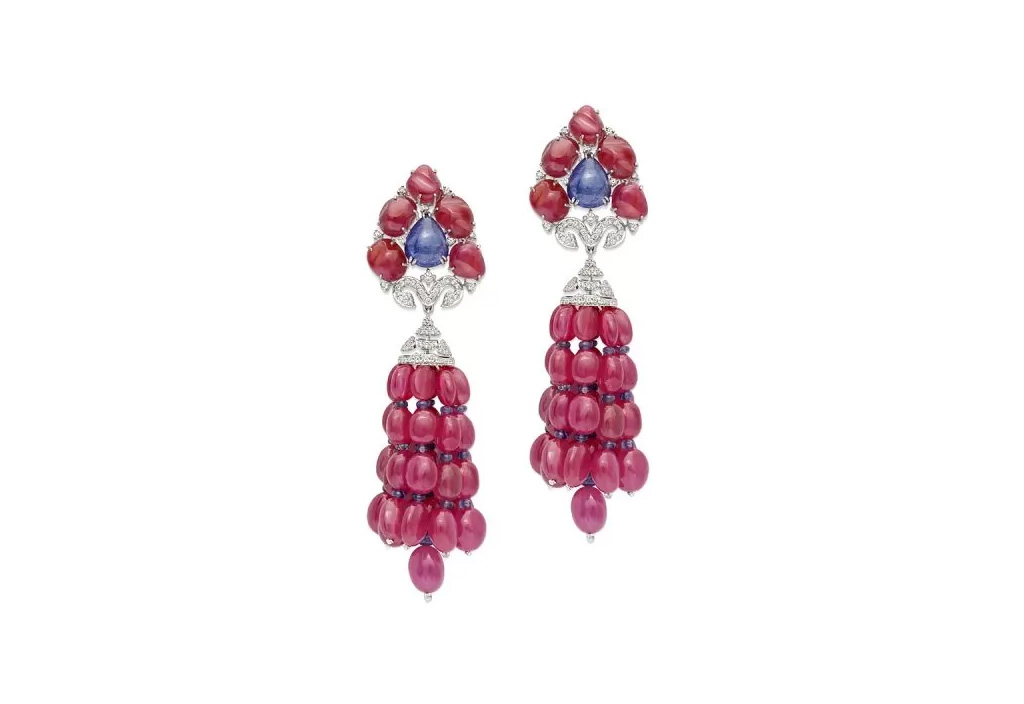 2. Ruby Emerald Tassel Pendant Necklace
Whether you're accessorizing a plain monochrome kurta or a dressy ensemble, this pendant necklace is a spirited addition to your look. An inverted Emerald pear holds a circular gemstone and diamond studded pendant, culminating in deep-hued Emerald bead tassels. The pendant is suspended from a chain of Ruby and Emerald disks with a finishing touch of diamonds. The sheer elegance of the piece makes an evocative statement, whether worn singularly or clubbed with the matched earrings, bracelet, and ring.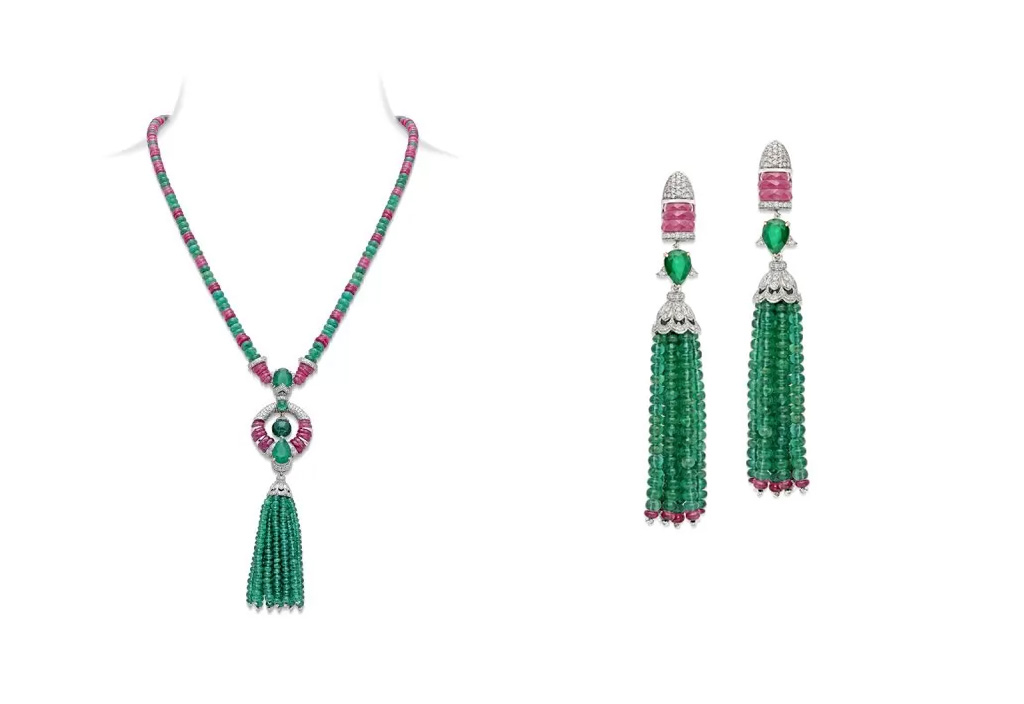 3. Emerald And Pearl Tassel Art Deco Earrings
A perfectly retro pair that brings old-world nostalgia into the beauty mix. These earrings are sheer elegance with their quaintly vintage motif which trails down in diamond danglers attached to cascading pearl and Emerald tassels. Sounds simply divine? Well, it is. Wear these when you're bringing glamour to special events, Gatsby-esque parties, or wedding celebrations. Club these with the matched Emerald And Pearl Art Deco Choker from our Opera Collection to take decadent sophistry to another level.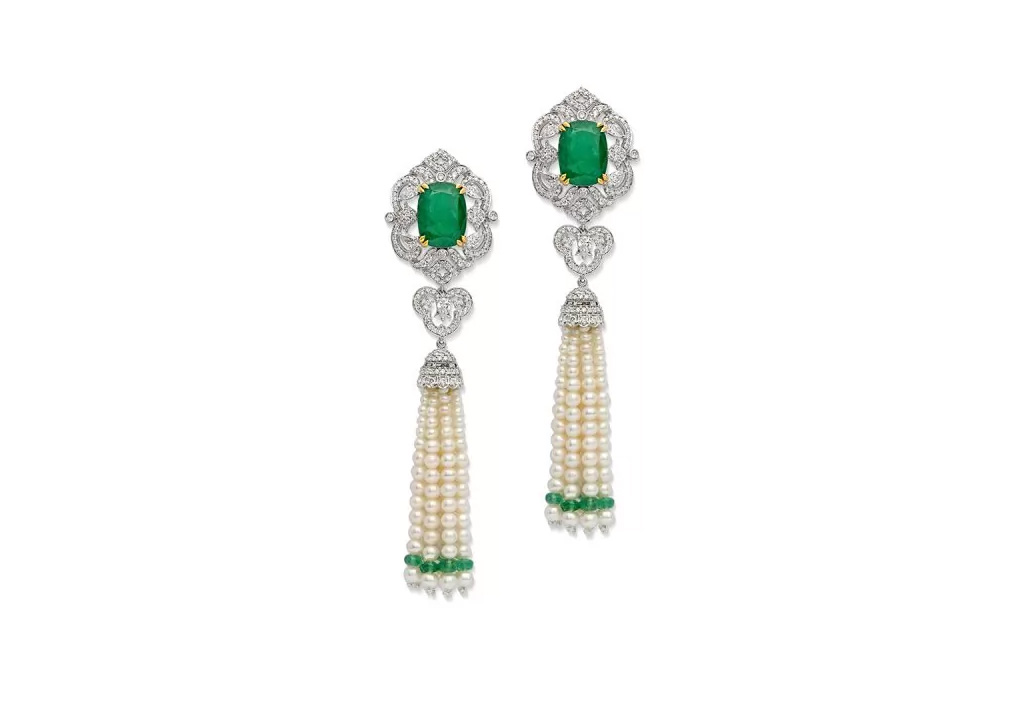 4. Tanzanite And Emerald Tassel Sautoir Necklace
This is one stunning tassel necklace, brought to life from a vision of truly refined artistry. Cascading strands of Emerald and Tanzanite beads graciously flow from a diamond and gemstone-bearing art deco centre. The dual-layered necklace adds to the vibrance with Emerald and Tanzanite discs interspersed with Diamonds. What you have is a one-of-a-kind sautoir destined to make the wearer stand out. Pair this with the matched earrings from our Colours of Life Collection to complete the look.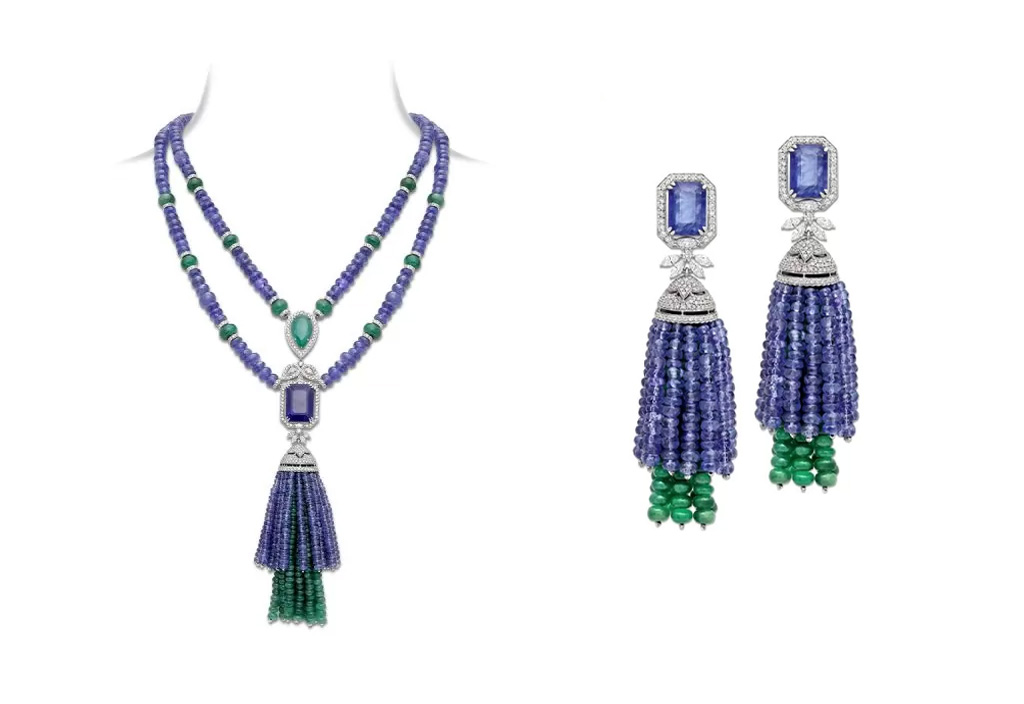 5. Trilogy Tassel Diamond Earrings
From our Commitment Collection, these earrings are created in 18K White, Rose, and Yellow Gold, symbolic of the buy-in of the Mind, Heart, and Soul. They make a symbolic gift that another gives to you or one you gift yourself in a commitment to happiness and self-love. Here the tops have three ForeverMark Diamonds enveloped in a studded halo using tri-coloured Gold. White Gold chain tassels dangle down while the diamonds at their ends provide the finishing touch. This versatile pair clubs easily with most outfits adding to your impeccable style. Channel your inner Goddess, with her powerfully striking beauty, by matching these with the Trilogy Sautoir Necklace.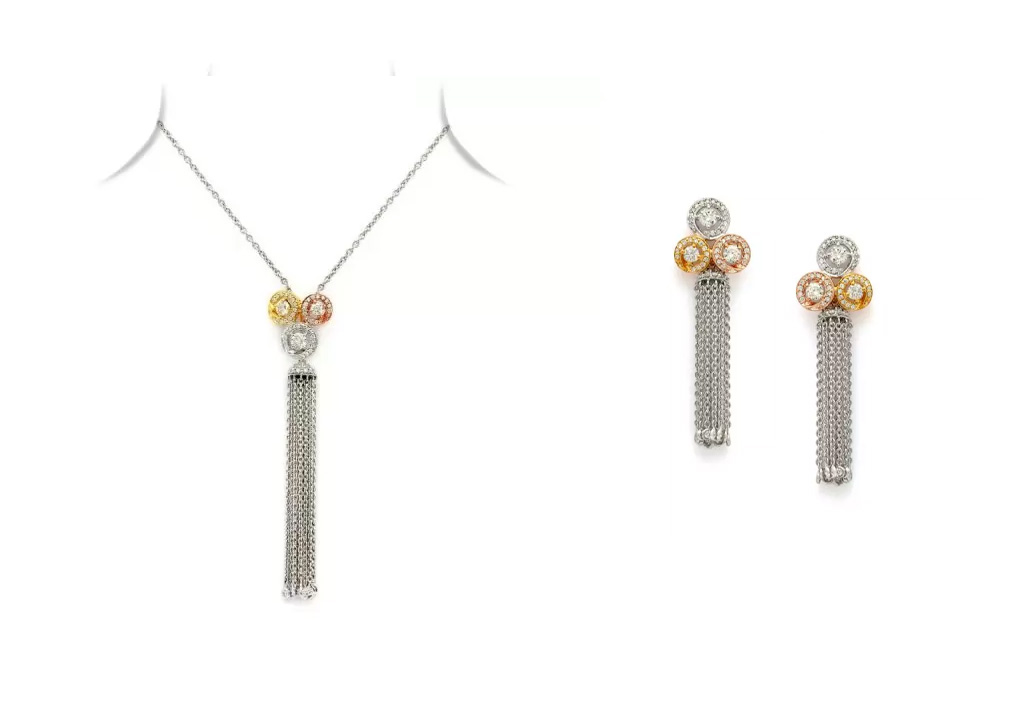 6. Emerald & Tanzanite Tassel Earrings
These tassel earrings with their blue-green hues look like they have been plumbed from the depths of the ocean, dripping with dewy beauty. We're getting poetic because that's inspired we feel, just looking at them. Emeralds, Tanzanites, and Kyanites harmoniously come together with baguette and round Diamonds blending geometric motifs with flowy curvature and cascading tassels. The effect is startlingly splendid. This gorgeous pair complements any outfit – western or ethnic – adding to your whimsical beauty. Take it up a notch by adding in the Ocean Angel Cuff Bracelet and you're sure to turn heads wherever you go.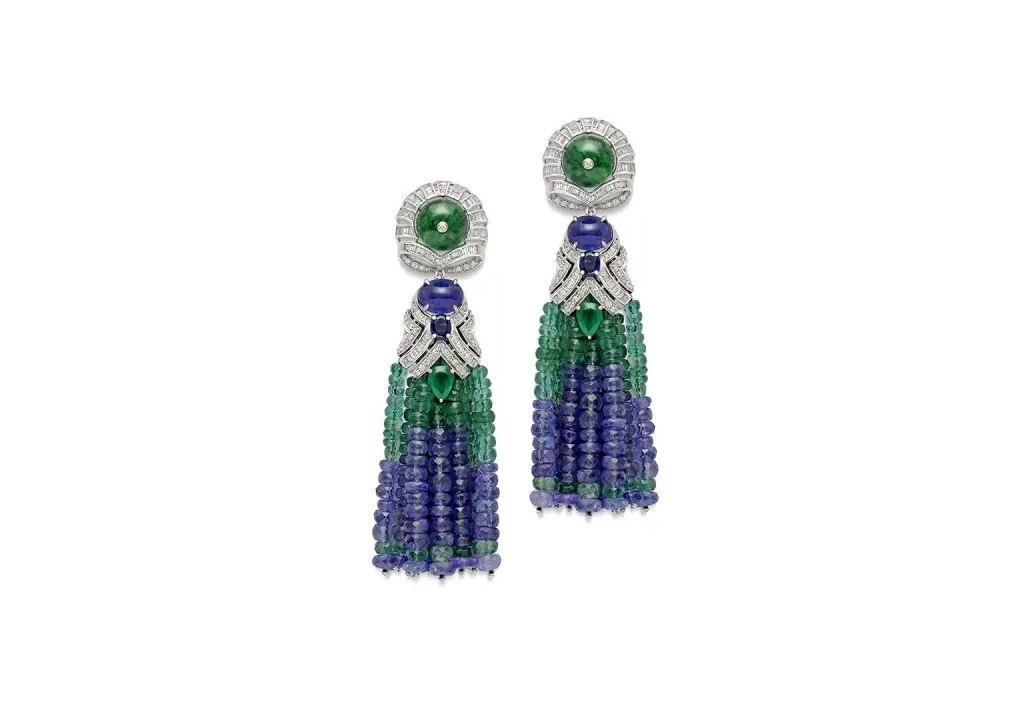 So, turn to tassels when you are in the mood for true versatility that gives you mysterious allure, a touch of flirty playfulness, and refined elegance – all in one fell swoop. The House of Rose has an extensive collection of tassel jewellery in its repertoire to suit a range of styles. If you're looking for something that is completely custom-created then visit the store and let our experts craft something distinctive just for you.