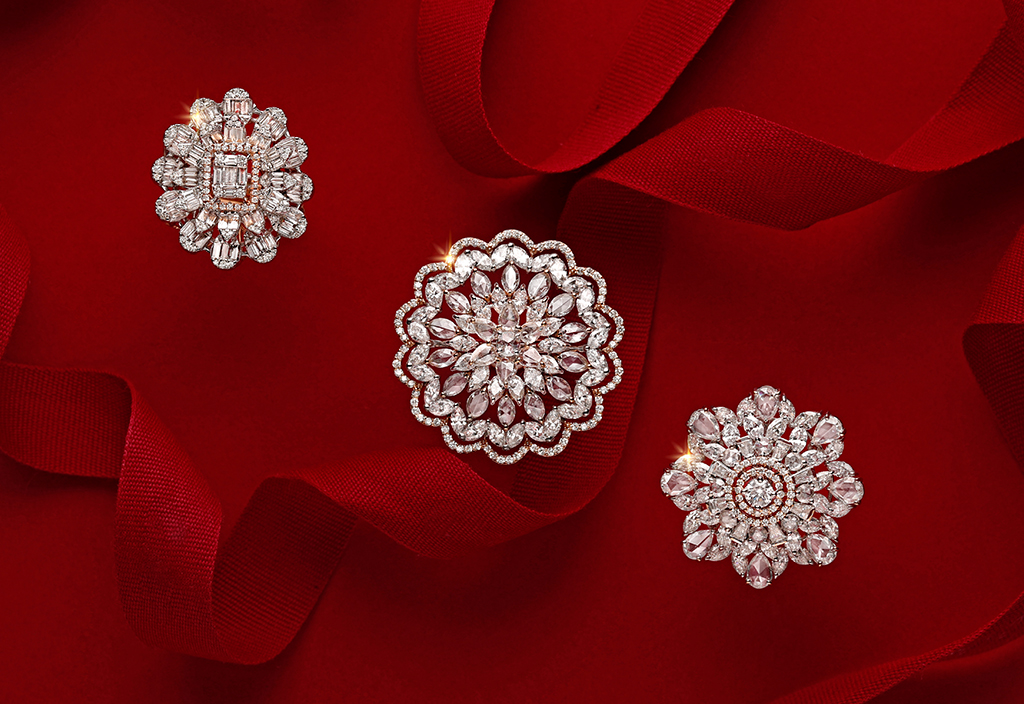 Trend Alert: Cocktail Rings Are Officially 2023's Most Checked Out Style!
A new year brings with it new trends, whether it's for apparel, accessories, or jewellery. The latest styles are set to take the fashion scene by storm. As experts chime in with predictions for 2023, the focus is on jewellery trends that are sure to delight! Expect the rise of the look-at-me earrings, bold arm-candy bracelets, edgy pearls, vibrant gemstones, and "check-me-out" cocktail rings. What we are taking away is that 'make-it-large' jewellery is a clear winner this year.
2023 is the maximalist's dream-come-true year, where jewellery is on the big, bold, and bright side. With this in mind, cocktail rings are front-runners on the must-buy jewellery lists. Whether you're attending a glitzy affair where everything from feathers to frills goes or an understated one like a polo match or a derby, you're still going to need a bling ring this year.
It was in the 1920s when modern machinery inspired the art deco era. Out went the ostentation and bows, and in came geometric lines and shapes. This was also the era of the liberated woman, the one who dropped her corset and stays to embrace a new age. When alcohol was prohibited in the United States, people were forced to seek out the "underground" bars in secrecy. Women began wearing bold rings with large gemstones to these places as a way of protesting the need for subterfuge. This was the birth of the cocktail ring.
So, this year, where "bold is the new black," you need to have your glam quotient on with a big sparkly ring, exaggeratedly high platform heels, overlined lips, and hot pink in your ensemble. We, at the House of Rose, with our elegant and bold diamond jewellery have you covered on the cocktail ring front:
Emerald & Onyx Cocktail Ring
Let's start with a ring that pays homage to the Style Moderne of the Art Deco era. This cocktail ring from our Opera Collection is emboldened with a central cushion-cut Emerald set in gold claw prongs. Several halo-sporting, heart-shaped diamonds surround this center stone in a proclamation of unbridled love. Black Onyx trimmings add their striking contrast to give this ring that extra oomph. This stunning piece is a showstopper like none other, taking you back to the extravagance and flair of the Great Gatsby era.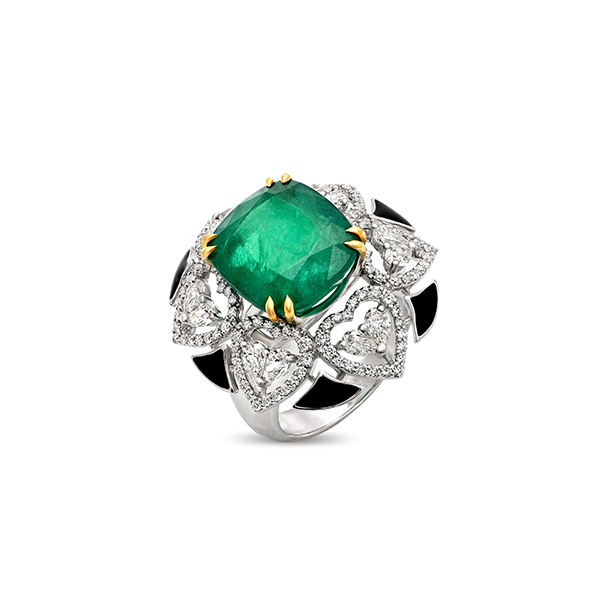 Rose Cut Diamond Kaleidoscope Ring
This ring brings the optical delight of kaleidoscope with its whirl of diamonds that sit symmetrically on your finger. A central round Diamond is surrounded by layer after layer of rose-cut and fancy-cut Diamonds. This flower-like dome culminates in a diamond-encrusted, scalloped rim of Rose Gold for a two-tone effect. From our My Trousseau My Treasure Collection, this piece evokes an instant sigh at its beauty. Wear this bling beauty effortlessly with most attire, be it your brunch outfit or your sangeet night ensemble.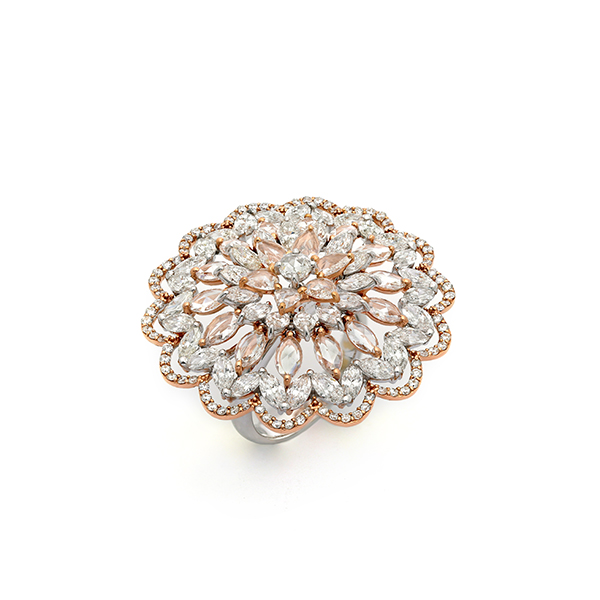 Mazzo Di Fiori Ring
This bouquet of flowers and ring brightens up the room with its vivid profusion of gemstones. The central emerald, with its luxurious green hue, is held within Yellow Gold claw prongs. Set in white gold, ruby, and brilliant-cut Diamond petals add layers and dimension to the floral motif. From our Colours of Life Collection, this stunner has a rare beauty and contemporary appeal for a true connoisseur of the finer things that life has to offer. The bold colours of this ring only serve to enhance your look, be it the classic and sophisticated kind or the flirty and bold kind.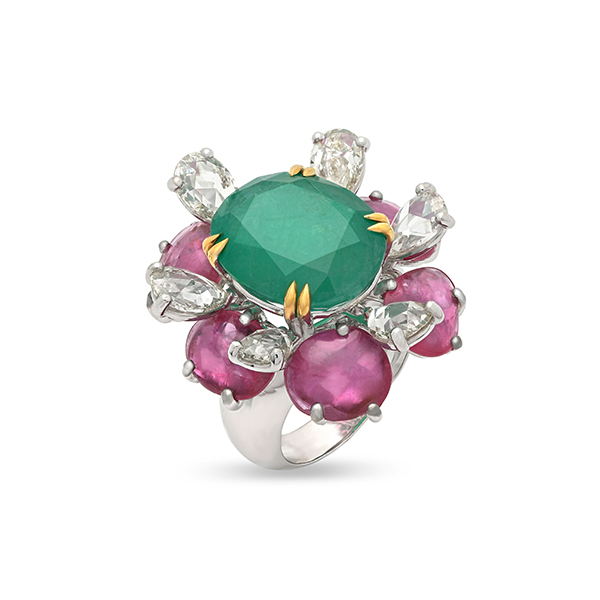 Golden Iris Diamond Ring
An artisanal addition to your jewellery box, this Golden Iris Diamond Ring is a collector's piece. A Mitchell Cut Diamond takes centre stage here with its halo of smaller brilliant cuts. Eight Rose-cut Diamonds of varying sizes with sparkling borders form the petals in multiple layers. The result is an Iris-like floral masterpiece that is sure to help you steal the limelight wherever you go. From the My Trousseau, My Treasure Collection, this floral cocktail ring is an alchemy of vintage elegance and contemporary glamour. It catches the eye at any event – big or small, western or ethnic, day or night.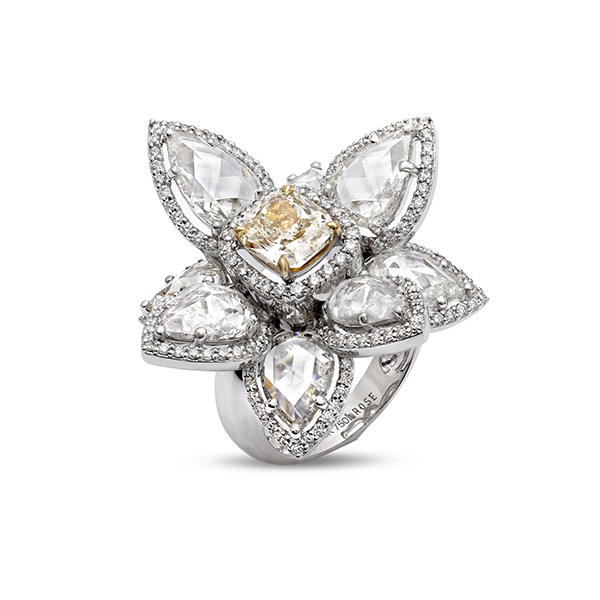 Emerald & Diamond Ring
This oeuvre d'art is pure magnificence in the form of a cocktail ring. A deep-hued Emerald sits at its core, secure in yellow gold prongs. Adding undiminished brilliance to the piece is the multitude of radiant Diamonds that create a twine around the green gemstone. The thick shank is also encrusted to look like a bed of diamonds. So, when you're looking to sparkle at an event, just channel your inner zest and this ring's scintillating fire. Wear it with your most gorgeous finery or use it to enhance your very simplest ensemble, and it is sure to arrest attention – unfailingly and unabashedly.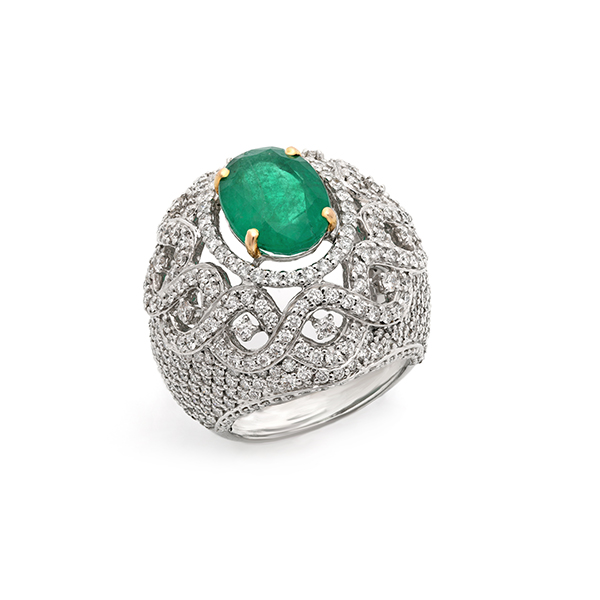 Tanzanite and Pearl Bubble Ring
Delightfully joyous and quintessentially Rose, this pearl and Tanzanite Diamond ring is a couplet for those who love vibrant effervescence in their jewels. Surrounded by a sea of pearl and tanzanite bubbles, this solitaire has unrivalled radiance. This beautiful amalgamation puts a cocktail twist on the classic solitaire diamond ring. A perfect example of modern fashion, this cocktail ring accentuates your look whether you're headed to that underground bar or to that glitzy red-carpet affair and everything in between.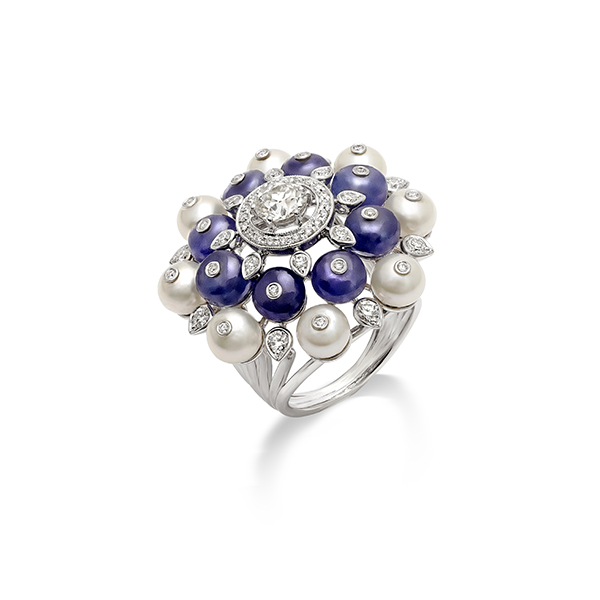 The House of Rose invites you to step into our hallowed halls to peruse the latest cocktail ring designs. Our collection is one-of-a-kind, with masterpieces that are inimitable. Visit our stores in Mumbai or Delhi to speak to the experts, try on what catches your fancy, or custom-make what you've set your heart on.