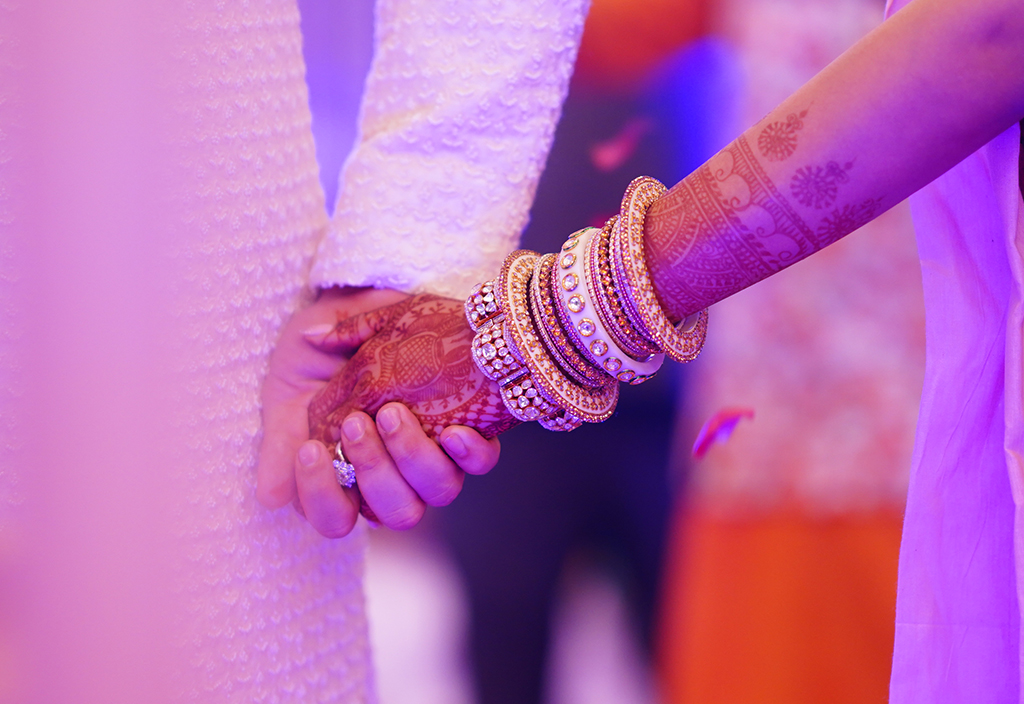 Snappy Tips to Enhance Your Bridal Jewellery In Your Wedding Photos
It's a storybook wedding and everything is in place. You've got the perfect venue, gorgeous décor, a couple that's clearly in love, teary-eyed family, and teasing friends in attendance and the photographer is capturing it all.
At the center of it is you – your flawless attire, your beautiful smile and your radiant beauty shining from the inside out. And of course,  the most unique and stunningly enchanting jewels. Like everything else, you want to immortalize their perfect, ethereal look for posterity.
Read on for some interesting tips to note and some arresting photo ops to create if you're looking to emphasize your bridal jewellery in your wedding photographs:
The Tips:
Choose Colour: Deep jewel tones look wonderfully striking in wedding photos even when they aren't the central focus of a shot. Deep Emerald greens and Ruby reds for the wedding day and maybe Tanzanite Blue or Sapphire Yellows for the Sangeet (musical) or Reception evening. Let the vivid colours pop as they elevate your look. A stunning example to consider here is our

Carved Emerald and Pearl Bridal Necklace Set

or our

Ruby Diamond Cuff Bracelet.

   
Go Big: Dainty is great for a usual day or a regular celebration. But, in our humble opinion, the wedding day demands a detour from the usual. We're talking large, showstopping jewellery that will make everyone turn to stare. You can choose pure

diamond necklaces

or go bigger with gemstones added to the mix. You can even opt for

jadau pieces

to make an impact. Take a look at our

Scarlet Peony Jadau Set

or our

Classic Ruby and Diamond Set

to gauge just how big we're suggesting you go.                                                                                                                                             
Layer Up: If you're of a practical bent you may consider donning two necklace sets which you can later use more effectively. This works too. Just pair a short or choker necklace with a longer one or stack your

bracelets

for impact. The result is still a big look and you don't need another big occasion to wear said jewellery again. Our

Chaand Haseen Jadau Set

is magnificent for a bride to wear singularly, but when layered it can create a truly regal look reminiscent of princesses from a bygone era. You can also stack the

Mukut Pacheli Bangle

with thinner accompanying pieces or wear it as a showstopping singular piece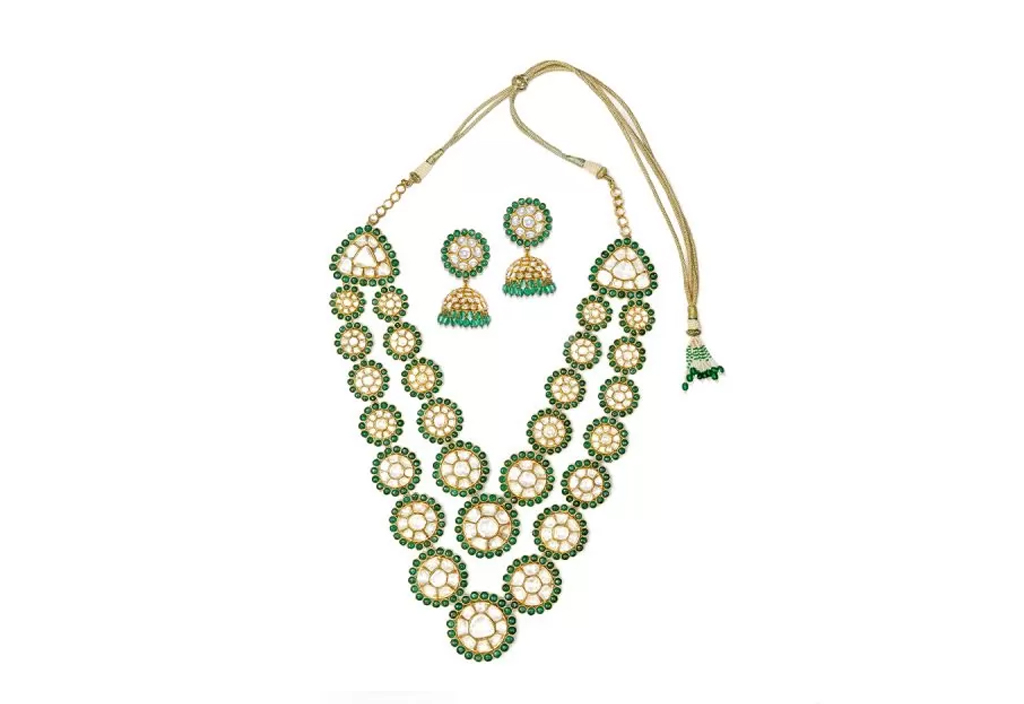 Now that you know what kind of pieces will make a mark in your photographs, let' s consider the layouts that can emphasize your wedding jewellery to dramatic effect:
01. The Flat Lay:
Ask your photographer to create a mesmerizing flat lay on a lovely backdrop showcasing your wedding accessories from your bag to your shoes to your wedding necklace set to your bridal bracelets and rings. Add in a touch of something from your décor – maybe a sprig of Baby's Breath or other floral elements – and you're all set.
02. The Veil To Unveil:
Go the "ghunghat" route and get a closeup of your veiled face to focus on your wedding necklace, earrings, and maybe even the nosepin that you've put on. If your hands are holding the veil daintily, then you can showcase your wedding bracelet and ring as well.
03. The Mehndi Shot:
Two birds – one shot. Hold your bridal jewellery lovingly in your hand and showcase it along with the henna that the artist spent hours painting onto you. Optionally place your wedding necklace and earrings on the vintage dresser and let your hand (henna et al) lovingly run over it. Make sure that your hand is decked with your bracelet and bridal rings to cover everything elegantly.
04.The Dulhan Moment:
Every bride has her getting ready shot. There's so much you can do here. From the half-face photo to the looking-in-the-mirror one. You could be gazing at your reflection as you put on your earring. Or you could have your parent help you with the wedding necklace. So many possibilities to keep in mind. Try a few so that you can cover everything and have options on what you'd like in the wedding album.
05.Backdrop Op:
This one could get tricky but a photographer worth his salt can pull it off. The focus of this shot will be your wedding jewels and the backdrop (de-focussed) can be your wedding stage, taking in the hues of your florals, the lights, and more. If you'd like to get more creative then you could hold your wedding necklace up with the groom in the background seemingly waiting to lay eyes on his bride.
The possibilities are endless. So go ahead and discuss the options with your wedding photographer. Ask for reference images and don't limit it to just one kind of picture. It's great to have options. Needless to say, keep a keen eye on those bridal masterpieces so that none go astray.
Step into the House of Rose to custom-create gorgeous wedding jewellery that will make you stand out. If you would rather choose from something ready, then we'll open our Pandora's Box of bridal jewellery and help you select something achingly beautiful – just for you.