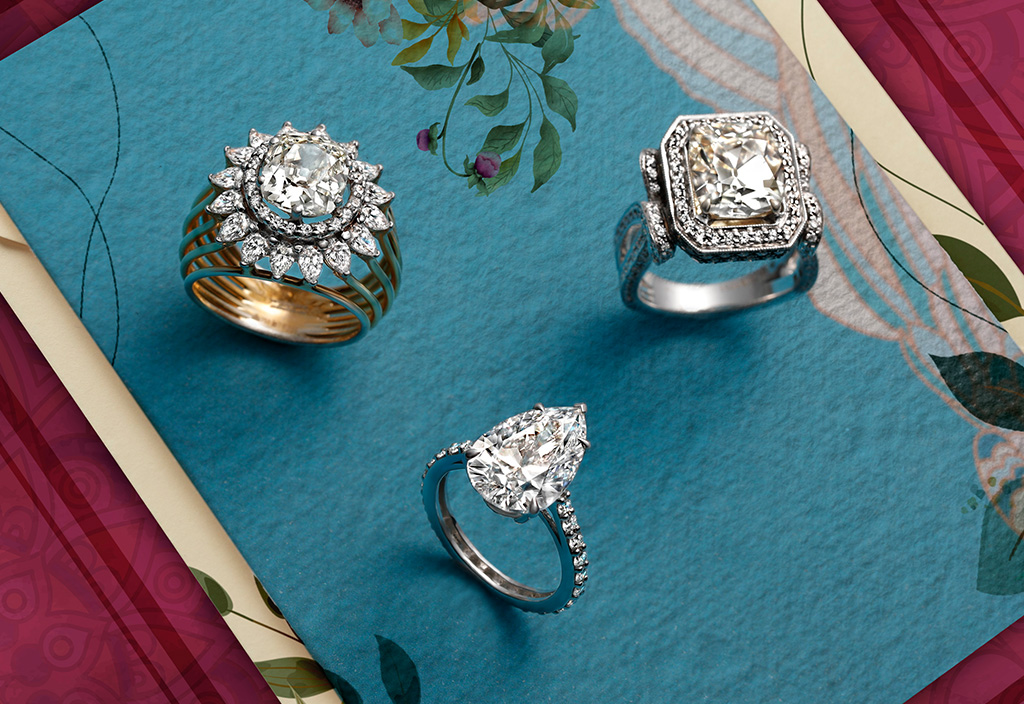 The Engagement Ring Quandary: How To Choose The Perfect Diamond Size
We've talked about choosing engagement ring styles before and we know that article was one of our most looked-up ones. It's not easy to choose that perfect diamond engagement ring. The one you'll wear and keep forever. Everyone's looking for expert help on the matter.
We, at the House of Rose, have experts in-store to talk you through the process. While you're most graciously welcome to set up an appointment, here is a little nugget of information on choosing the right diamond size to help you along:
Let's Get Personal
When you think of your solitaire diamond engagement ring, what's the visual that flashes into your mind? It's important to consider your personal sense of style here. Are you more of the bigger is better kind with a taste for class coupled with flair? If the answer is yes then you should definitely consider a 2.00-carat plus-size diamond to suit your tastes.
If understated elegance is more your thing then we'd suggest 0.5 to 1.5 carats as a better option. Smaller diamonds have as much of a radiant fire as the larger ones if their cut is excellent. You can safely pick a minimalist engagement ring with a plain, slender band supporting a diamond of up to 1 carat. If intricacy is more your thing and you prefer things to be detail-oriented, then we recommend a carved band or one studded with smaller diamonds.
Of course, whatever the size of the diamond, you can have the best engagement ring with a shank that can be accentuated with a diamond eternity wedding ring to match.
Style For Your Lifestyle
If your lifestyle is not too fast-paced, with easy breezy hobbies that don't involve digging your handles in dirt or food or all things grimy then it's a sign that you're destined for a larger-sized solitaire diamond. Make it draw attention as you type away at your work desk, winking at you till it draws a smile.
If you're out rock climbing often or generally doing things that will jostle your ring very often, then you need to consider a smaller diamond size. Look at a diamond that's under a carat. Also, consider the security of the diamond and opt for a six-prong setting as a safety measure. Ideally, you can consider a low-profile setting rather than the heightened cathedral setting. In fact, you can look at a bezel setting. Don't fall prey to the common misconception that this setting mutes the radiance of a diamond. An excellent cut diamond will shine just as brilliantly in this setting. So, choose safety.
Hand-le The Size Query
Bold Hands:
The size of your hands and fingers plays a significant role when choosing the size of diamond engagement rings for women. The rule of thumb is larger diamonds are best suited for larger hands while small to mid-sized diamonds work better on smaller hands.
If you have large hands with larger knuckles and fingers, then look at a 1.75-carat diamond or bigger. Accentuate those knuckles with a brilliant round or a cushion-cut diamond. If you prefer to draw attention away from your fingers, and towards the ring, then choose a wide band with three stones – a glorious, central 2-carat diamond flanked with 1-carat diamonds or gemstones.
Large hands with slender fingers can sometimes work with a smaller diamond. Accentuate their length with an oval or marquise diamond in this case. The size can vary from 1 carat to 2 or more. If you want to draw attention away from your fingers then we recommend a cushion or princess-cut diamond in a bold setting with a wide band. Here, we'd suggest 1.5 carats and more in terms of a diamond size.
Petite Hands:
Those with small hands usually find that diamond sizes between 0.5 to 1 carat suit them better. Here we suggest you veer away from wide bands and choose more delicate, narrow ones. The softer lines of a round or cushion-cut diamond engagement ring will accentuate the hand without dominating it.
If you have small hands with broader fingers, then you are best suited for a split-shank ring with a raised solitaire diamond that is 0.5 to 1.5 carat in size. Too small a size can underwhelm while too big may look disproportionate. With the shank too, you need to stay away from one that's too slender or too wide. You can also choose diamond shapes like pear, oval, or marquise that elongate your fingers.
If your fingers are slim, work with an Asscher, cushion, or princess-cut diamond. Again, you do not want something so small that it becomes unremarkable. Choose instead, a size between 0.75 to 1.25 carats to sit "just right" on your hand. Pick something that can pair well with your bridal rings and make a statement on your wedding day too.
While these snippets are wisdom are helpful and a great starting point, we always suggest you come to visit the store. Our Creative Director, BeeVee, and his team of experts will make a great sounding board for your preferences. They can guide you through the process and show you options to try out. The House of Rose is, of course, famous for its custom-made engagement rings. So, you're sure to gift yourself something unique and truly exquisite here.