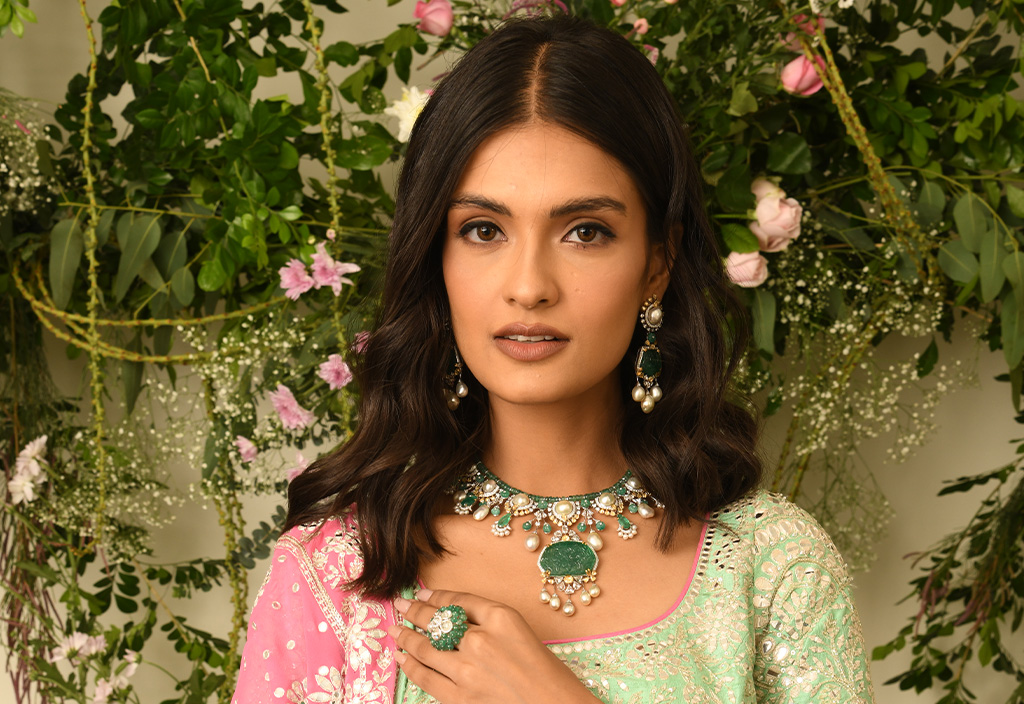 Get An Ear-ly Start on Your Trousseau with these 7 Stunning, Heavy Earrings That Every Bride Needs to Pick Up!
Whoever said size doesn't matter clearly hasn't included a bride-to-be in the polls. After all, there is nothing more important to a soon-to-be-married woman than the size of… her luxury bridal earrings and her trousseau.
After all, the bridal trousseau is given immense importance in India. It includes stylish new outfits to wear, coveted handbags, luxurious timepieces, and especially gorgeous, timeless jewellery. For the bridal jewellery, especially – it is important to select pieces that will age gracefully with you and only increase in value with time. Here are our top picks of heavy earrings that every bride needs in her trousseau:
60 carats of Tanzanite drops add their azure hues to scintillating brilliant diamonds surrounding the rose-tinged beauty of Rubelite pears. These earrings with their sized diamonds are a true treasure to add to your jewellery box. Pair these dangling masterpieces with a simple bracelet to make a statement with your ethnic wear.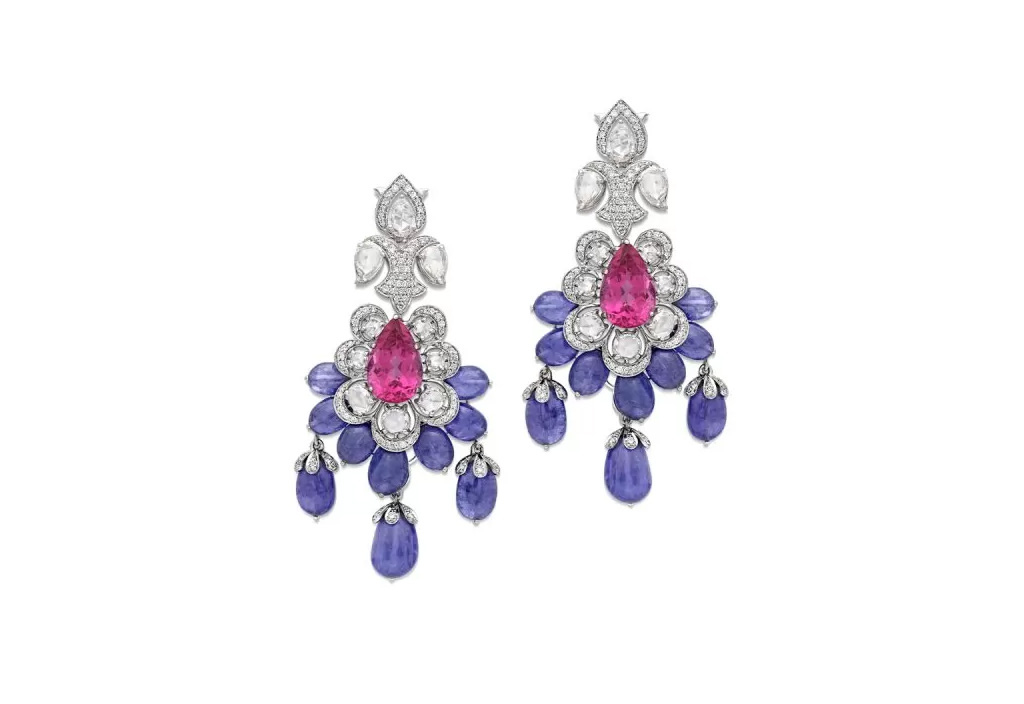 2. Tanzanite Emerald Bouquet Earrings:
A truly decadent pair of heavy earrings that elevate your look with glamour and vibrance. The flower-like carved Tanzanites seem suspended from cascading, pagoda-like danglers. Brightly coloured emeralds and tanzanite beads add a bouquet-like effect to these stunning diamond earrings ,which are a valuable trousseau addition.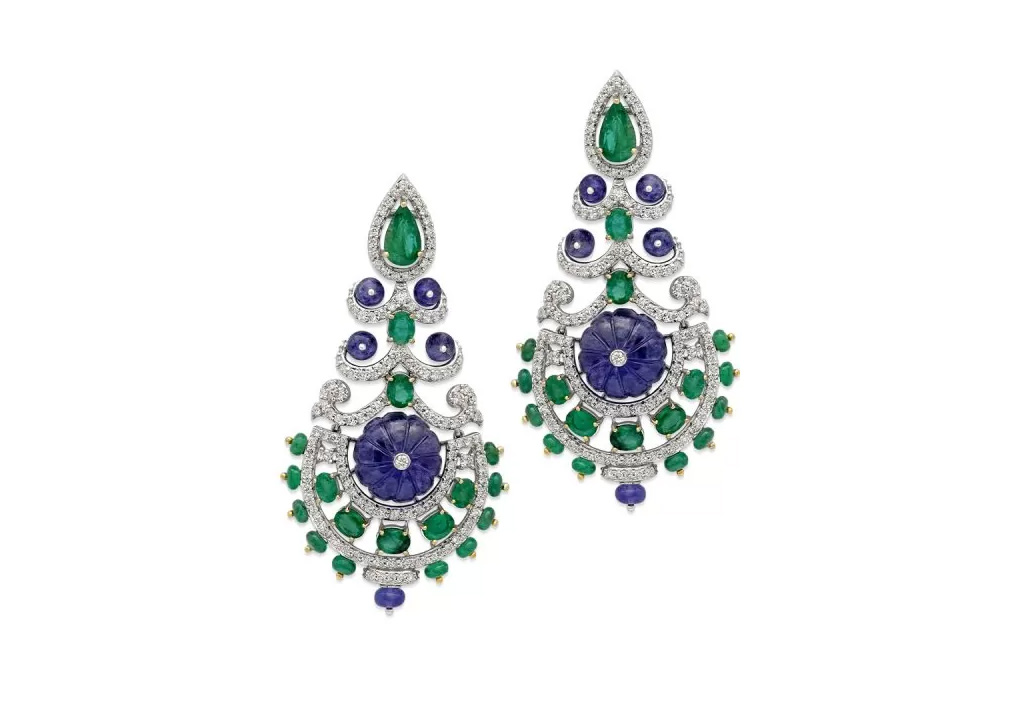 3. Carved Emerald and Pearl Bridal Earrings
The symmetry of carved Emerald pentagons is offset by the asymmetry of Fresh Water Pearls and diamond floral motifs as they dangle joyously from diamond-studded pearl tops. These earrings can be paired with their matching necklace to complete the bridal jewellery set for your wedding day.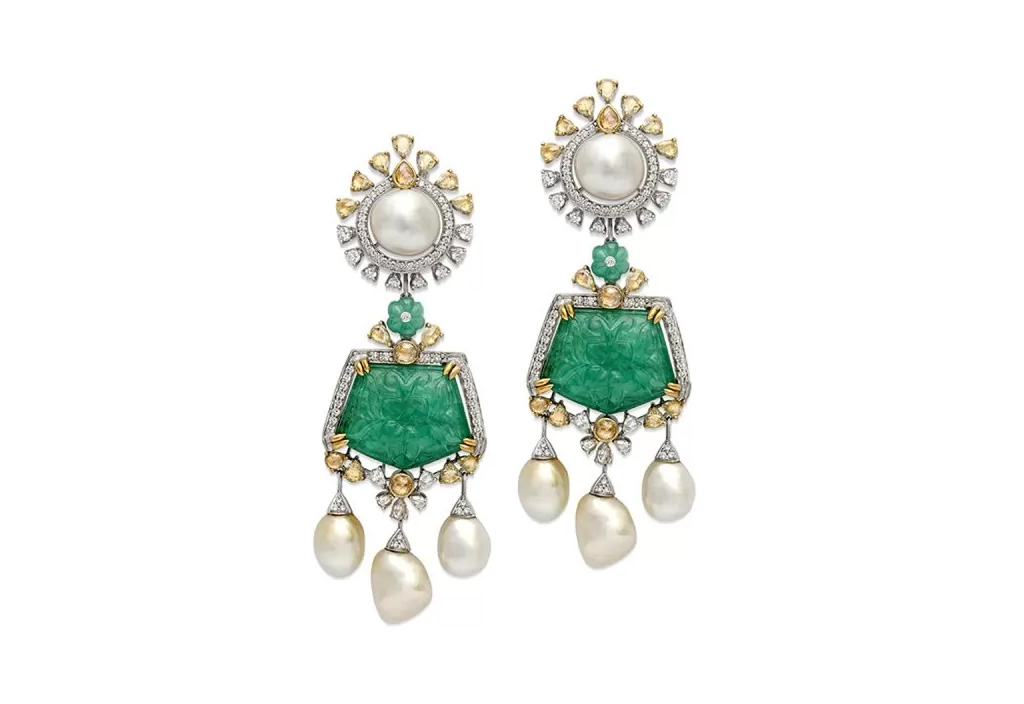 4. Emerald Drop Bridal Earrings
Bright-hued pear-shaped emeralds arrest the attention as they lie amidst the fervent sparkle of brilliant-cut and rose-cut diamonds, culminating in South Sea pearl drops. These earrings, with their drop motifs, have an undeniable allure when worn singularly or enhance your bridal jewellery when clubbed with their matched necklace. A perfect pair for the modern bride with an eye for true beauty.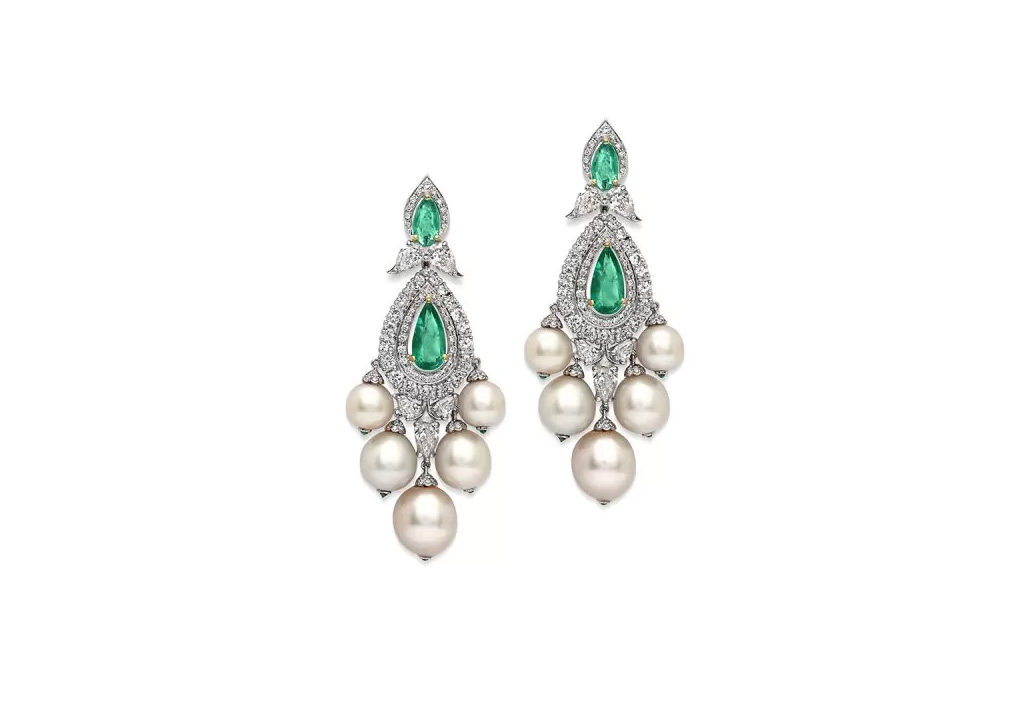 5. Carved Ruby & Tanzanite Earrings
Emulating the beauty of nature, these earrings have a wreath-like flow of brilliant-cut diamonds that surround Tanzanite ovals that seem to rest atop a bed of exquisitely carved Ruby leaves. The splash of colour amid the white fire of diamonds is a refreshing enrichment for your wedding looks.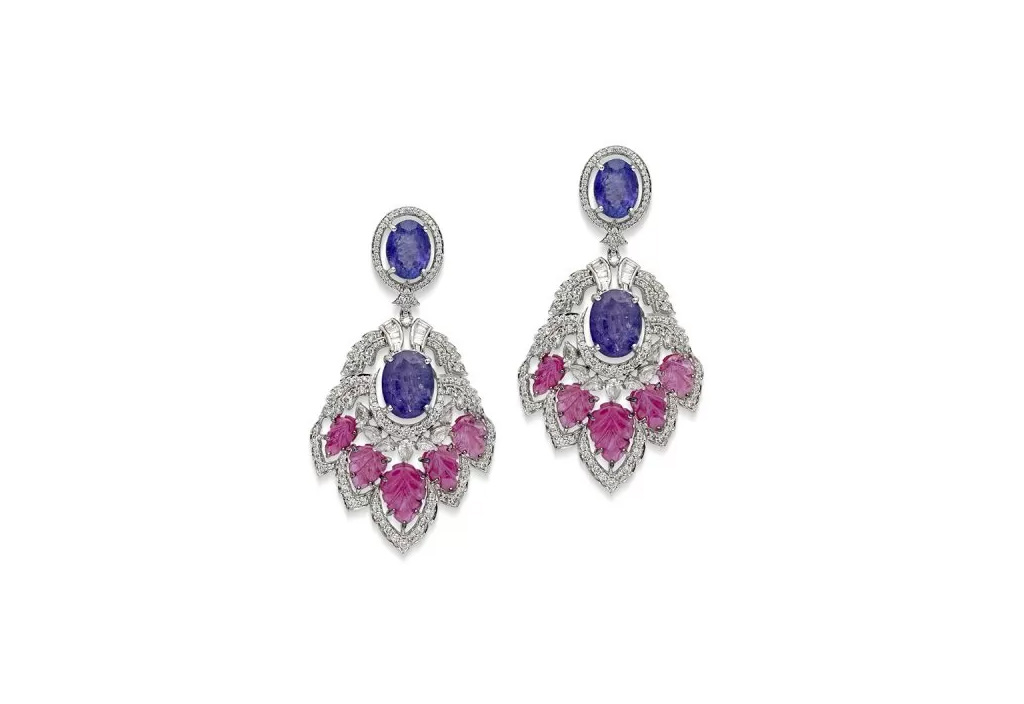 6. Ruby & Diamond Greco Art Deco Earrings
Structured tops find their balance with voluptuous pear-like drops in these earrings, where the cool hues of Tanzanite cabochons find balance with burnished Mozambique ruby beads to stunning effect. These diamond earrings are a bridal must-have with their Gatsby-esque Art Deco glamour.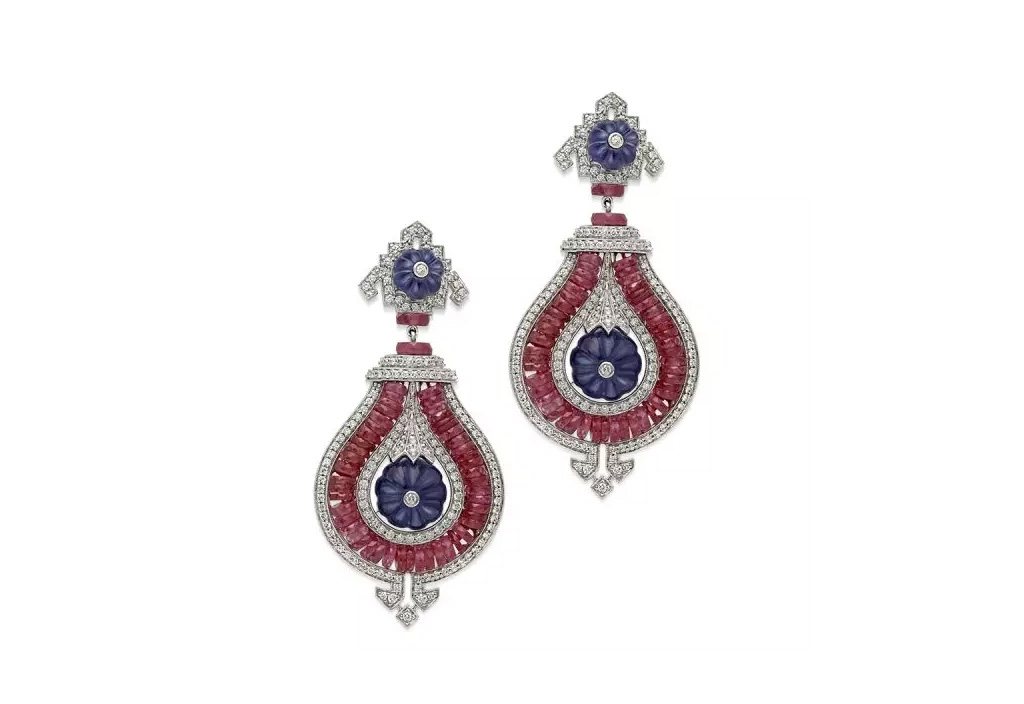 7. Emerald Tanzanite Flair Earrings
Nothing mesmerizes more than the flowy, curtain-like movements of a waterfall. These earrings inspire that very same hypnotic pull as diamond hoops hold onto art-deco drops with their central tanzanite bead cabochons from which cascade the curtain of emerald beads tipped with tanzanites.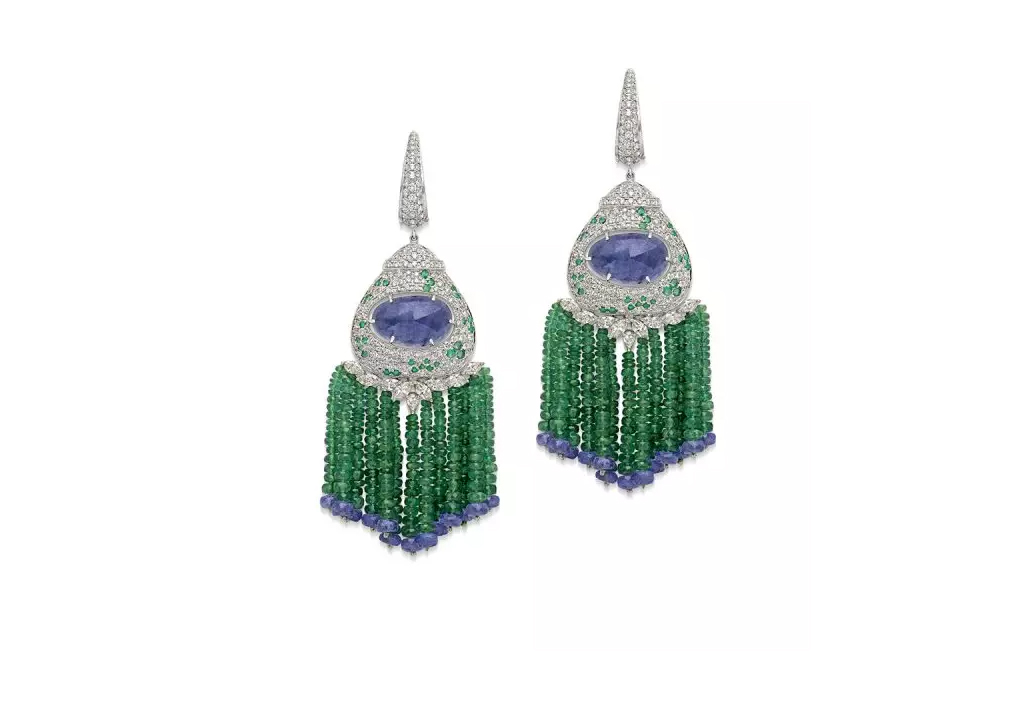 While heavy earrings often grace the bride's lobe to dazzle one and all at the wedding festivities, they also make a statement at future celebrations when clubbed with smaller bracelets or neck-pieces. Don't shy away from colour to add to the enchantment of your diamond earrings and enjoy the attention that they grab.
At the House of Rose, we skillfully craft unique pieces for true connoisseurs of beauty who appreciate inimitable design, flawless finish, precious gemstones, and the value of handcrafted masterpieces. While our bridal jewellery sets are listed online, we also have a large range of bridal necklaces, trousseau-worthy earrings, rings, and bracelets in our stores. So reach out to us and we'll guide you through the often-alarming and routinely overwhelming process of shopping for wedding jewellery.