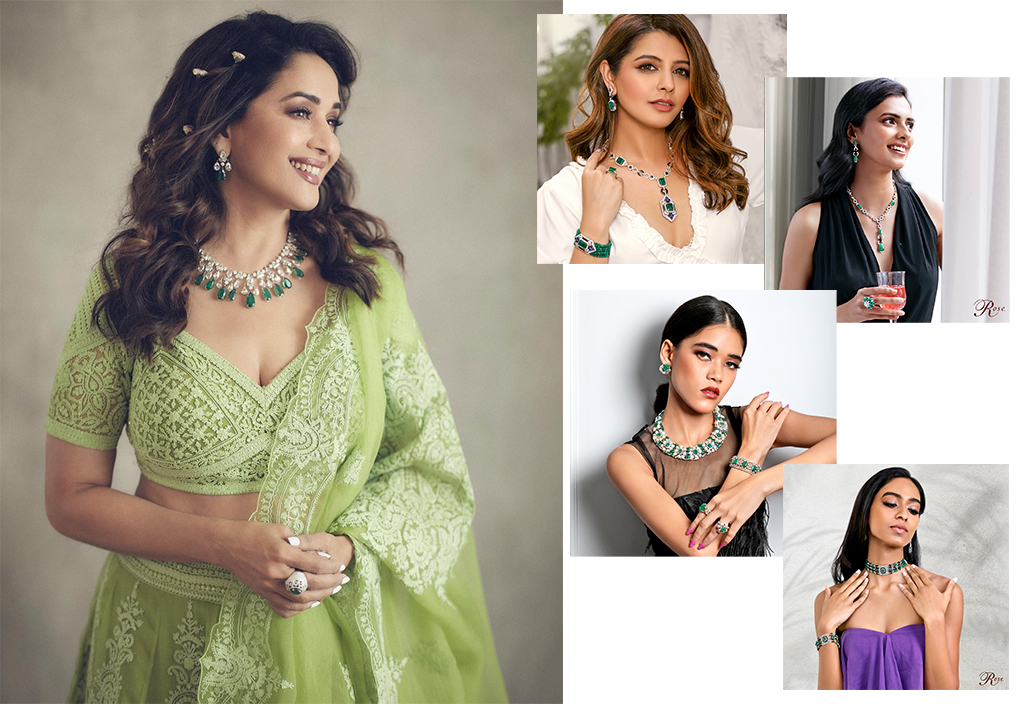 The Neck-sessary Guide on How To Pick A Necklace To Complement Your Neckline!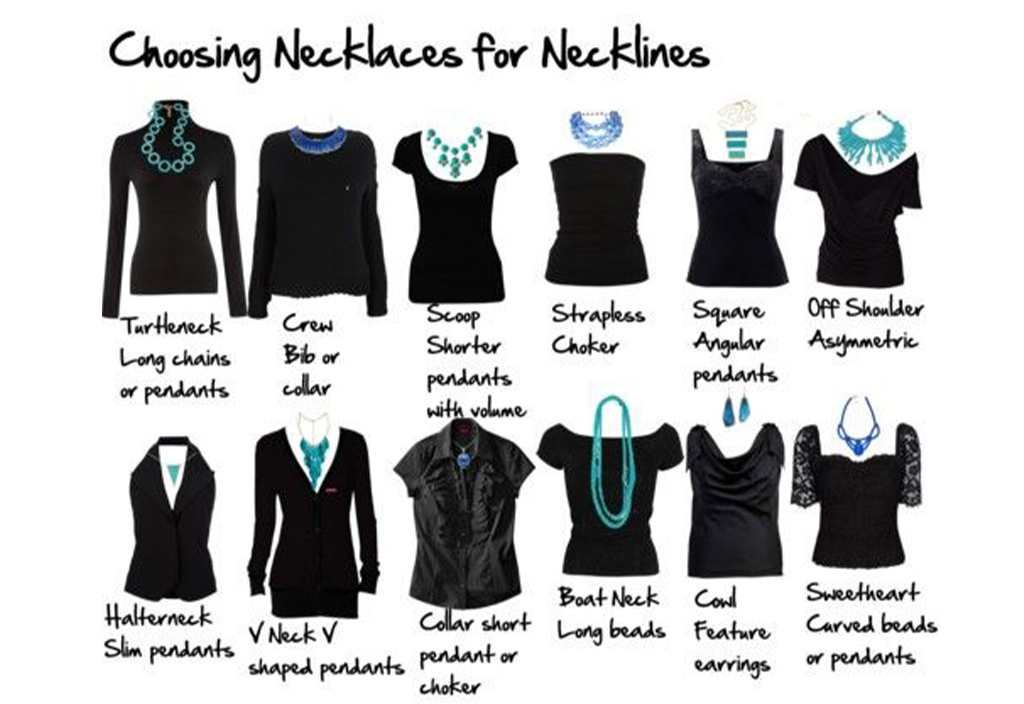 Why aim for a neck-to-neck finish when clear victory is easily at hand. And the way to win the styling race is by following this guide on how to glam up with distinctive necklaces that best suit your outfit's necklines. Also, use these pearls of wisdom (pun intended) to help you make better necklace choices when filling the gaps in your jewellery collection.
Necklaces For Your Necklines:
Long Chains or Pendants: Turtlenecks
Named because it looks like the neck of a turtle coming out of its shell, this high neckline is a classic, formal look that suits several occasions. Chinese collars or other high-necks too, have a similar appeal. Here the best accessory is a plunging, long chain or pendant necklace. At the House of Rose, we have several long necklaces that gracefully make their way down the gentle slopes of your body to look tantalizing in their fiery radiance. From an Uncut Solitaire Jadau Pendant on a delicate chain to the Emerald Ruby Necklace – we have masterpieces to suit all your looks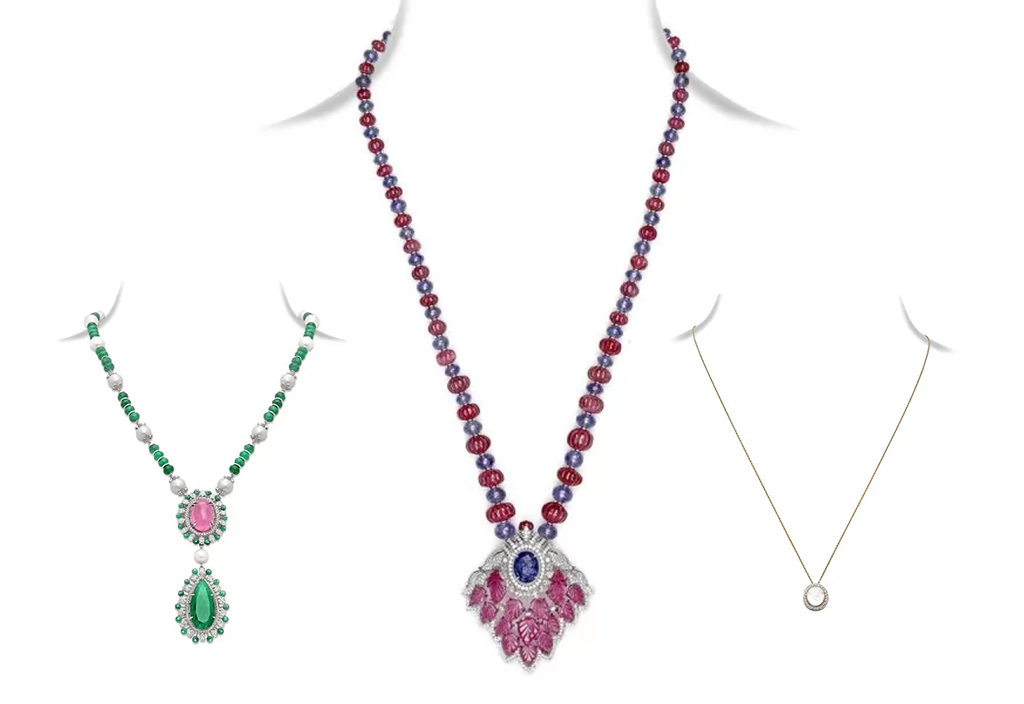 Bib or Collar Necklace: Crew Neck
Crew necks are closed necklines that titillatingly cover your collar bones and wrap around the base of the neck. This is an evergreen look, especially for ethnic wear. To make the beholders hot around the collar, one can accentuate this necklace with a bib or collar-style diamond necklace. A classic example is the Signature Emerald Diamond Necklace which gracefully sits around the neck as you head out in your celebratory finery to various festivities and functions.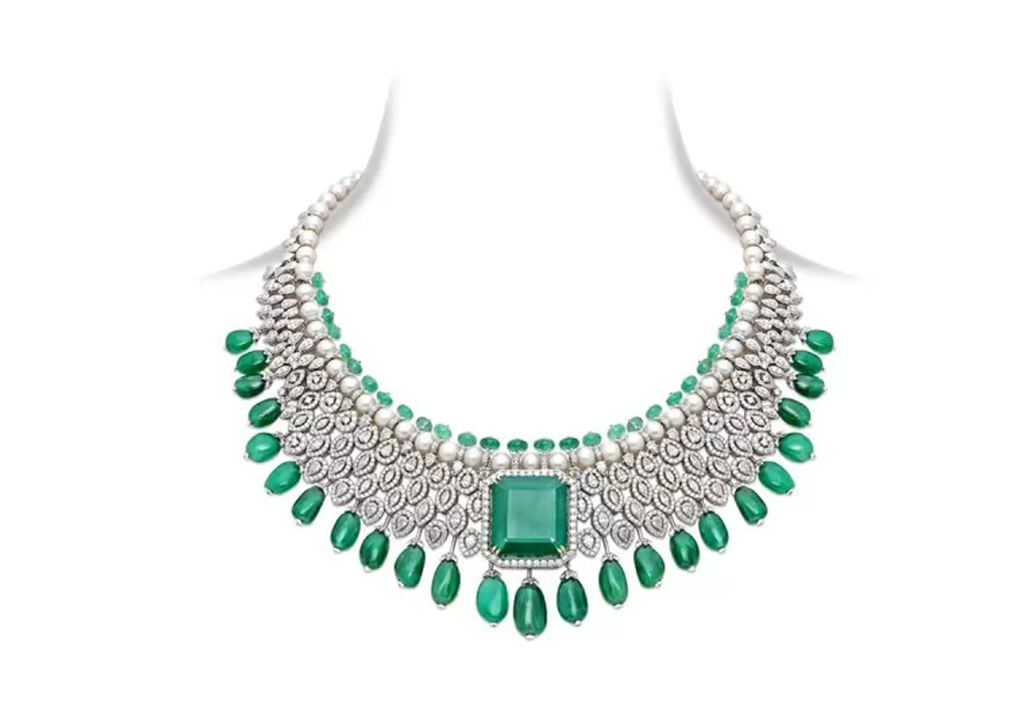 Choker: Strapless
Don't be choked up with emotion when you see your startlingly beautiful reflection in the mirror, decked in a strapless sheath or ethnic floor length. This is when the beautiful bare canvas of your neck needs the loving embrace of a choker. Sparkling with diamonds or enticing with gemstones, a wider choker looks fabulous on long and slender necks, while slimmer circlets look great on most. At Rose, we have a range of stunning chokers from the Navratna Jadau Necklace to the Emerald and Ruby Choker that can complement your look with refined elegance.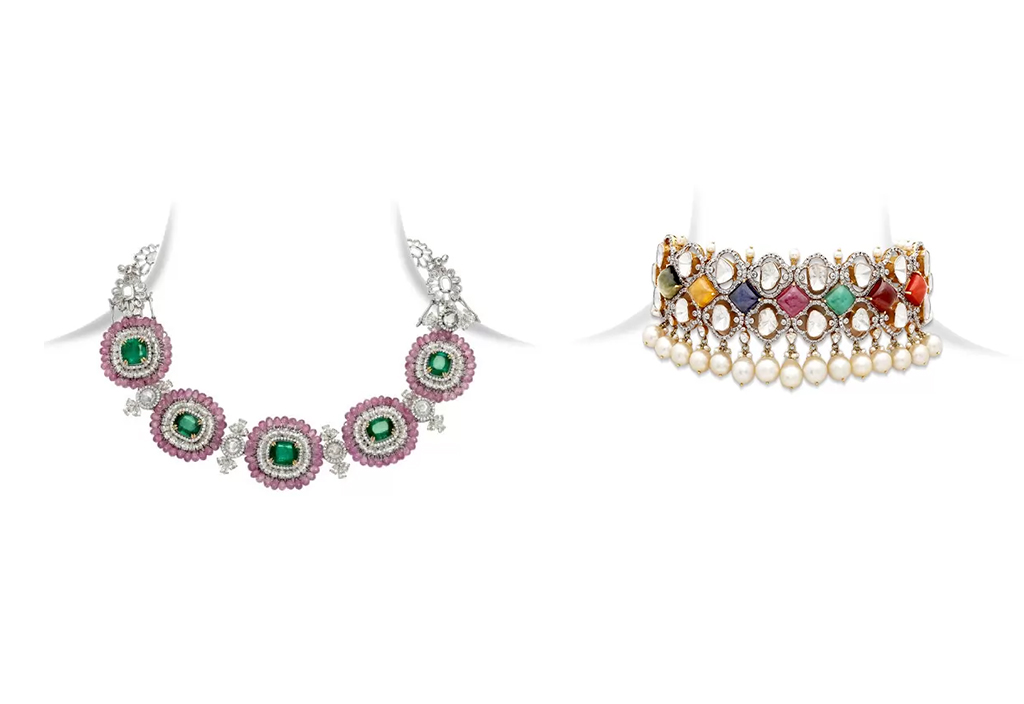 Slim Pendants or Sautoirs: Halterneck
The straps travel upwards from your torso and lovingly cling around the back of your neck, making the halter a prominent style that showcases the delicacy of your shoulders and the graceful arches of those collarbones. This neckline finds a flattering companion in the Sautoir, the slim pendant chains, and the tassel necklaces. Gemstone and Diamond necklaces are a Rose specialty, and the sautoir necklace is a particular favourite. With a vast collection to peruse, most find it hard to resist the allure of this fine jewellery.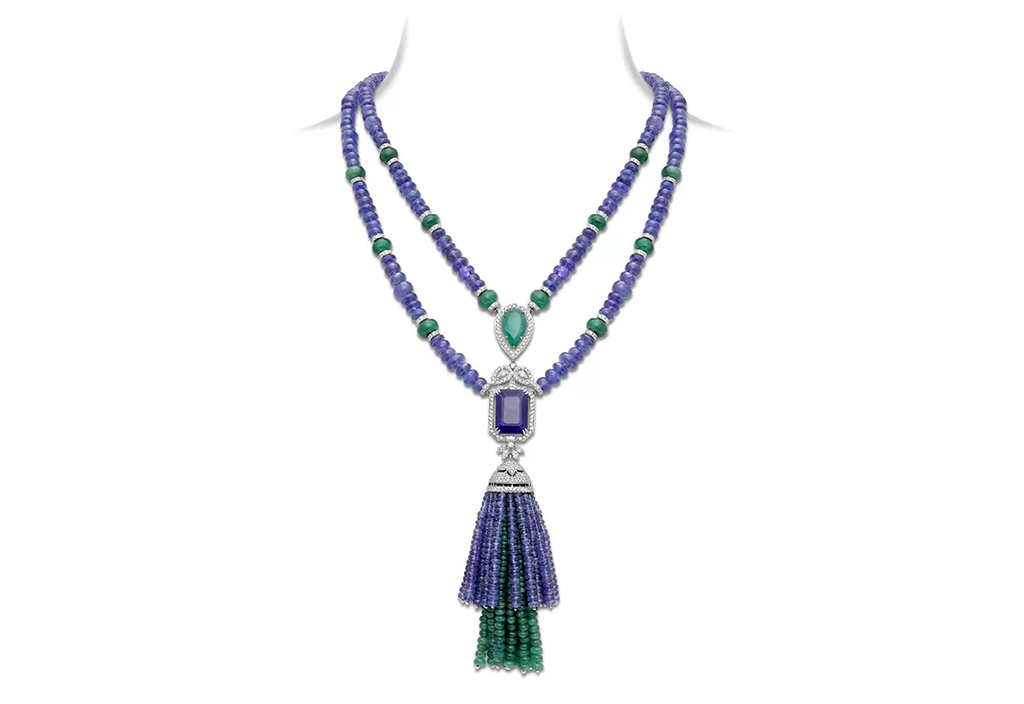 V Shaped Necklaces or Sautoirs: V Necks
The delicate vee of your neck where shadows dance on soft, supple skin is a tantalizing part of the female anatomy. V-necked attire, whether plunging or just toeing the line, deserves the ostentation of equally tantalizing necklaces that enhance the V shape with their form, their length, and their beauty, of course. Turn to Rose for glamorous options of such diamond necklace sets that will beguile the beholder with their shimmering seduction.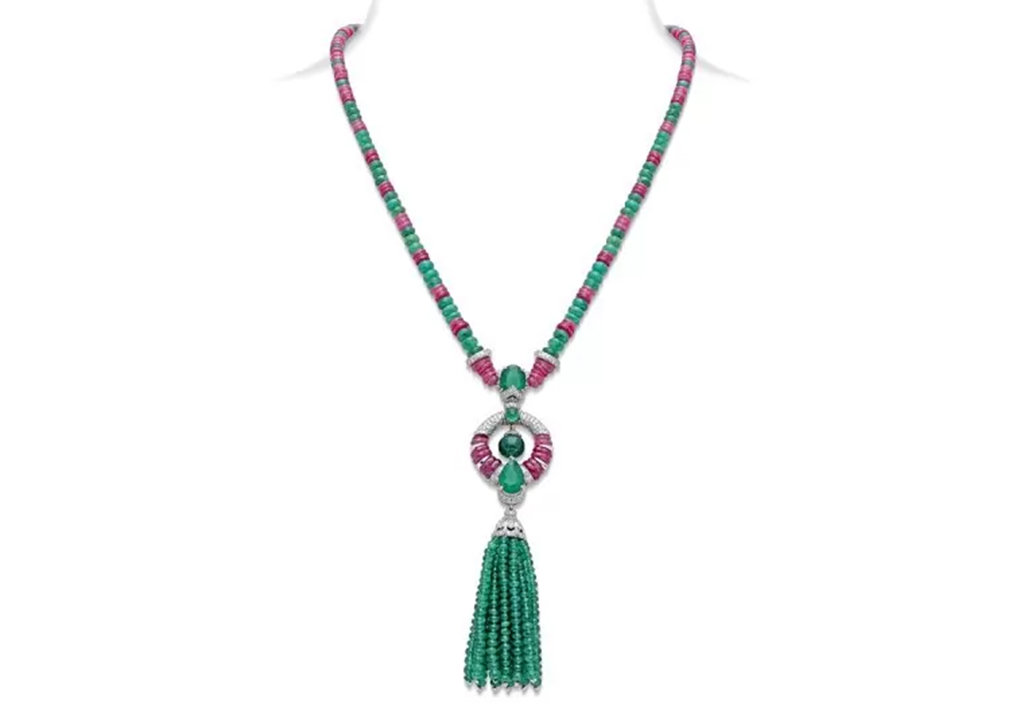 Short Necklaces with Volume: Sweetheart/Scoop Neck
The sweetheart neckline is an evocative favourite that gives the aura of voluptuousness. From billowy gowns to sultry sheaths to enticing blouses, this neckline complements most looks. A short necklace with volume is a far more attractive accessory to the scoop or sweetheart neckline than any long chain could be. Rose's Emerald, Diamond & Pearl Bridal Necklace, Classic Emerald Necklace, Canary Keshi Pearl Necklace, and many other such masterpieces are perfect pairs for this style.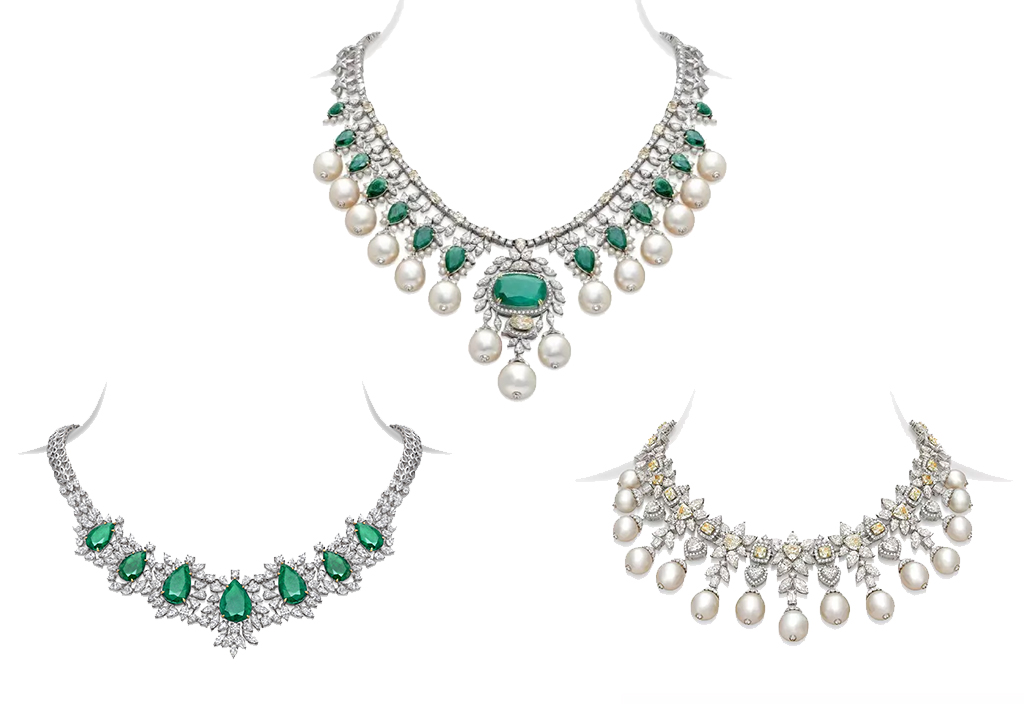 While this is merely a guide and not the irrefutable norm, it will help you understand your diamond necklace collection and determine exactly what is missing in your Pandora's Box. We, at The House of Rose, would be happy to guide you through your diamond necklace purchase until you pick pieces of reverential, unparalleled beauty that your heart is simply set on.