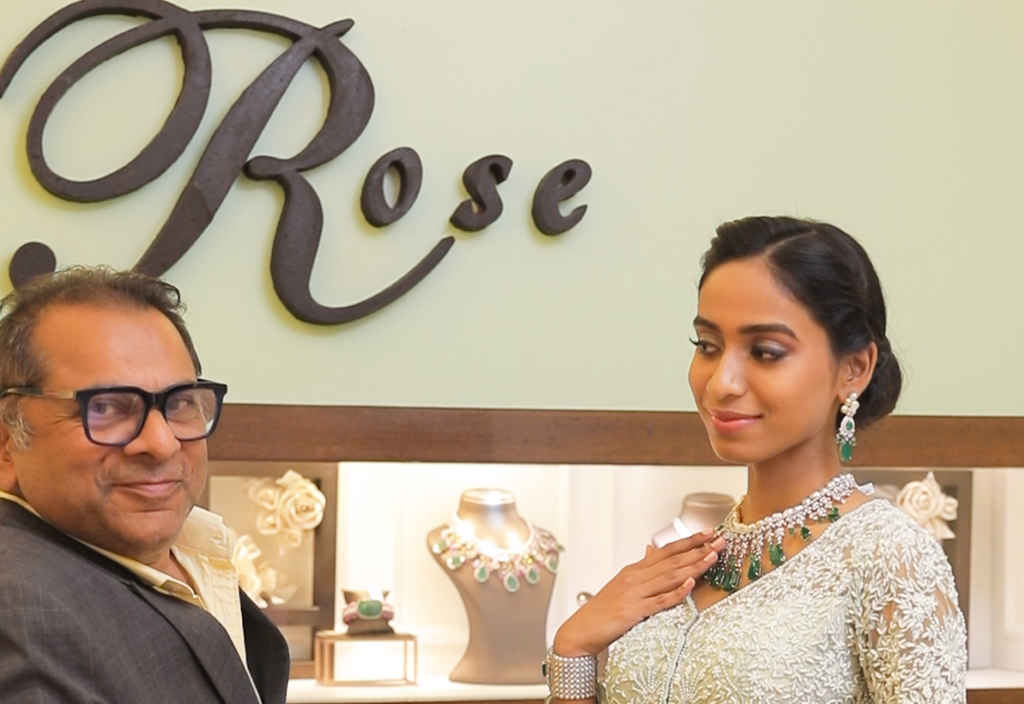 Beautiful and Timeless Jewellery For A Surreal Bridal Look
"Like a vision from heaven, bathed in glorious light, a bashful bride's eyes shimmer with a love that's bright." The shine of this love radiates around the room, making every guest sigh wistfully, reminiscing or dreaming of their own wedding day. An unforgettable day after all, means an ethereal bride, an eagerly expectant groom, and a perfect celebration of love.
From the gorgeously unique lehnga, to the allure of a glamourous coiffeur, to the sparkle of hypnotizing jewels, every aspect of the bride's attire needs careful planning. And, this is precisely why the House of Rose is frequented by most discerning brides for their wedding day jewellery needs. Here are some of our Emerald spangled showstoppers made for a stunning bride to pair with her equally stunning attire:
Carved Emerald and Pearl Bridal Necklace
Intricacy means everything, and the expertly carved emeralds used in this wreath are truly a work of art. Emerald beads encircle the neck and from their bosom emerges the artfully designed piece combining brilliant-cut Diamonds, Keshi Pearl drops, and a harmonious play of colour and texture.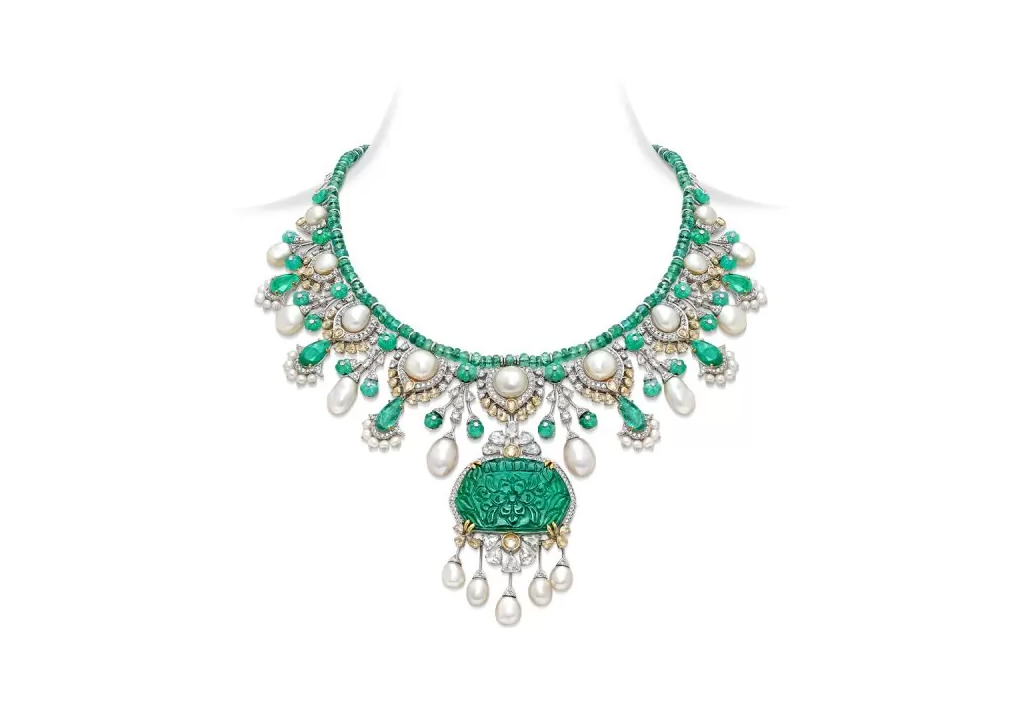 Yellow Diamond Emerald Bouquet Necklace
Step into an enchanting garden with blooms that spiral out from the wilderness with these Emerald and Yellow Diamond floral motifs that lay on a bed of brilliantly cut White Diamonds. While the emeralds add a bold dash of colour, this masterpiece can easily be clubbed with pastel or jewel tones.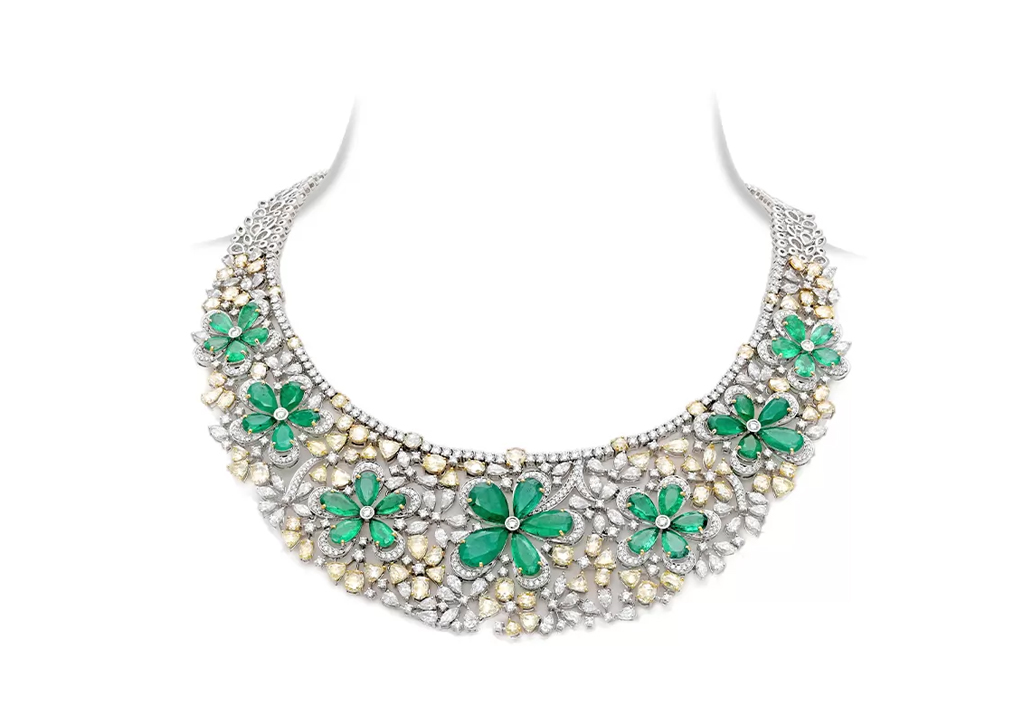 Emerald, Diamond & Pearl Bridal Necklace
This striking jewel is created to grace the swan-like neck of a bride with a true eye for beauty. This joining of Emeralds with Yellow and White Diamonds brings about a form that evokes the romanticism of an unfettered dance of joy that is unrestrained and bursting with the movement of pure happiness. The slight V in the shape helps fill the neckline with evocative beauty.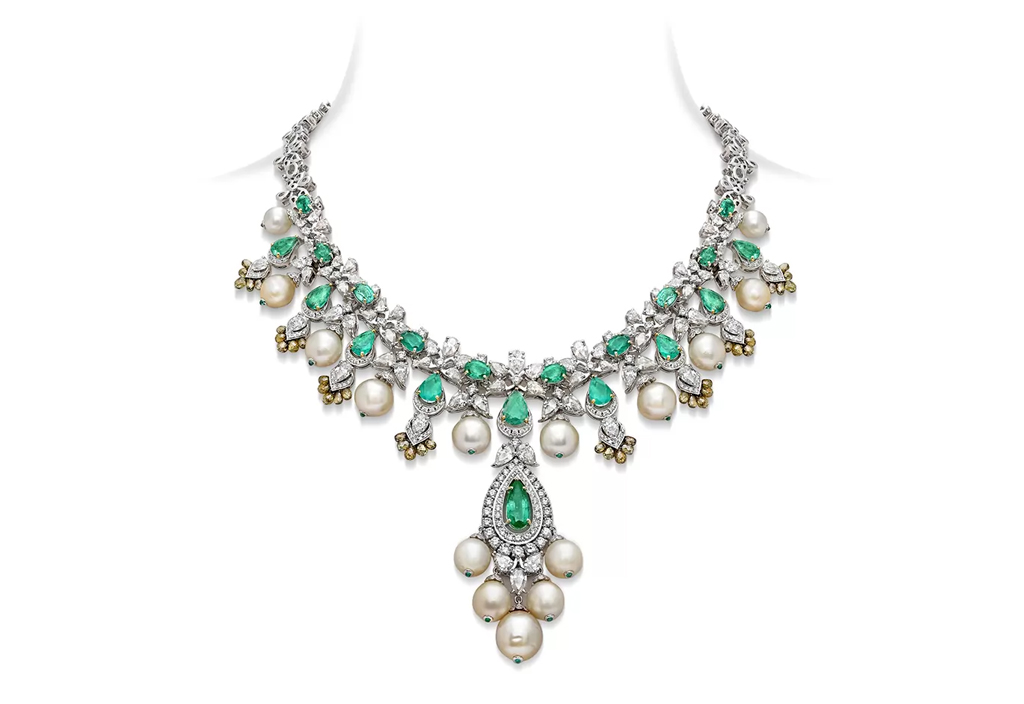 This necklace is an effortless combination of vintage and modern for today's contemporary bride. Beautiful Pear Shaped Emeralds and Rose Cut Diamonds are accented with brilliant-cut Diamonds, South Sea Pearls, and Brown Briolette Diamond trimmings to bring a fluid, floral delight to life. The centerpiece is an eye-catching drop that adds a touch of symmetry and movement to this stunning rendition.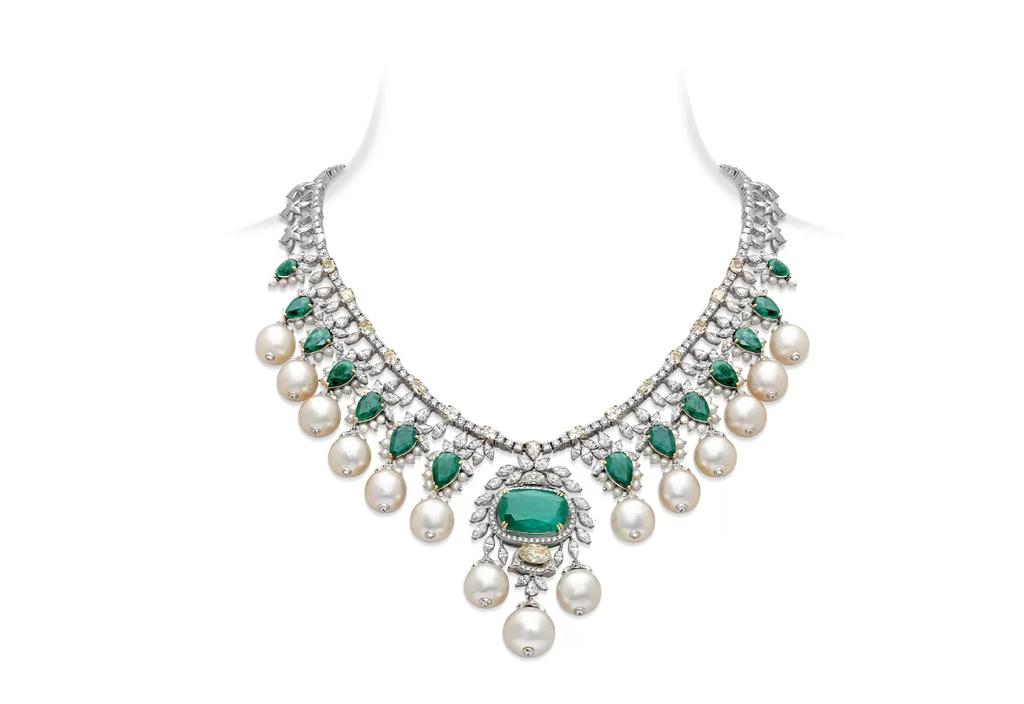 Emerald & Pink Sapphire Necklace
This necklace takes one back to a bygone era of the royal Indian princess bride and her heirloom treasures. The piece is interwoven with brilliant-cut Diamonds to give it a lace-like look, while the octagonal Emerald takes center stage. Pink Sapphire drops along with an Emerald bead garland completes the look with artistry.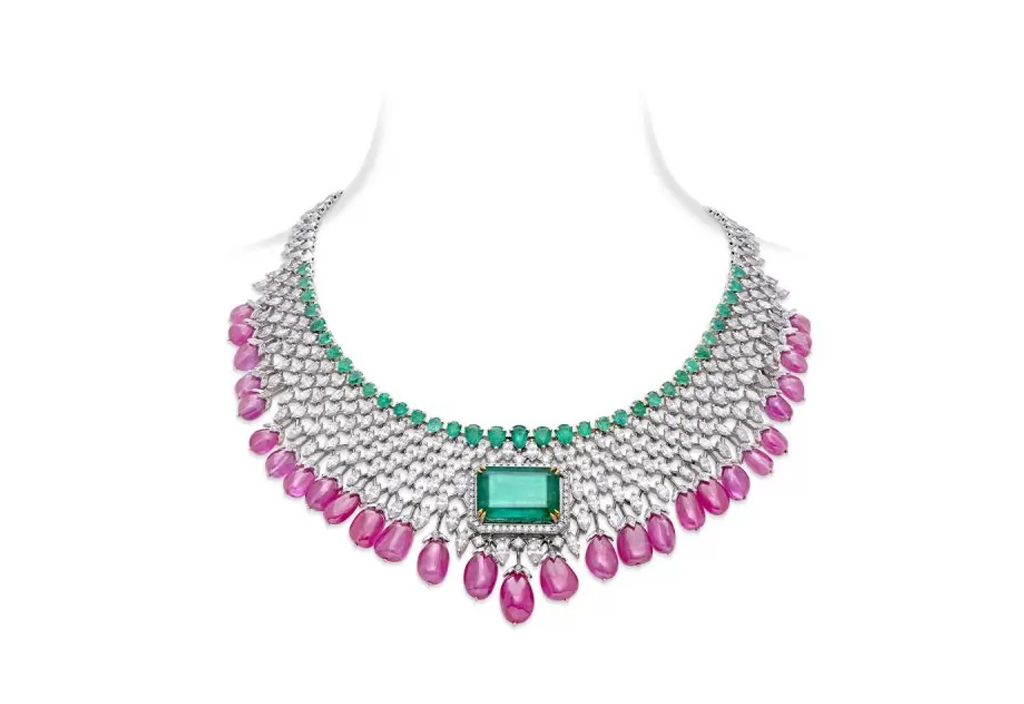 Signature Emerald & Diamond Necklace
An Emerald bead and Pearl collar joins with seemingly endless rows of Marquis Diamonds that lie in the embrace of brilliant-cut rounds. This mesh, with its striking Emerald center culminates in dancing Emerald drops. Designed to sit at the nape of your neck, this piece flows gracefully, adding femininity and regality to your look.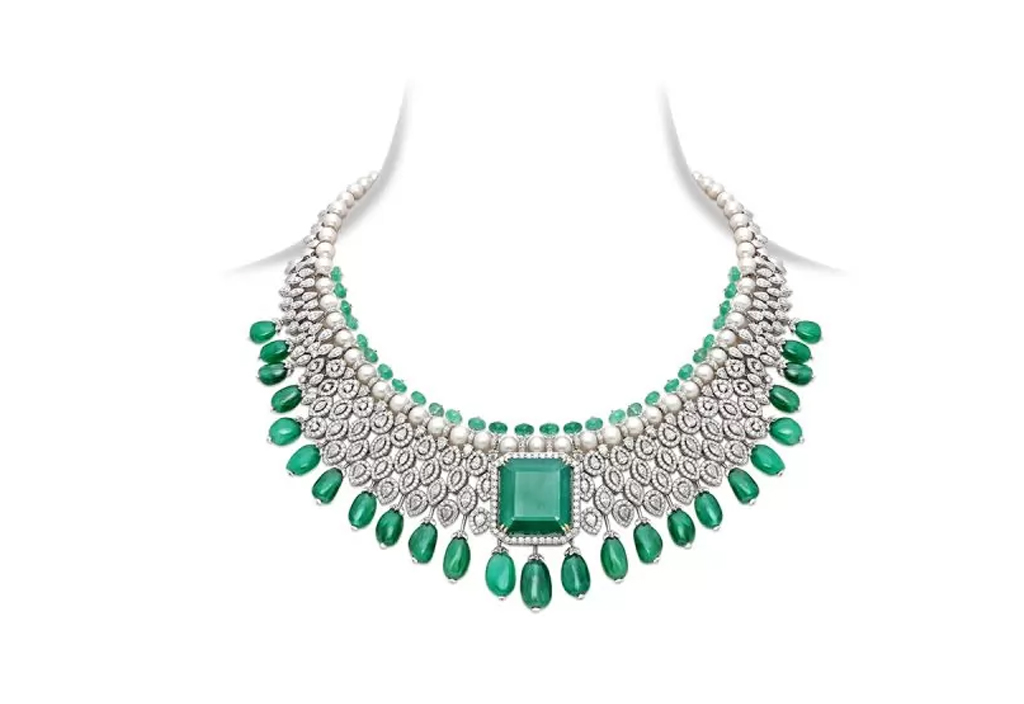 Emeralds, with their deep hues are the perfect accompaniments to bridal jewellery with the versatility they offer. From a pale salmon pink tone to rich burgundy and everything in between, these green gemstones pair well with all hues that a beautiful bride could choose in her wedding outfit. At the house of Rose, we can create unique bridal jewellery using any gemstone of choice to help make pieces that will truly stand out. So, step into our store to see a vast bridal collection or get in touch with the store manager to discuss customization and allow us to make your wedding day truly remarkable.