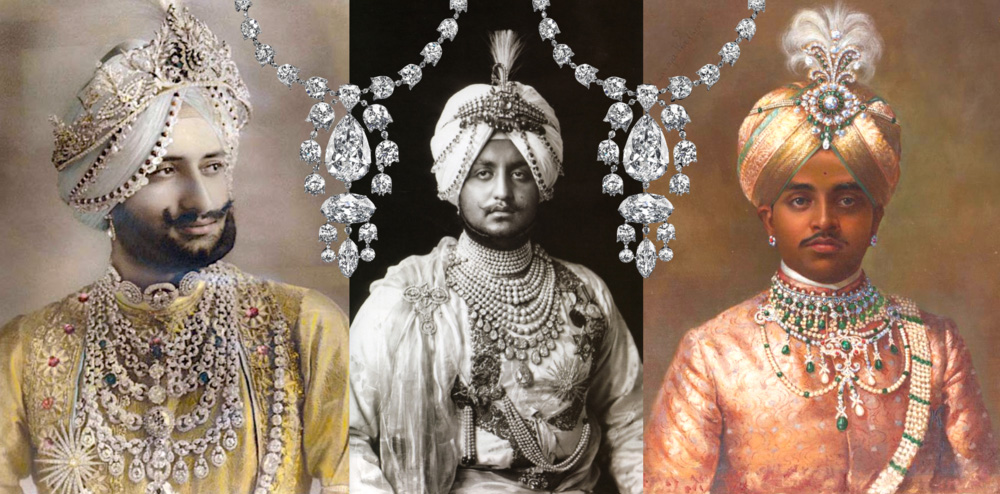 Historically Famous Jewellery of Indian Royalty – Tales of Love, Loss, and Legacy
The royal penchant for all things opulent is legendary. Maharajas and Maharanis have mainly become titular heads, and palaces are now famous luxury hotels. But, what remain an eternal symbol of affluence and power, are the famous royal jewels that tell a tale of magnificence and extravagance.
Here are our favourite pieces of royal jewellery that were commissioned by the erstwhile Maharajas and Maharanis of India:
1. Patiala Necklace of Maharaja Bhupinder Singh:
Ranking as the most expensive necklace in the world, this 5-stranded diamond garland was commissioned by Maharaja Bhupinder Singh of Patiala. The House of Cartier created this piece of magnificence in 1928 using 2,930 diamonds including the world's 7th largest diamond, a 234-carat yellow diamond by De Beers as its centerpiece. Worth 112.5 Crores in today's value, the necklace mysteriously disappeared around 1948 only to be recovered without the central De Beers and the Burmese rubies half a century later by Cartier.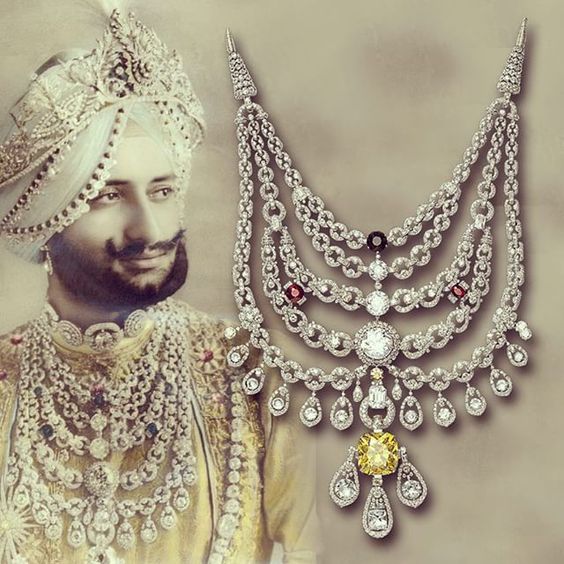 2. Patiala Ruby Choker of Maharani of Patiala    
Commissioned by Maharaja Bhupinder Singh once again in 1931, this necklace cemented his relationship with the House of Cartier. Lovingly gifted to Maharani Sri Bakhtawar Kaur Sahiba this ostentatious piece consisted of 3 parts originally. The top layer being a choker of 6 lines of rubies with side pieces of diamonds and pearls at either end. The central part predominantly had ruby and pearl strings while the bottom layer was heavily endowed with diamonds and rubies. Currently, only the upper choker has survived the passage of time and has been restored by Cartier, commanding a realized value of $975,000.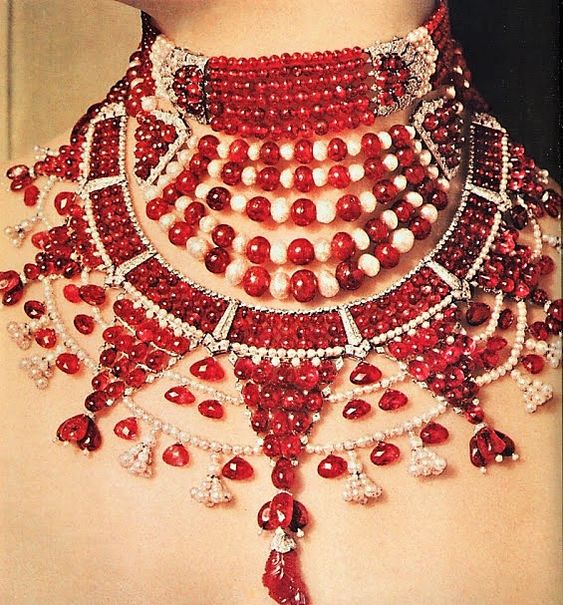 3. The Emerald Necklace of the Maharaja of Nawanagar
The Maharaja of Nawangar was famed for his opulent jewels including the famed but lost 500-carat Nawanagar necklace recreated for the Ocean's movie and the lemon yellow "tiger's eye" diamond. One such piece that gives a peek into India's rich heritage was created by Jacques Cartier in the now-famous art-deco style with 17 rectangular Colombian Emeralds weighing a total of 277 carats. The 70-carat central emerald of this piece was said to belong to an erstwhile Sultan of Turkey.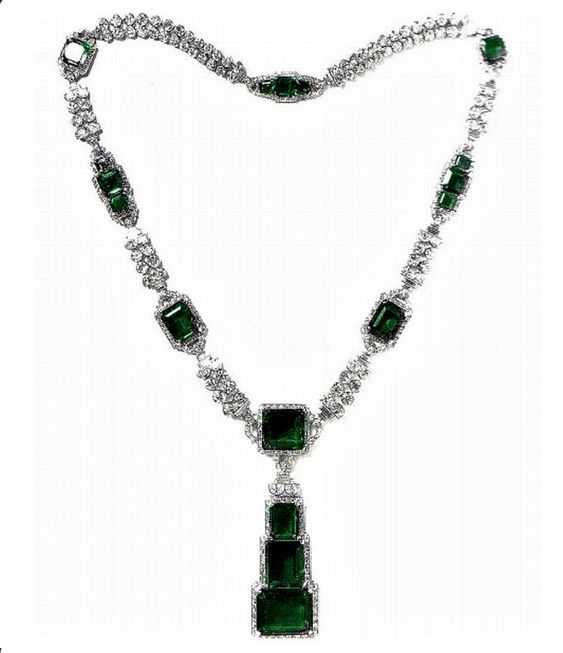 4. 'Star of the South' Diamond Necklace of Maharani Sita Devi of Baroda
The Star of South is the famed pinkish-brownish cushion-cut diamond which was originally discovered in Brazil in 1953 at 261.88 carats and sold for a measly $3000 by the mine owner. The stone found its way to Maharaja Khanderao Gaekwad of Baroda decades later, reduced to 128.41 carats, who commissioned a 3-row diamond necklace to showcase this much-coveted £80,000 gemstone with E.H.Dresden. The necklace featured the Star of The South along with the "English Dresden", a 78.5-carat, drop-shaped diamond, and was gifted to Maharani Sita Devi. Years later it was purchased by Rustomjee Jamsetji of Bombay and sold to the House of Cartier in 2002.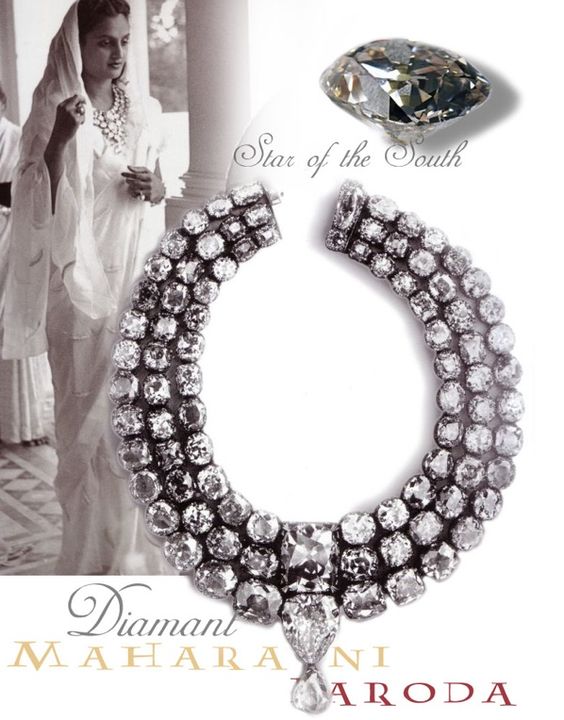 5. Indore Pear Necklace of Maharani Sanyogita Devi of Indore
This stunning, art-deco-inspired necklace was commissioned by Yashwant Rao Holkar II, the very stylish and very besotted Maharaja of Indore for his young bride, Maharani Sanyogita Devi who dazzled the jazz age with their flair. Created by the French jewellery house, Mauboussin, this art-deco diamond and emerald necklace featured two pear-shaped diamonds weighing 47 carats each. The Maharani passed away at the tender age of 23, possibly owing to surgery complications. A decade after her death, the jewels were sold to Harry Winston.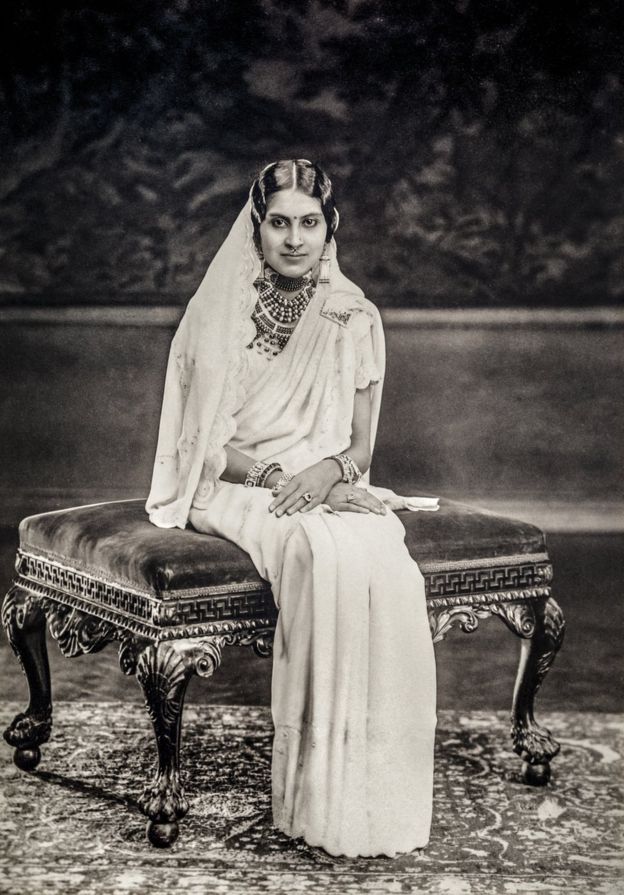 India's rich history is dripping in wealth and opulence. Such was the power and might of Indian Royalty that European jewellers would fly down to cater to them. In fact, the Patiala Necklace remains the largest commission ever received by Cartier. Interestingly, Wallis Simpson, the then Duchess of Windsor, had to return a diamond-emerald necklace to Harry Winston when it became known that her jewels had once graced Maharani Sita Devi's feet as anklets.
The House of Rose honours the Indian Royalty and their proclivity for unrepentant extravagance. It is often commissioned to create unique and priceless treasures while it continues to cater to jewellery lovers across the globe. The La Vie En Rose Necklace is one such example of spell-binding ornateness featuring a central 381.72-carat Zambian emerald showcased with brilliantly cut pear-shaped and round diamonds suspended on a 200-carat string of Zambian Emerald beads.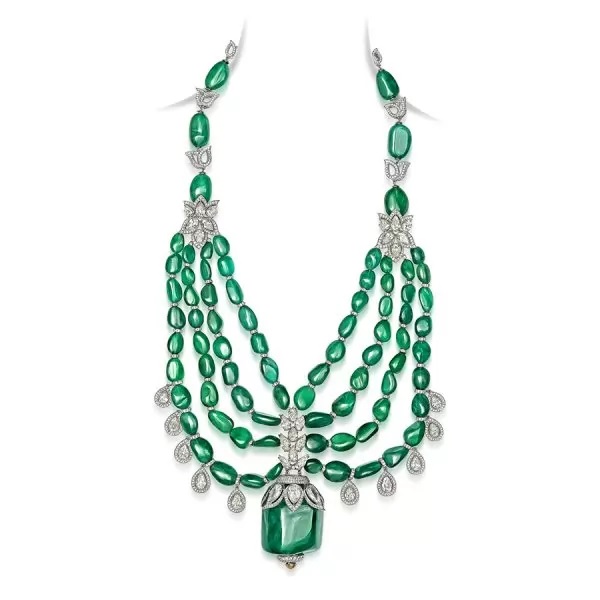 Our master designer BeeVee is sought out for his artistic vision and continues to create absolute magnificence set in diamonds and gold that is truly worthy of royalty.