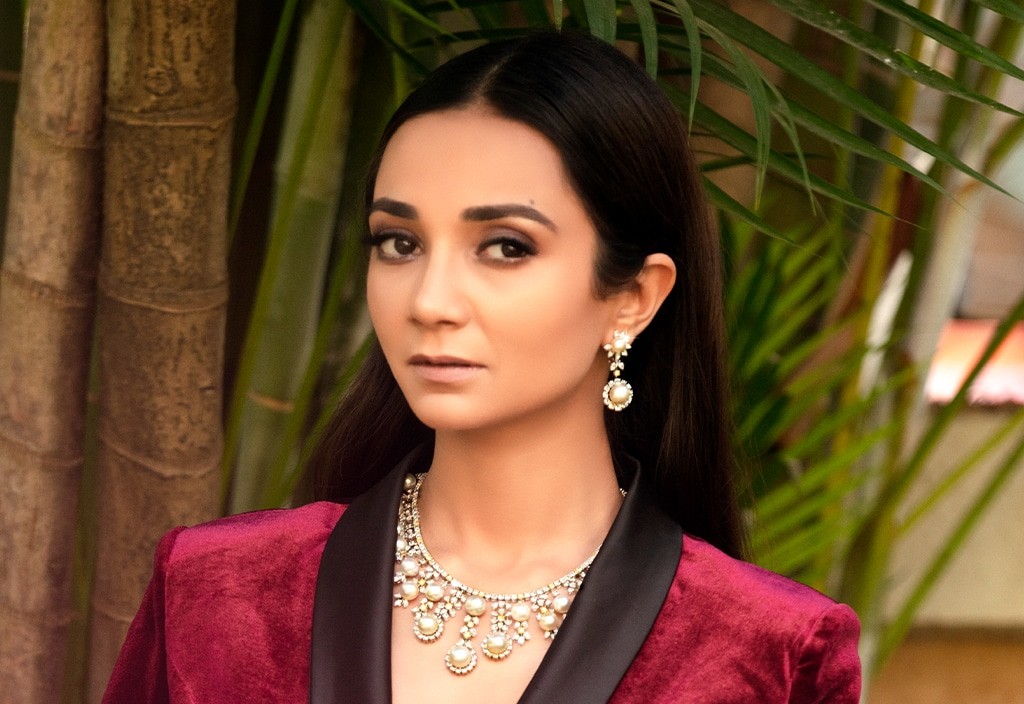 Regal, Retro or Renegade: Select The Ideal Set to Complement Your Wedding Day Look
"The bride walked down the aisle, painting a stunning picture of beauty and grace in her gorgeous lehenga, with her perfectly coiffed hair, her radiant visage, and her sparkling adornments," they sighed. That is how most brides are described when they appear in their ethereal glory on the most important day of their lives – their wedding day.
Whether you choose to be a retro bride or a renegade one, unapologetically show your style. And, of course, showcase your true beauty with the right hairdo, make-up, attire, and, most importantly, jewels.
Here are the top jewellery sets that we've picked from our extensive collection at Rose that perfectly enhance the bridal look:
EMERALD, DIAMOND & PEARL BRIDAL NECKLACE & EARRING
When deep-hued emeralds come together with the brilliance of white and yellow diamonds, they create a harmony that is lilting, gratifying, and simply sigh-inspiring. This gorgeous necklace features a single file of brilliant-cut diamonds from which fancy-shaped marquise and pear-shaped diamonds are suspended to form scintillating motifs around emerald pears, culminating in pearl drops. Whether you wear red, white, lavender, pink, or any shade of choice, this masterpiece will contrast with, yet complement, your outfit with balance and beauty. The ear studs make a mighty impact, are versatile and easily wearable at other events too.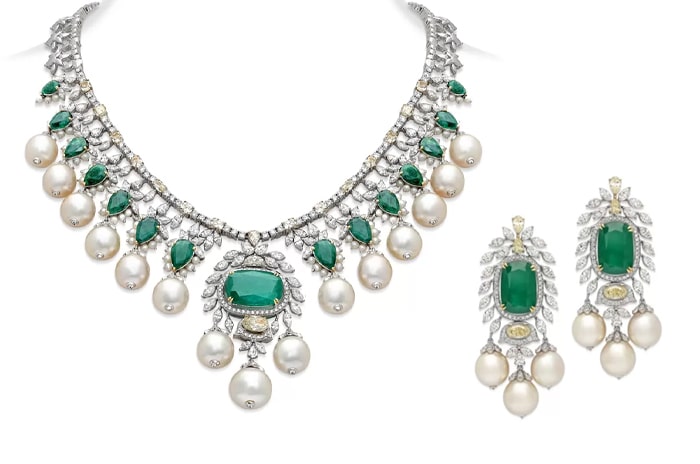 CANARY KESHI PEARL & DIAMOND NECKLACE & EARRINGS
Resplendent, radiant, and possessing revered beauty, this glorious masterpiece is the perfect adornment for a modern-day princess bride. This most-coveted jewellery set is adorned with fancy-shaped yellow and white diamonds ranging from hearts to baguettes to pears to trillions. Canary South Sea pearls drop down from the necklace and its accompanying earrings to add their sheen to the sparkling wonder. Here is a set that will be appreciated by a true connoisseur for its beauty, versatility, craftsmanship, and elegance.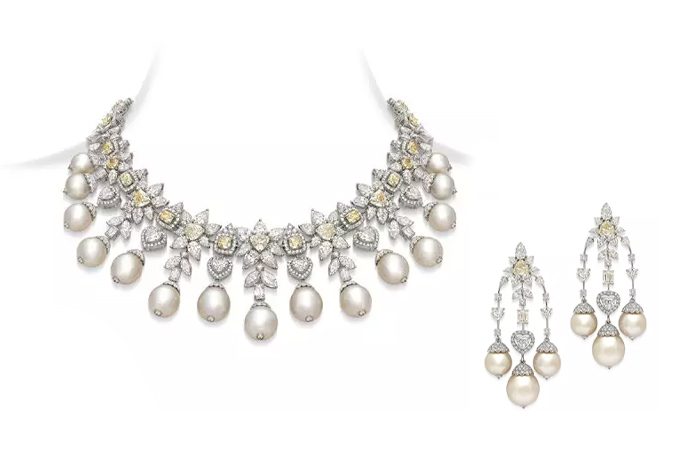 EMERALD & PINK SAPPHIRE NECKLACE & EARRINGS
Marquise diamonds with their perfect curves and points are interwoven to give you the most delicate-looking lace-like mesh enclosing around a hand-picked, consciously-sourced octagonal emerald of 43.86 carats. The effect, if we may say so ourselves, is splendid. Add to that the enchanting pink sapphire cabochons that gracefully dangle down in a hypnotic sway and a riviere of emeralds adding a graceful line of colour at the top. Paired with earrings to match, this bridal set, while vibrant, is easy to pair with a multitude of outfits, from deep tones to pastels.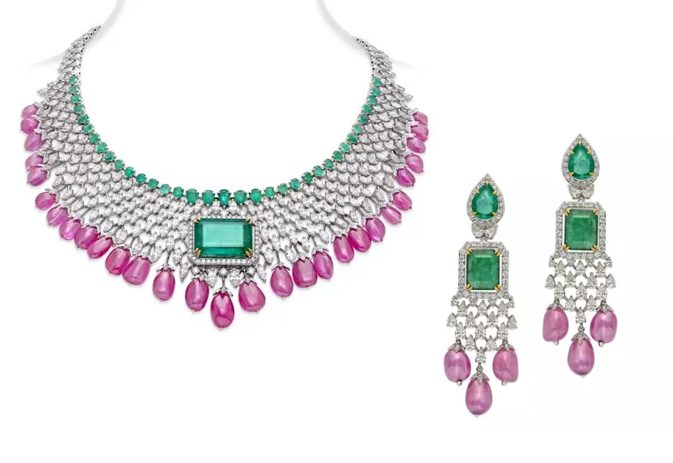 CARVED EMERALD AND PEARL BRIDAL NECKLACE
A bold, flattering, and stunning choice for a most special bride to perfectly enhance her wedding day look and her confident persona. The large, carved emerald takes centre stage with its beauteous form surrounded by a medley of yellow and white fancy-shaped and round diamonds. The various shapes blend seamlessly and take on the beautiful form of these stunning earrings and necklace. Keshi pearls and freshwater pearls pay homage to the beauty of the pieces while bringing in their own intrinsic value to the mix. The earrings dance at your ears in a true depiction of the dance of your heart on this joyous day.
CLASSIC RUBY & DIAMOND NECKLACE
Elegance personified. This subtle power of this classic round-the-neck diamond necklace, with its accompanying earrings, is not to be confused with simplicity. Cherry-picked brilliant-cut marquise and pear-shaped diamonds depict the beauty of nature in their abstract floral formation, while Thai rubies add their alluring deep hues to the sparkling canvas. Wear this set to startling effect on its own or layer it with a longer accompaniment to add a touch of drama to the style.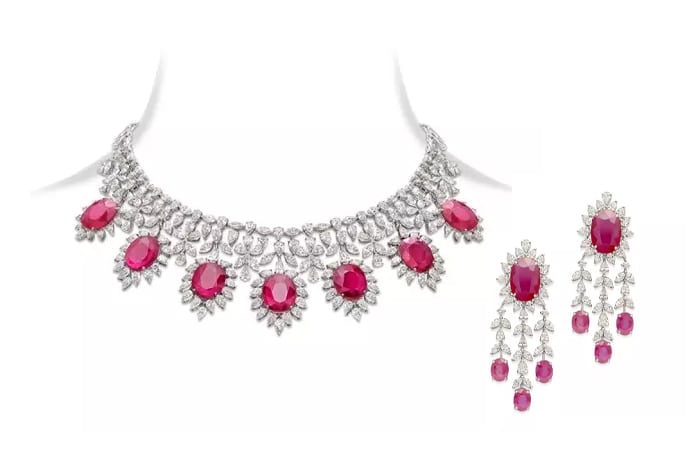 CLASSIC DIAMOND & PEARL BRIDAL NECKLACE
We root for timeless beauty for an eternally beautiful bride. While the wearer will grow and evolve with time, their elegance and appeal will never diminish, just like the splendour of this artistically crafted bridal set that can be handed down generation after generation. A single line of solitaire diamonds gracefully lies across the neck, as brilliant-cut fancy-shaped and round diamonds cascade down and lovingly clasp South Sea pearls to their bosom. Rose-cut diamonds make their delightful appearance to add a bit of oomph to the snowy white tones of the necklace and earrings. This set can be paired with a plethora of bridal looks and can be worn on special occasions thereafter.
While the sparkle of brilliant-cut diamonds has appeal, the royal bride feels the allure of uncut diamonds just as strongly. The Chand Haseen Jadau bridal set is our regal ode to the unique heritage of Indian craftsmanship. Pristine vilandi pieces form grand florets in two rows and are embraced by jaunty emerald bead circlets. The earrings with their vilandi and emerald ear studs have mesmerizing 'jhumkis' that dance to their own drumbeat. Complete the look with the eye-catching and awe-inspiring Mukut Pacheli Jadau Bracelet flaunting its beguiling design and skillful craftsmanship. Together the assemblage is show-stopping on our enchanting bride.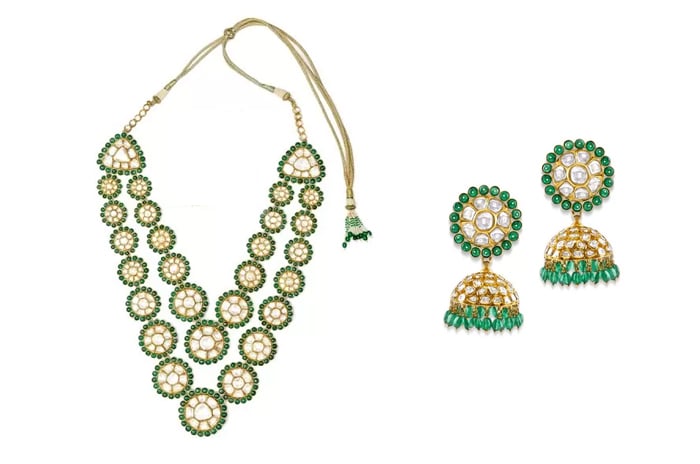 Rose houses a vast collection of bridal jewellery sets including necklaces, earrings, bracelets, rings, and more. There is a unique look that each bride seeks for her wedding day, and we endeavour to meet that vision and surpass it. So, our doors are open to all brides with impeccable taste. Come, visit the store and take your pick of our myriad range of bridal regalia.