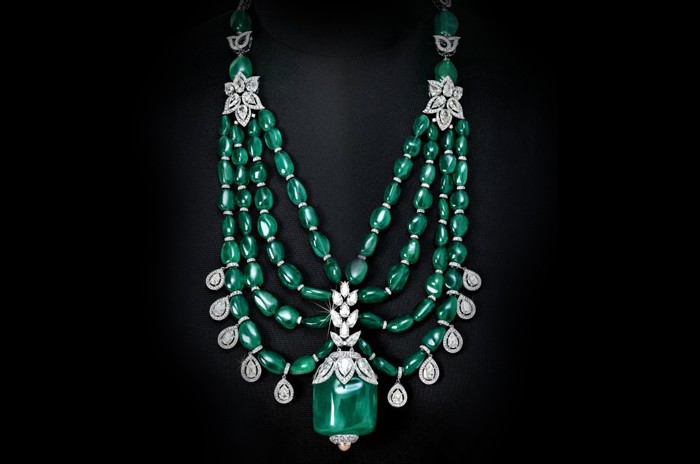 Necklaces designed to inspire Desire, Love, Passion and Attraction.
The human form is a thing of beauty – of graceful curves and sweeping arches. The body is a thing to be treated as sacred, appreciated for its resilience, and loved for its appeal. There is beauty in everything that God has blessed us with from a swan-like neck to a wildly beating heart. At Rose, we create jewellery to celebrate the human body and help adorn it with baubles as beautiful as the form they grace.
Our collection of necklaces ranges from daily wear delicate chains and pendants to festive wear statement pieces to bridal trousseau treasures. Of these, here is our list of occasion-wear diamond necklaces that evoke a host of strong emotions:
I've Set My Art On It: The

Art Deco Pearl Emerald Necklace
Four stunning lines of pearls strung together from perfectly symmetric art-deco pieces made of lush-looking emeralds and dazzling diamonds. The geometry of the pieces on either side is enhanced with the gentle flowing cascades of round South-Sea pearls which have even the most stoic hearts entranced with the overall effect. The piece is versatile in its wearability and is perfect for the ease with which it suits an occasion.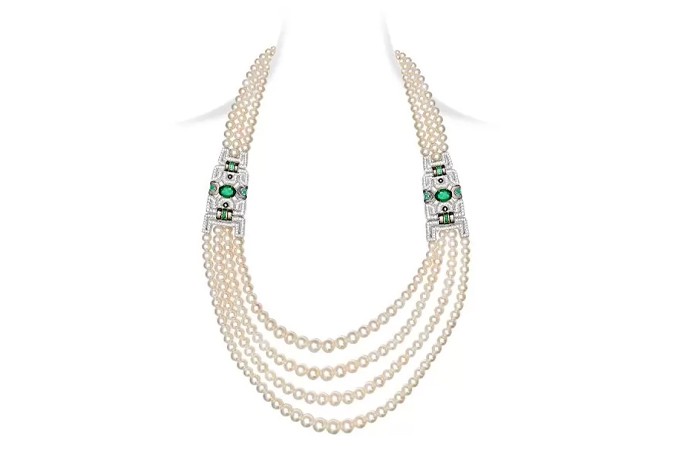 Take A Chalce On Love: The

Chalcedony Tanzanite Pendant Necklace
When angles meet curves and luminosity meets vibrance, the effect is riveting. This pendant necklace is the most sought-after accouterment for a range of celebrations and events as well as to enhance your daily style. Set in 18k white gold, the brilliantly cut round diamonds symmetrically frame perfectly round chalcedony domes and beautifully blue tanzanite beads.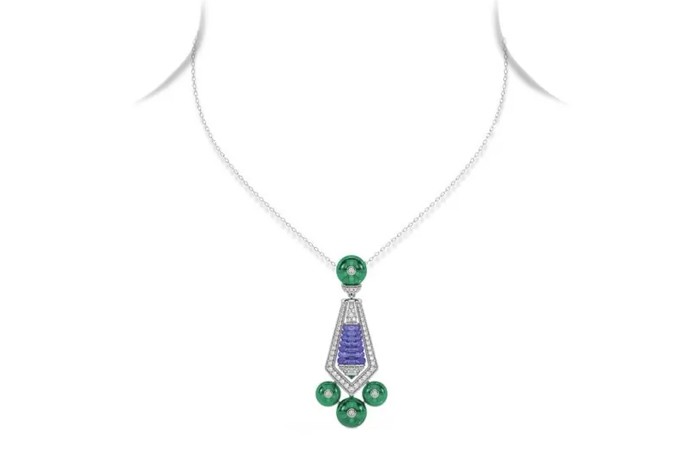 It Tan Love Me Back:

Emerald Tanzanite Art Deco Pendant Necklace
A sweet symphony of brilliant-cut diamonds, South-sea pearls, emeralds, tanzanite, and black onyx, this neckpiece creates a precious balance between colour and classiness. A bold, masterfully crafted piece, this necklace suits an ethnic and western look and everything in between. The sparkle of the diamonds is enhanced by the bright hues of the deep green Emeralds, the indigo tones of Tanzanites, and the stark black of Onyx.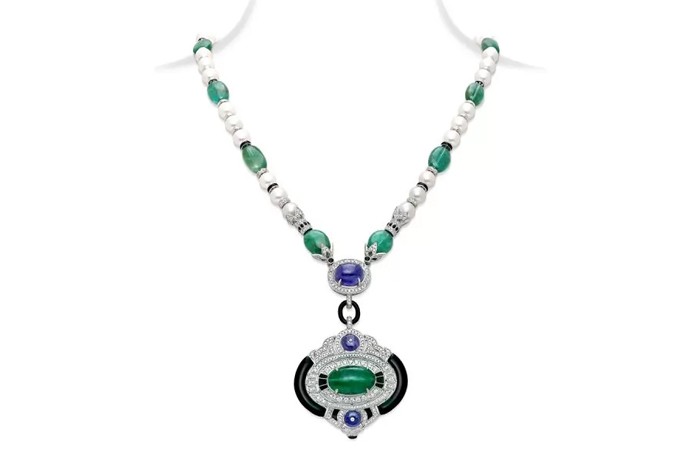 Vie-Va La Vida:

La Vie En Rose Necklace
La Vie En Rose when eloquently translated means, "I see life with rose coloured glasses." And it was with this rosy vision that we procured the stunning 381.72 carat Zambian Emerald from which this work-of-art was made. The journey to create a casing as beautiful as the gem took over 200 days, with each accenting gem and diamond personally hand-picked. In this one-of-its-kind necklace, 50.87 carats of diamonds seem to be dripping down from over 200 carats of Zambian emerald beads in an artistic rendition of incandescence, majesty, and splendour.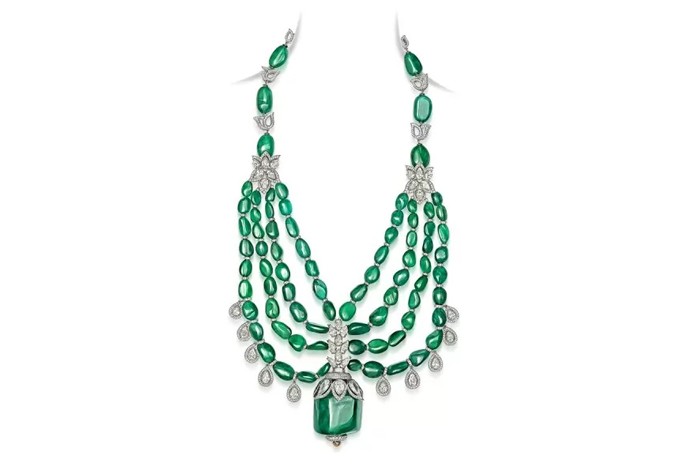 Ruby or Not To Be:

Rubelite Tanzanite Necklace
A tanzanite blue oasis of calm with a shimmering diamond surface surrounds a mighty ball of Rubelite fire in this gorgeous neckpiece that is designed to bring a harmonious joining of the calm and the fiery storm. This is a piece that is unique and sure to get noticed as it graces the neck of a true jewellery connoisseur with a taste for true craftsmanship.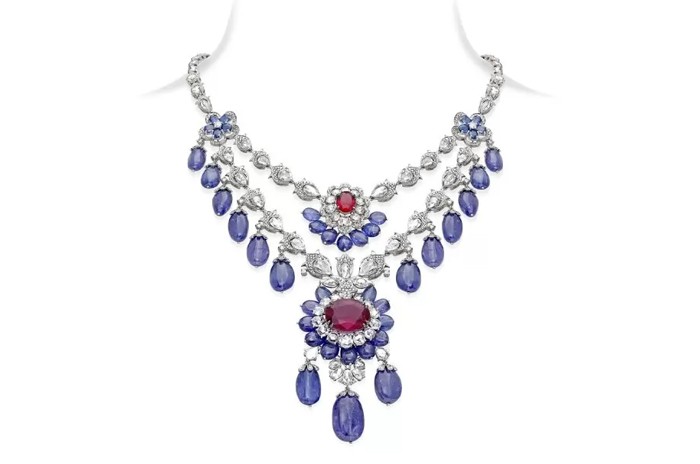 Princess' Pride:

Sultana Necklace
Understated elegance, exquisite beauty, classiness of design and sumptuous appeal find representation in this masterfully linked necklace that brings together 56.89 carats of rare Mitchell cut diamonds. The radiant appeal of pale-yellow diamonds finds a perfect pairing with their white counterparts culminating in an achingly beautiful, yellow diamond drop. The necklace, with its sizable stones set in a simple yet striking design, is truly befitting of royalty.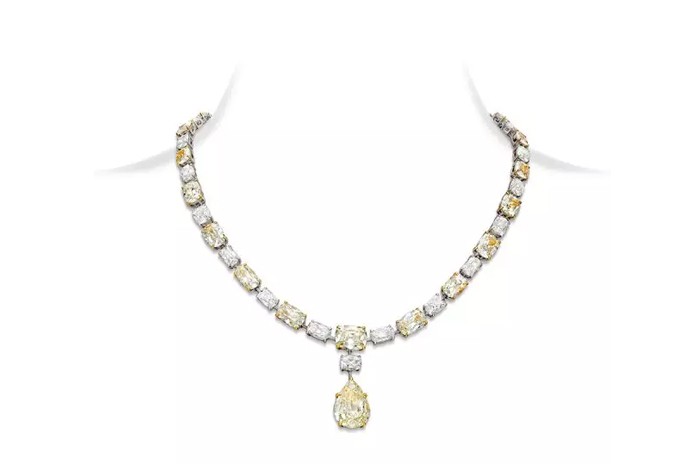 We happen to have Pandora's box full of stunning pieces designed to inspire desire, love, passion, attraction, and a crumbling of resistance in the face of sheer beauty. Our necklaces are innumerable and suited for all types of necks, occasions, ages, and even genders and designed to make one fall helplessly in love with them. Visit the house of Rose to find the one that feels like it is made for you.