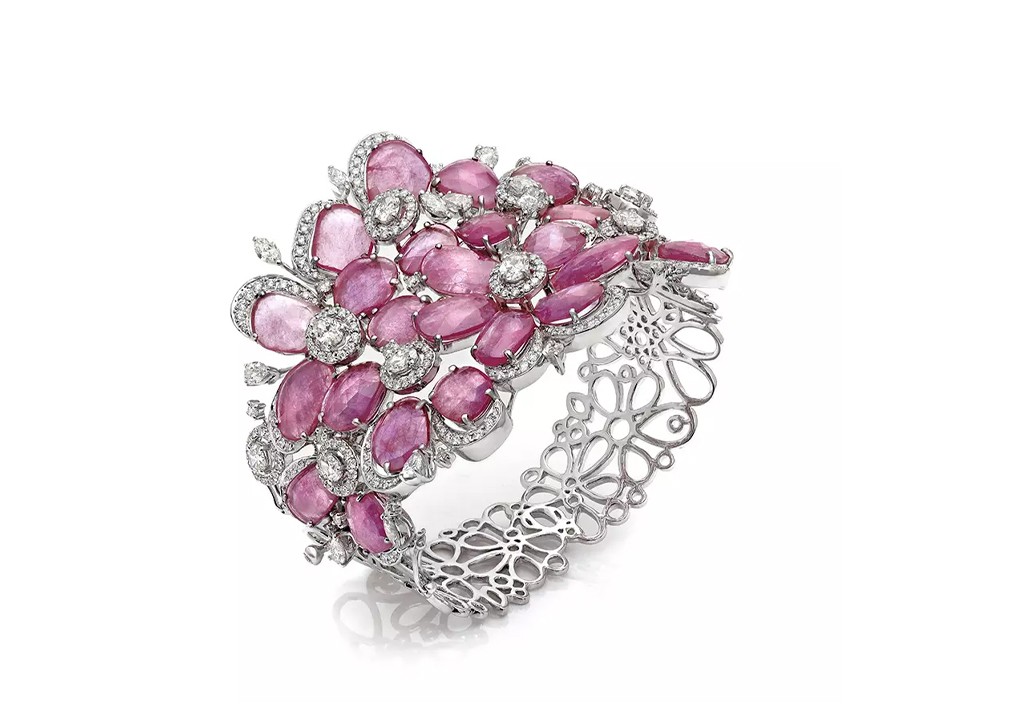 Rose's Most Luxurious Coloured Gemstone Pieces
Enchanting minerals conjured up by Mother Earth, Coloured Gemstones have long been a revered part of our history. From Royal Empires to fabled traders, these precious and semi-precious stones have been at the centre of many myths and legends since the beginning of time. They come in vibrant hues and were associated with divine qualities- from radiant Rubies, once believed to be the cure for all poison, to serene Aquamarines, once thought to calm the roughest of seas. For generations, they have continued to enchant us with their dazzling shades and brilliant cuts.
We hold them in high esteem at Rose, using only the best stones to design bespoke luxury jewellery. Read on for our top picks of the most luxurious Coloured Gemstone Pieces!
LA VIE EN ROSE NECKLACE
"Je vois la vie en Rose", French for "I see life through Rose coloured glasses", perfectly embodies this necklace. The La Vie en Rose Necklace from Rose's Treasures Collection, crafted by our master designers, took over 200 hundred days to create and innumerable man-hours to bring to life. Each accenting gem and diamond was personally handpicked by our creative director Biren Vaidya. The centrepiece of the luxurious necklace is an enchanting 381.72 Carat Zambian Emerald. It is embraced by a casing of 50.87 Carats of Diamonds, suspended on over 200 Carats of Zambian Emerald Beads, making it one of the most luxurious necklaces in our collection. The magnificent, deep green Emeralds accented by the sparkling Diamonds create an ethereal look, indeed a sight to behold. Shop this treasure now with Rose!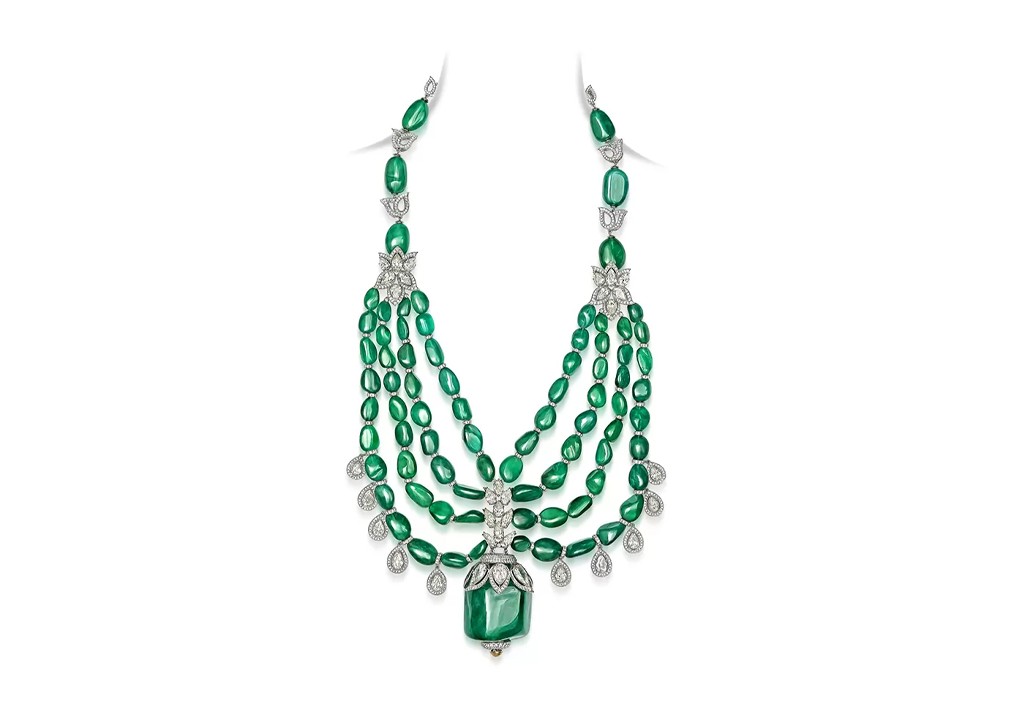 RUBY & DIAMOND GRECO ART DECO EARRINGS
A tribute to the roaring Art Deco Movement of the '20s, the Ruby and Diamond Greco Art Deco Earrings feature a streamlined look, using stylized geometric forms. Rose brings the Art Deco movement to lovers of modern luxury jewellery with this pair of statement earrings. Made from dazzling Tanzanite Cabochons and Mozambique Rubies, paired with only the most brilliant Diamonds, the intricately designed earrings come to life under light. The vibrant shades of pink and blue shine to create a look that you cannot miss. A true classic, the pair from Rose's Opera Collection is reminiscent of early 20th century Paris. It is a must-have collectable for today's woman of style.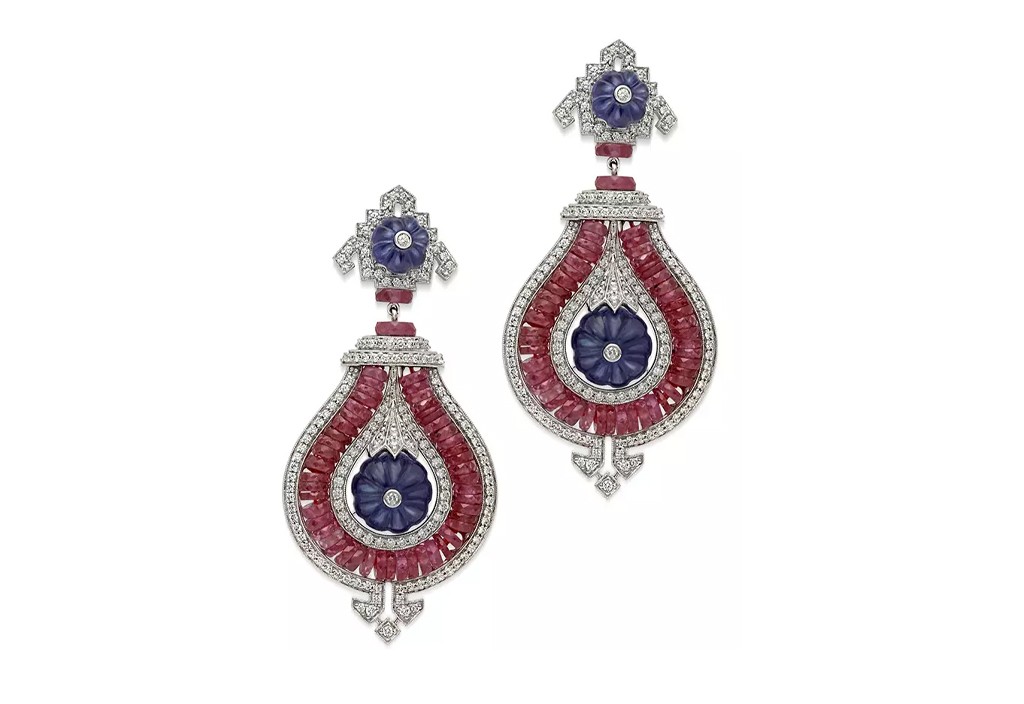 OCEAN ANGEL CUFF BRACELET
Designed to bring the ocean's deep natural blues and greens to life, the Ocean Angel Cuff Bracelet is a masterful piece dedicated to life underwater. With gems cut in Rose's very own lapidarium, the Ocean Angel Cuff Bracelet features oval Kinites, a single Zambian Emerald and fancy-cut and brilliant-cut diamonds. They all come together in the centre to create an angel-winged, floral, art-deco motif. The cuff is made from countless Emeralds, casting blue-green reflections reminiscent of the deep seas. An unmissable piece, shop the look now in Rose's Colours of Life Collection!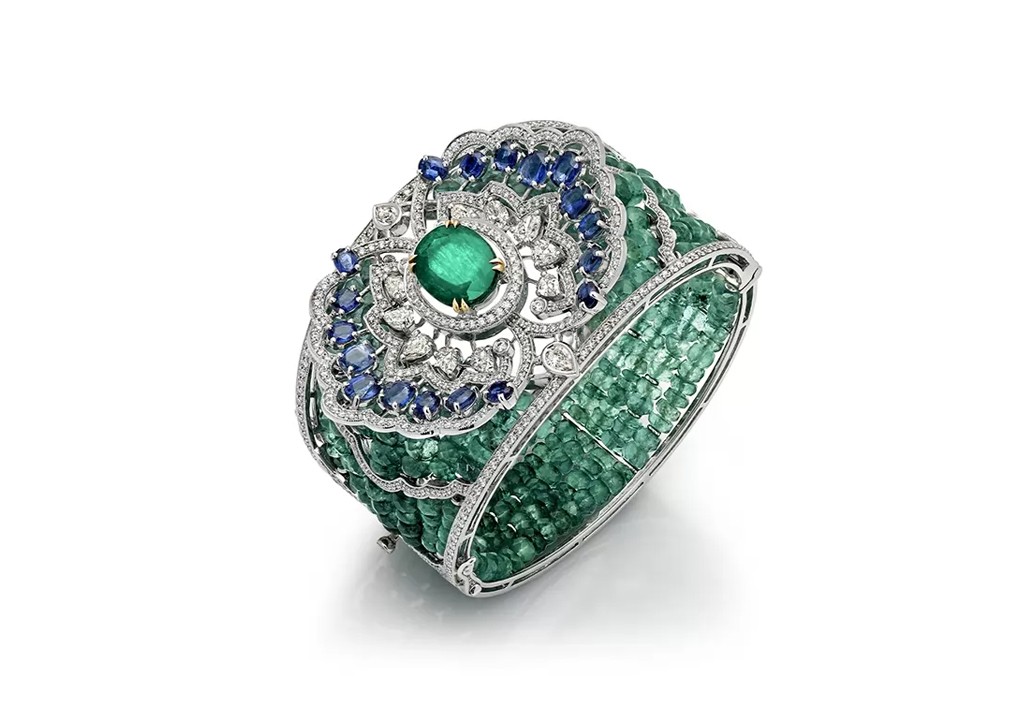 EMERALD AND BROWN DIAMOND COCKTAIL RING
From Rose's My Trousseau, My Treasure Collection, the Emerald and Brown Diamond Cocktail Ring is inspired by the idea of a modern-day princess. With a long history of always striving to create the best high-end jewellery, Rose is one of India's top luxury jewellery brands. The Emerald and Brown Diamond Cocktail ring is no exception, featuring a beautiful 13.33 Zambian Emerald. The masterfully cut ring sits on the bed of opaque and white brilliant-cut diamonds to create a one-of-a-kind statement cocktail ring. The intricate cut and brilliant colour of the Zambian Emerald makes this showstopper piece one that holds its own in any ensemble.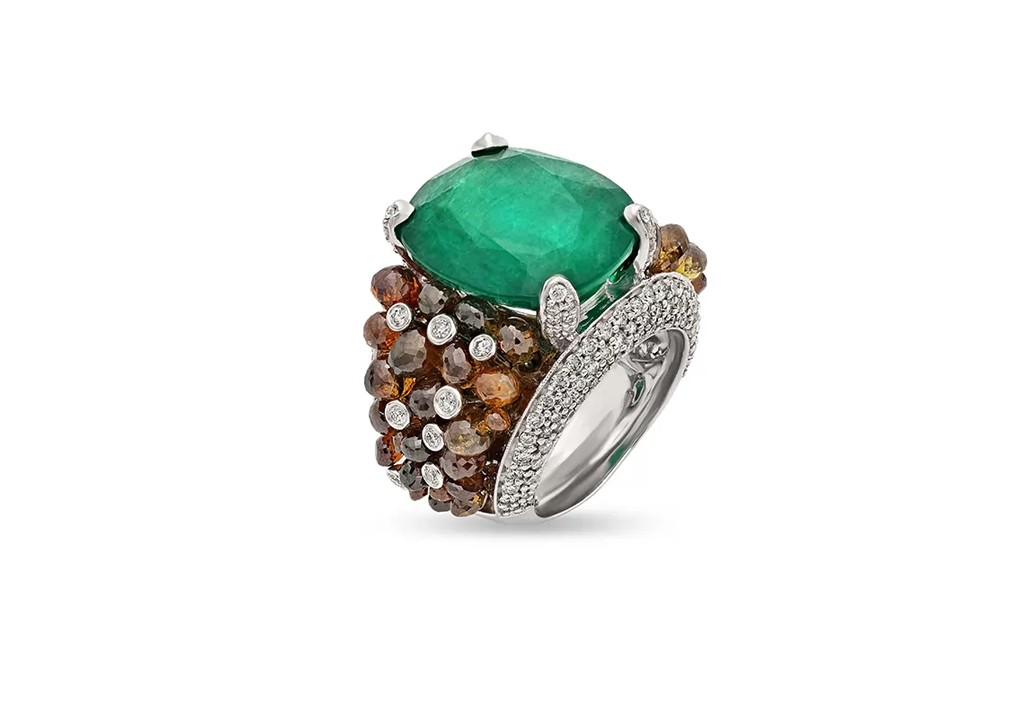 RUBY & DIAMOND MAZZO DI FIORI BRACELET
An ode to feminine beauty, flowers have forever been nature's gift to humanity. With mesmerizing vibrancy and beautiful natural symmetry, the best of nature's design is expressed through flowing gardens and petals. The Ruby & Diamond Mazzo di Fiori Bracelet is a true piece of luxury jewellery design that takes inspiration from nature's beauty. An intricate cuff features a perfect floral fantasy made up of pink ruby flowers and brilliant diamonds. Masterfully crafted, the pink Ruby flowers indeed spring to life, carefully rendered to give it a three-dimensional look and feel. The statement bracelet from Rose's My Trousseau, My Treasure Collection is perfect for luxury bridal jewellery.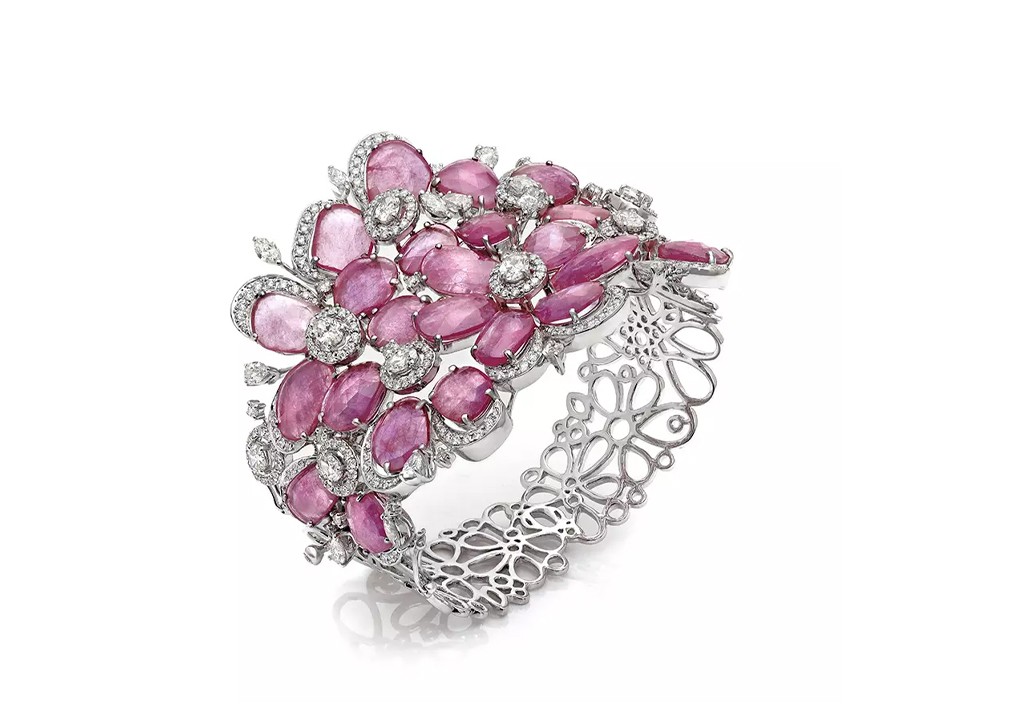 At the House of Rose, Coloured Gemstones have been an integral part of our collections. From deep green Emeralds to dazzling Pink Sapphires and from enchanting rubies to brooding Opals, we at Rose are proud to share our colourful expertise with you.