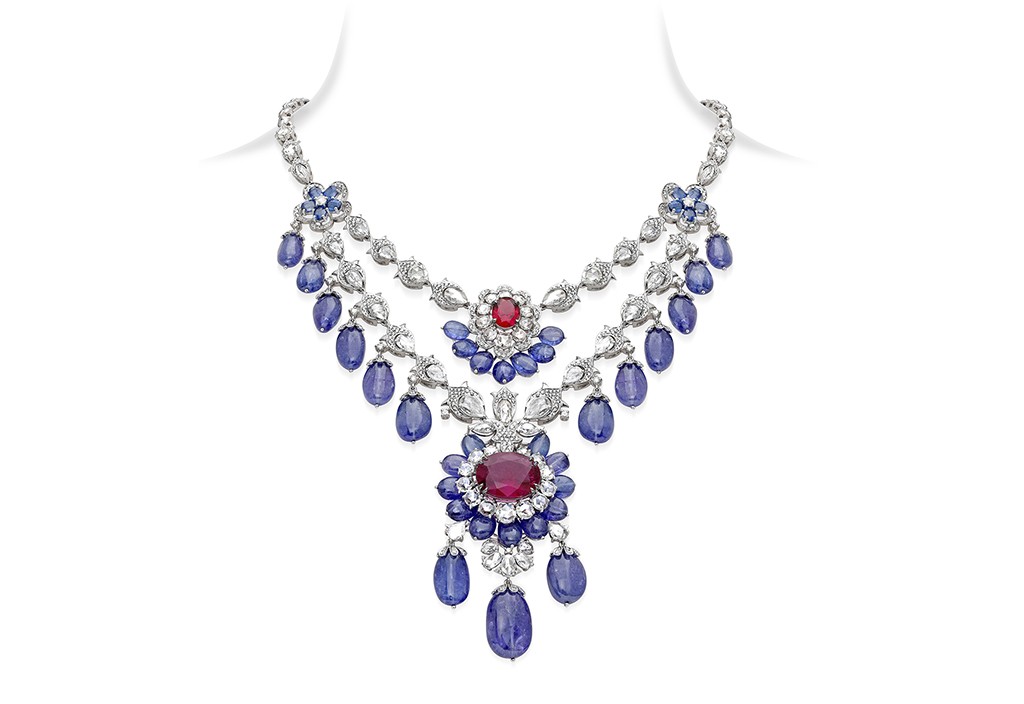 7 Bridal Sets To Wear for Your 2021 Wedding
Indian weddings are grand occasions. Known the world over for their luxury, style, and regalities, the Big Fat Wedding Season is very much around the corner despite the pandemic. With so many details to consider and a myriad of equally important decisions to make, brides have their tasks cut out for them. There is plenty to check off for the big day, including the venue decor or the menu, the guest list or the dress list, including and perhaps most importantly, the bridal jewellery. Looking through the seemingly endless series of lookbooks and inspirations can be tiresome for brides on the go. So we, at Rose, have scoped out the rising trends to see the innovative ways brides are expressing themselves today. Read on to find seven of our favourite latest bridal jewellery pieces that are sure to dazzle everyone this wedding season!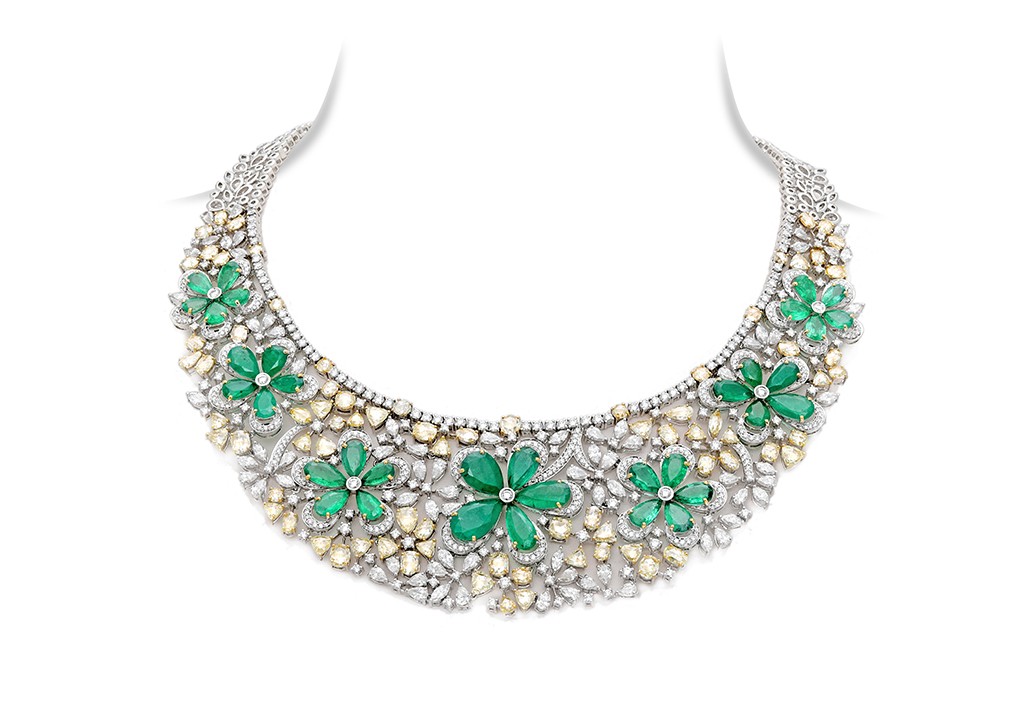 This piece from Rose's Harmony in Shapes collection is made from masterfully cut Emeralds and Fancy Cut Diamonds brought together in a floral design. Set on a bed of brilliant 18kt gold, this is for the bride who wants to flaunt her feminine side. Pair it with a regal gown for a cocktail soiree or even with ethnic wear at a day function, this versatile piece looks good with whatever outfit you choose.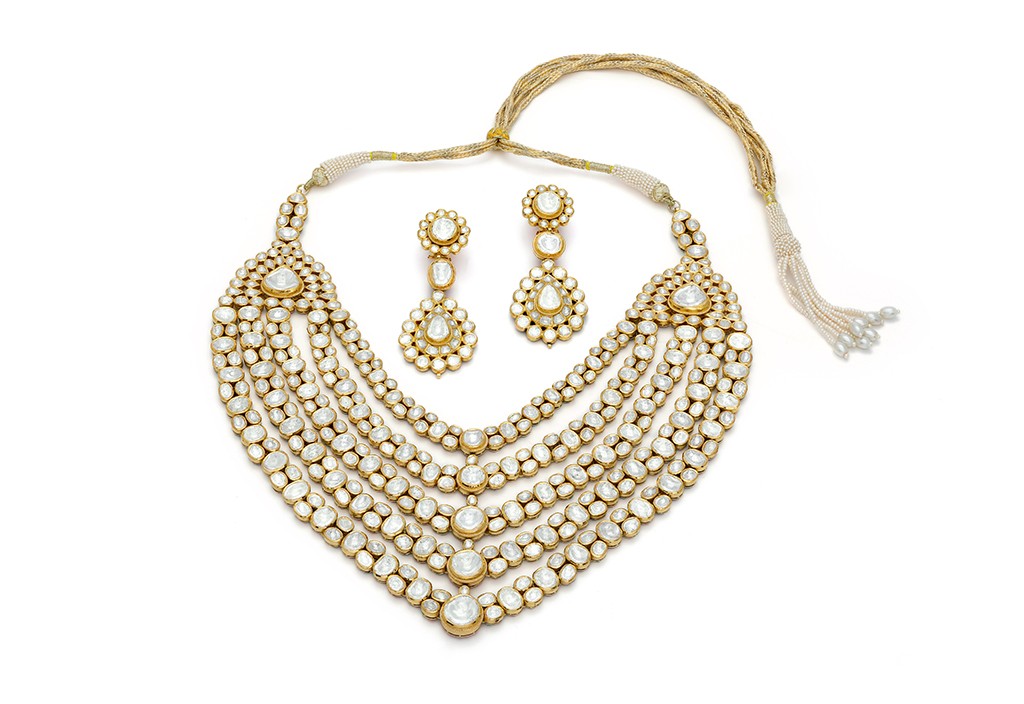 Inspired from the Mughal Era this piece of traditional jadau jewellery, from the House of Rose features dazzling rose-cut diamonds set in 18K yellow gold. The look has been popular for centuries amongst royals and will never go out of style, embodying a storied history into your ensemble. Perfect for a sangeet lehenga, the layered necklace is sure to immortalize the magic of the night.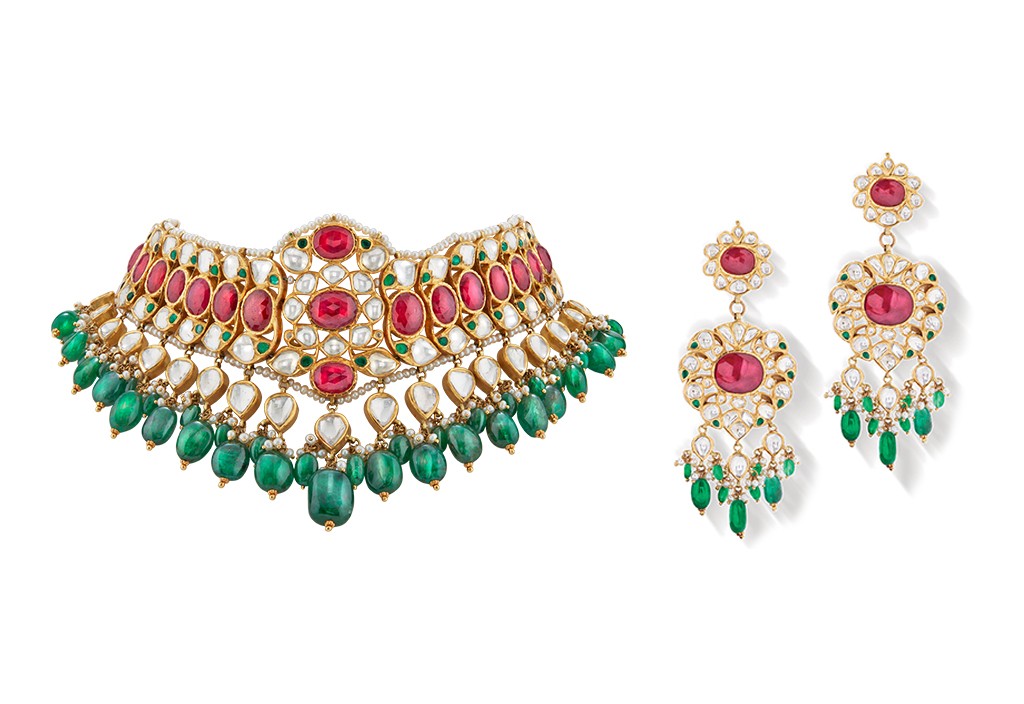 A regal choker, this bridal necklace and earring design is an ode to traditional jadau jewellery, featuring beautiful Freshwater Pearls, studded with deep green Emeralds, radiant Rubies, all in yellow Gold. A true statement piece, the set is the perfect accompanying piece for a bridal lengha that is an heirloom, steeped in history.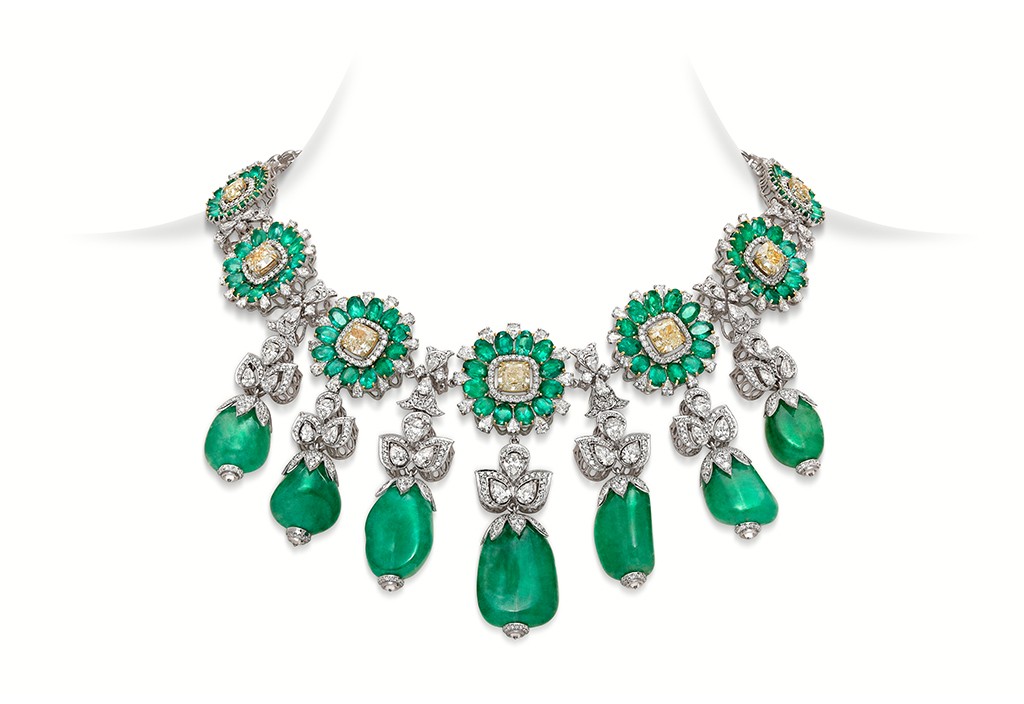 This breathtaking necklace from Rose's Treasures Collection features mesmerizing Emerald drops dangling from Emerald and Diamonds floral motifs. Set in white gold, it can be paired with matching earrings that take the same unique form and bring a masterful look to life. A royal and inimitable set, the necklace is ideal to be worn as a showstopper at a reception.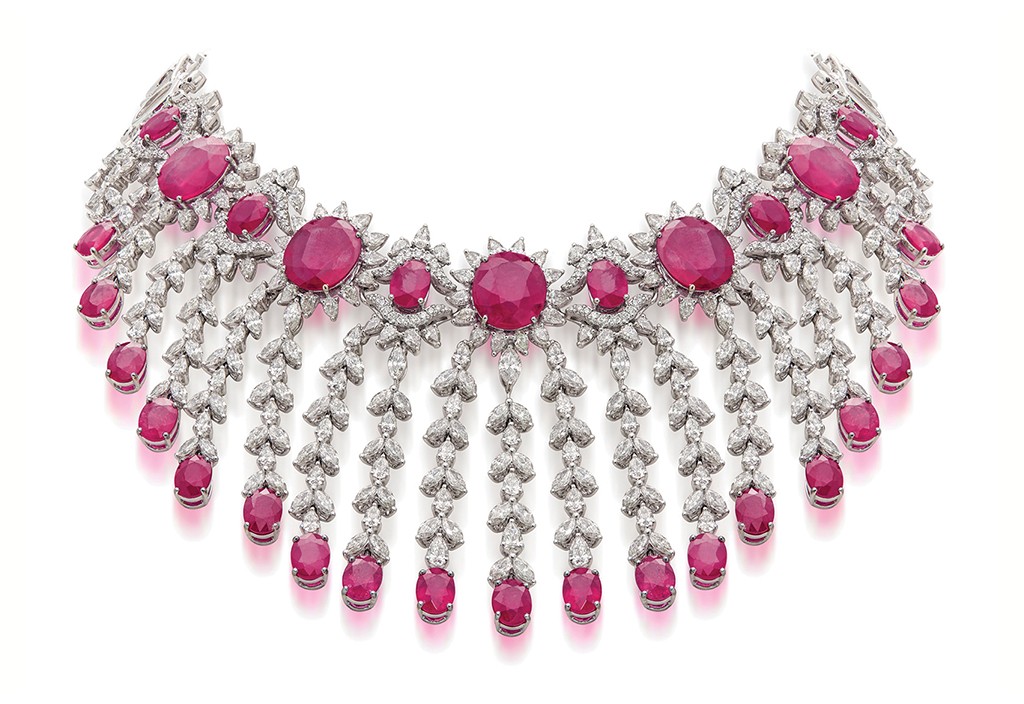 A statement piece with great fluidity, this necklace earring set features cascading rows of enchanting Rubies and Diamonds set in floral and leaf motifs and 18K white gold. Inspired by a modern classic aesthetic, the piece lends itself to western gowns, ideal for a themed sangeet and is sure to elevate your outfit on the big day.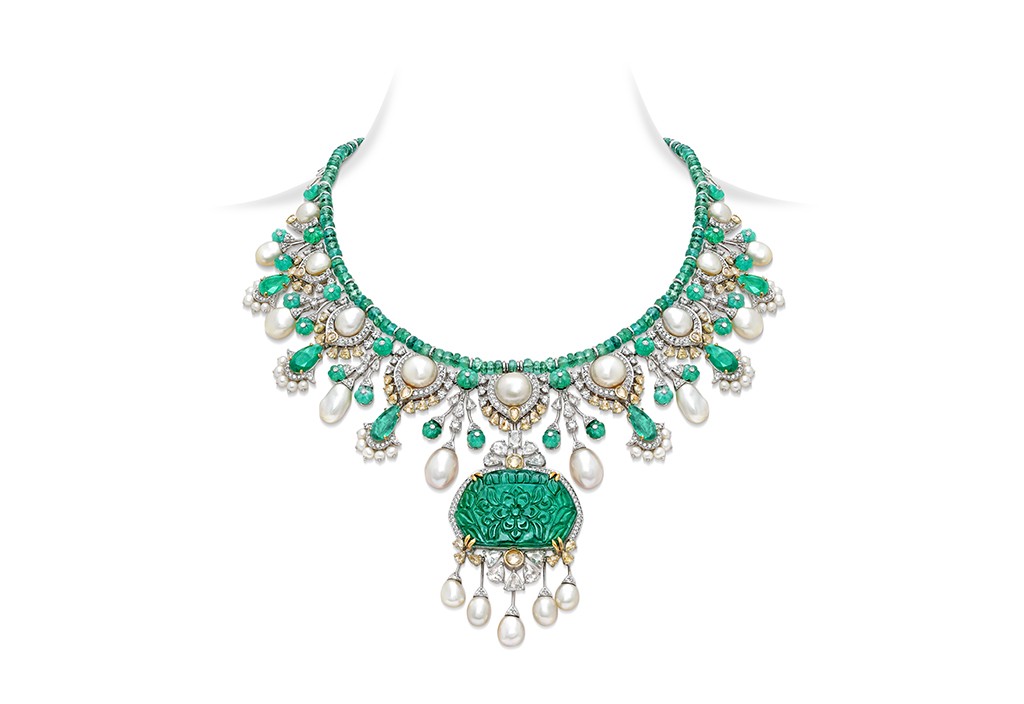 With a touch of history and a dash of grandeur, this bridal necklace design from Rose's Vintage Tresor line is truly majestic. It features an intricate, hand-carved Emerald, which is offset with dangling Freshwater Pearls, brown briolette Diamonds and brilliant-cut Diamonds brought together in this unique design in 18K Gold. The piece is perfect for the bride looking to make a memorable statement. The wider neckline and traditional motifs makes it perfect for a bridal saree.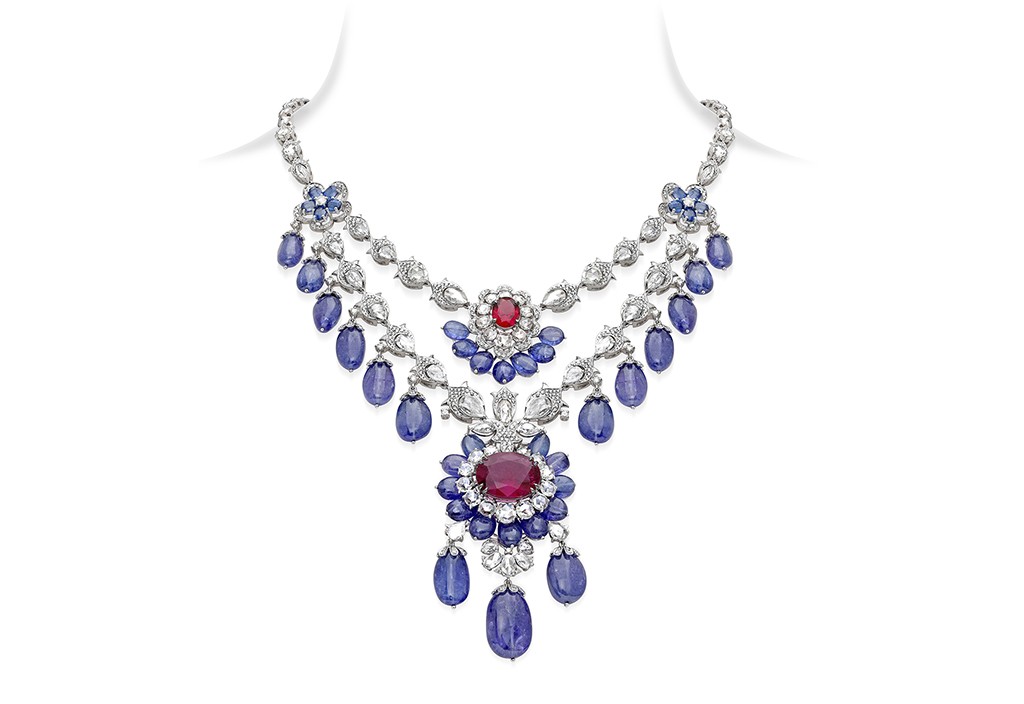 This layered statement piece from Rose's Vintage Tresors collection features bejewelling blue tanzanites, contrasting the eye catching Rubellite centerpiece. With diamond and gold accents, the classically designed piece features floral motifs, adding an  air of grace and femininity to your wardrobe. The enchanting piece is ideal for any occasion, sure to capture the light of the event and the awe of any onlookers.
When it comes to choosing a bridal jewellery design, you are only limited by your imagination. After a year of having to suppress our celebrations and with restrictions finally easing, what better way to express yourself than through your bridal jewellery. While the sheer number of options can sometimes seem overwhelming, it can be simultaneously exhilarating. Bridal jewellery is a once in a lifetime opportunity to express who you are, immortalizing your ideals through your choice of jewellery pieces. Let emotion guide you, and before you know it, you will be shining radiantly on the big day, right alongside your favourite bridal jewellery designs