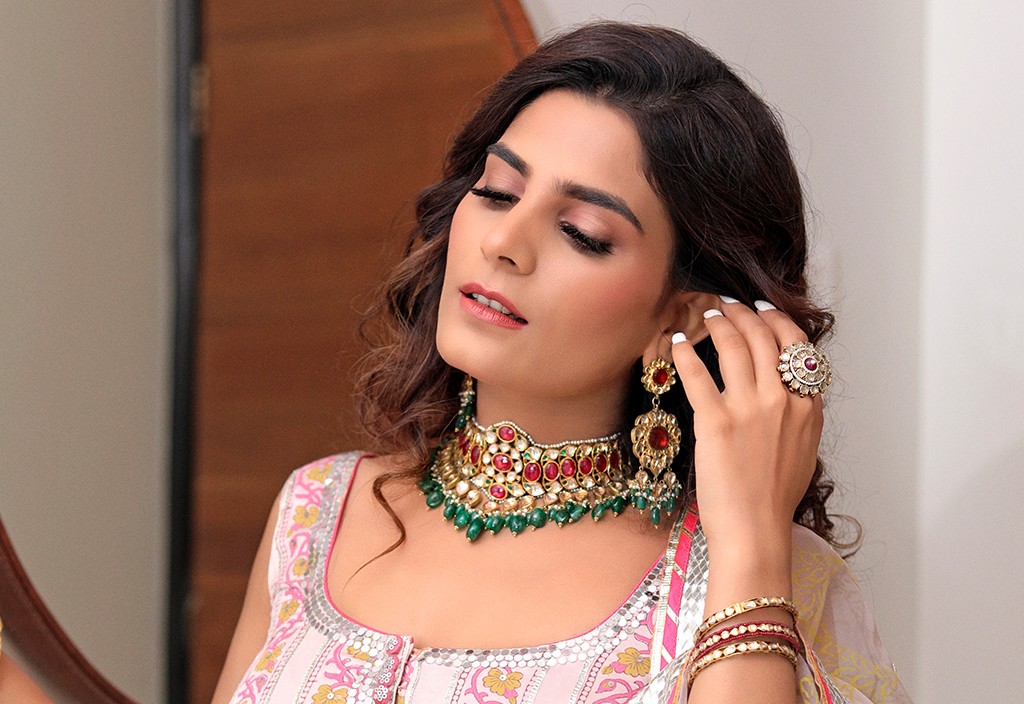 7 Bridal Jewellery Trends to look out for this Wedding Season
Indian Weddings are the stuff of fairy tales. Brides pick their wedding attire, the wedding decor, and most importantly, their bridal jewellery with great thought and utmost care. So jewellery is an integral part of Indian weddings that bridal sets have become more than just ornaments or accessories; they tell timeless tales and create a personal legacy for the modern Indian bride. With a harmonious fusion of traditional Indian styles and contemporary New World design sensibilities, we are amid a redefinition of Indian bridal jewellery. As a result, there is a great emotion, a discovery of personality, complemented with intricate craftsmanship and rich heritage in every piece.
Read on to find out which bridal jewellery trends to stay on top this wedding season. Think of it as a 2021 guide to help you build your bridal jewellery trousseau.
Less is More
The pandemic has put the Big Fat Indian Wedding on a diet. With brides embracing smaller and more intimate weddings, bridal jewellery styles also reflect this sentiment. As Indian brides incorporate more minimalistic styles into their bridal ensembles for the big day, they lean towards cleaner, more wearable jewellery. The My Trousseau, My Treasure collection from Rose is designed with the modern bride in mind. Luxury jewellery need not be flashy; understated luxury goes a long way, like the Golden Iris Earrings from Rose's My Trousseau My Treasure Collection. A perfect match to a stunning bride, the earrings feature eight Rose Cut Diamond petals surrounding a Mitchell Cut, diamond-encrusted centre in each earring.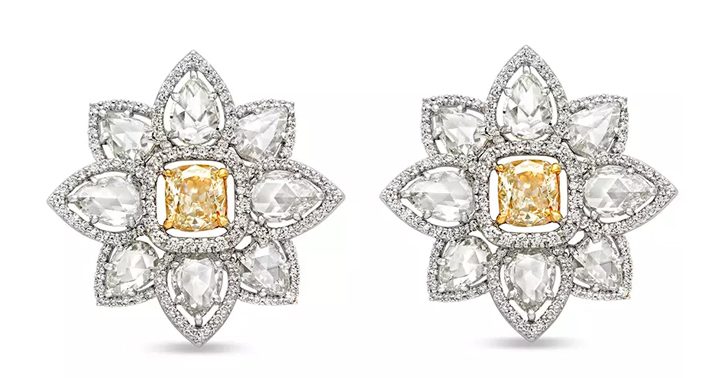 Elegant Pearls
The only precious gem created by a living organism, pearls have been forever adored and admired. Perfect for the contemporary bride, pearls are effortlessly elegant, a timeless investment for the modern woman for her wedding jewellery. The Opera Collection from Rose features some pearl masterpieces that celebrate ethereal beauty—inspired by the art deco movement of the 1920s with stylish class. This exquisite four-line Pearl Necklace is held together by Emerald and Diamond Art Deco motifs, making it an elegant and versatile addition to your bridal jewellery set.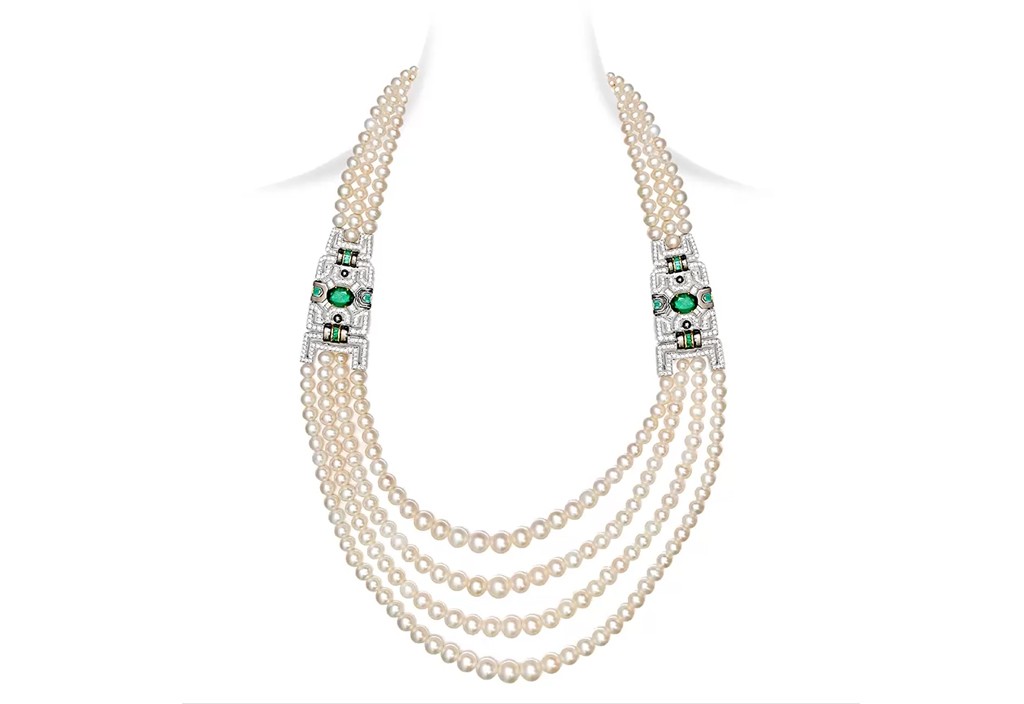 Heritage Jadau
Weddings are brilliant opportunities to embrace India's rich and storied history, one steeped in heritage, culture and grandeur. With jewellery designs passed down over generations from the Mughal Era, bridal jewellery in India has always had an exciting twist. The Jadau Collection from Rose is a stunning example of an ode to masterful Indian craftsmanship. This Emerald Jadau set from Rose's Jadau Collection features matching earrings and a necklace. Embellished with stunning Diamond Vilandis and complemented by deep green emeralds, the set is a must-have for any Indian bride.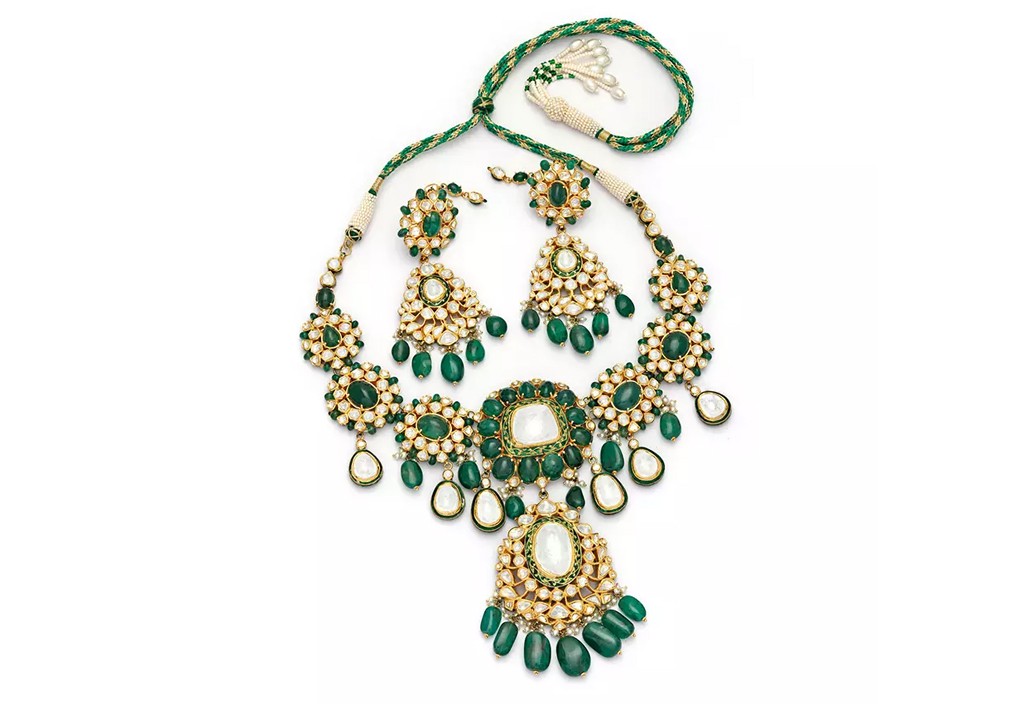 Dangling Earrings 
Dangling earrings ooze contemporary style. For the modern Indian bride, they are a flirty style statement that combines playfulness and grace harmoniously. When paired with diamonds and gemstones, dangling earrings are an easy choice for brides who want to leave a mark on their big day. The Tanzanite Emerald Tassel Earrings are a mesmerizing option from Rose's Colours of Life Collection. The gentle swaying of the earrings on an open neck or off-shoulder gown at a sangeet or reception will add charm to your bridal ensemble.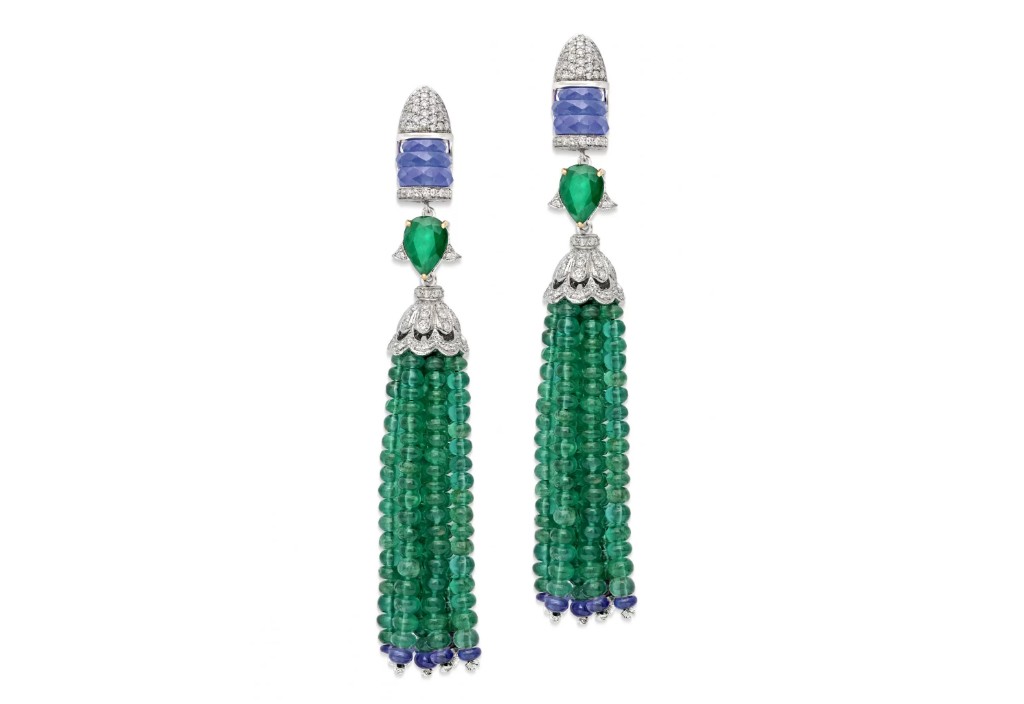 Cocktail Rings
Cocktail rings are quiet head-turners, authentic statement pieces that add a subtle yet stunning touch to your wedding attire. Beautiful on delicately manicured hands, when it comes to cocktail bridal rings, the bigger, the better. The Spiral Reef Pearl Ring from Rose's Purely Pearls Collection is enchanting. Made from Keshi pearls, sprinkled with diamonds and held in a spiral coral motif, it is a brilliant final touch to your bridal jewellery set.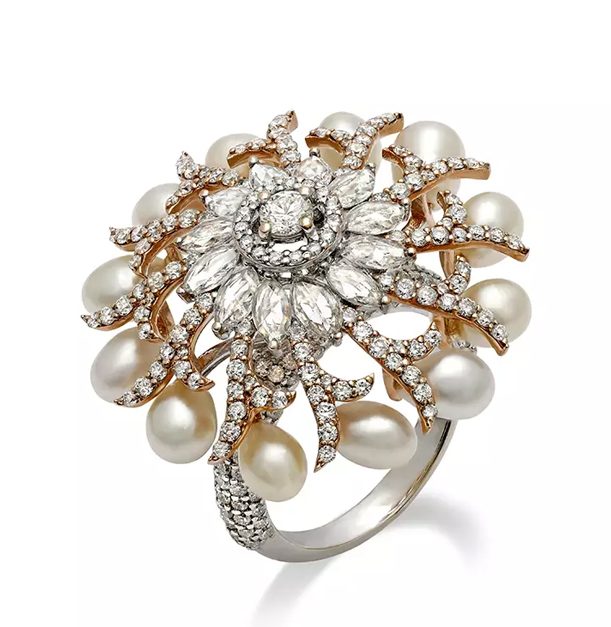 Contemporary Cuff and Bracelets
As versatility continues to make an upward trend, for 2021, contemporary cuffs and bridal bracelets are most definitely in for the season.  Intricate bracelets and cuffs have always been an auspicious staple in Indian bridal jewellery, and recently they are taking a more stylish form. A luxurious statement of personal style, bracelets with fine detailing are here to stay as bridal accessories. Rose's Studded Trilogy Cuff Bracelet made in 18K White, Rose and Yellow Gold and Diamonds from the Commitment Collection is a shining example of jewellery with meaning and a worthy addition to your bridal jewellery ensemble.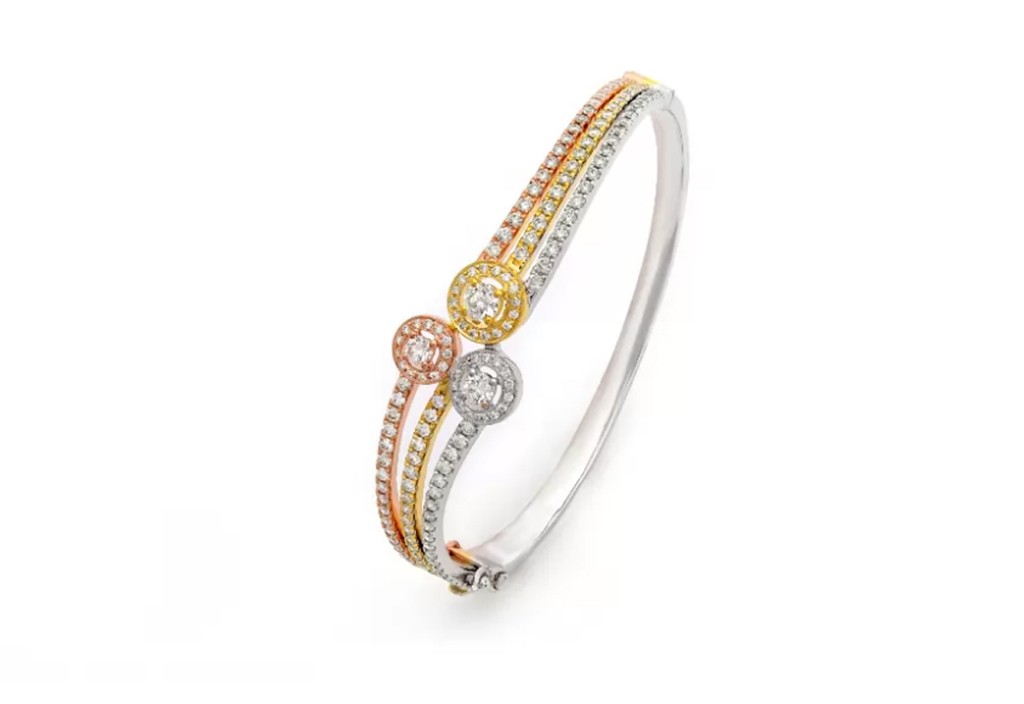 Adorning delicate choker sets
Unlike a traditional bridal necklace, Chokers closely follow one's neckline. When it comes to bridal jewellery, a statement choker can be a beautiful, classy look; it draws inspiration from royal Indian styles. Featuring intricate motifs and craftsmanship, chokers crown the neckline with fine details and unmissable designs. The Signature Emerald & Diamond Necklace from Rose's My Trousseau, My Treasure Collection is an enchanting piece fit for a modern-day princess. A subtle yet royal look studded with diamonds and emeralds in a Freshwater pearl garland that comes together to make an exhilarating piece for your big occasion.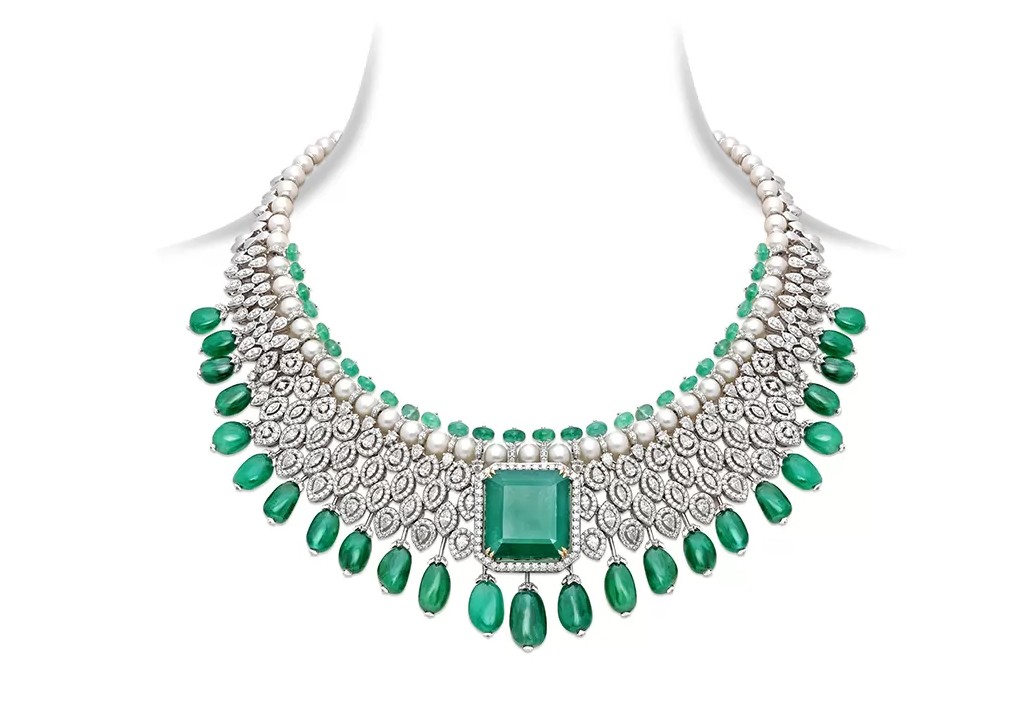 When it comes to bridal accessorising, embracing ethnicity will likely never go out of fashion. What has changed, however, is the ever-increasing importance placed upon comfort, regardless of the style. We hope this curated list of stunning trends has inspired your own bridal jewellery set, keeping your wedding jewellery elegant and timeless this wedding season.