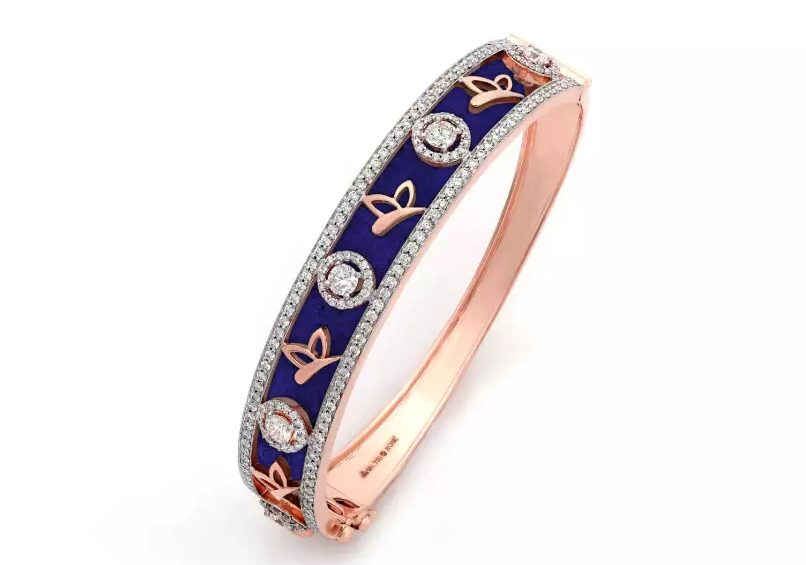 Daily Jewellery Essentials
When we think of the latest high-end jewellery design from the top luxury jewellery brands, our minds jump to images of grandeur, heavy statement pieces and unique treasures of great value. However, jewellery isn't always about bling; some of the best pieces can be subtle and understated, quietly elevating your everyday ensemble. Building a personal collection of daily essentials can be incredibly rewarding, ensuring that no matter the occasion, be it a 9-5 workday or a trip to the mall, you'll always shine. A little sparkle can go a long way, especially when designer jewellery online shopping is so easily accessible. Prêt jewellery is a fantastic everyday choice for accessorising, and there's a myriad of exciting options to choose from to add to your luxury jewellery collection.
Read on to discover our top picks to round out your daily jewellery collection!
Bella Rosa
Rose's Bella Rosa Collection symbolizes some of its core values- a symbiosis of storied culture and effortless style. The collection is a union of Indian filigree work designed into a contemporary European aesthetic. Bella Rosa translates to Beautiful Rose, its name reflecting the brilliant diamonds and coloured gemstones, all set in 18K gold. The Prêt  Jewellery line is versatile in its elegance, easily worn to occasions, the office, or while running errands.
Bella Rosa Motif Necklace
Made with Black Onyx Beads set in 18K Rose Gold, the twenty-inch necklace is an easy choice for your everyday essentials.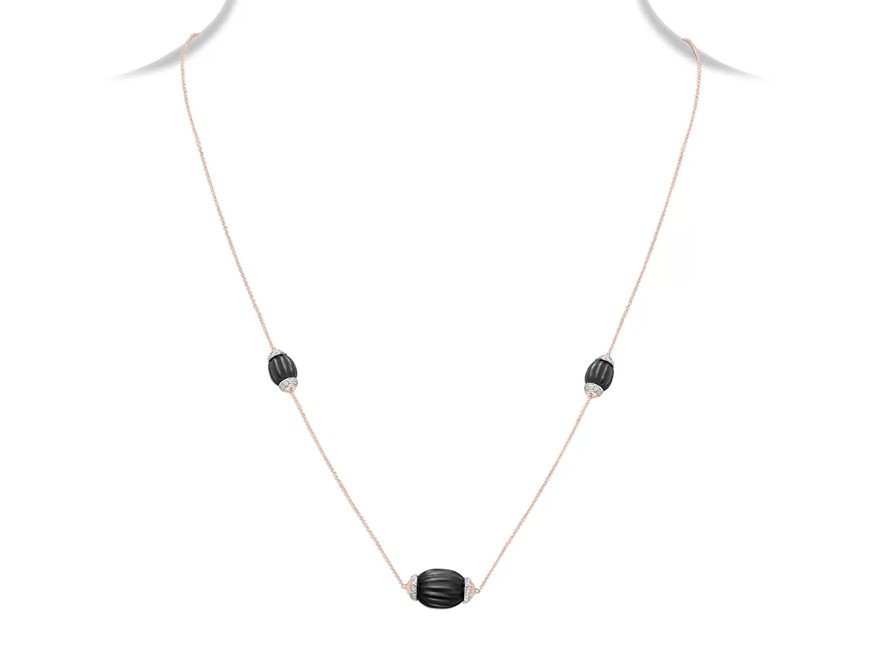 Bella Rosa Motif Ring
Crafted from the finest Green Chalcedony Melon Beads and stunning Black Onyx, all set in 18K Yellow Gold and contrasted with flawless diamonds, the Rose Jewellery piece is an unmissable daily showstopper.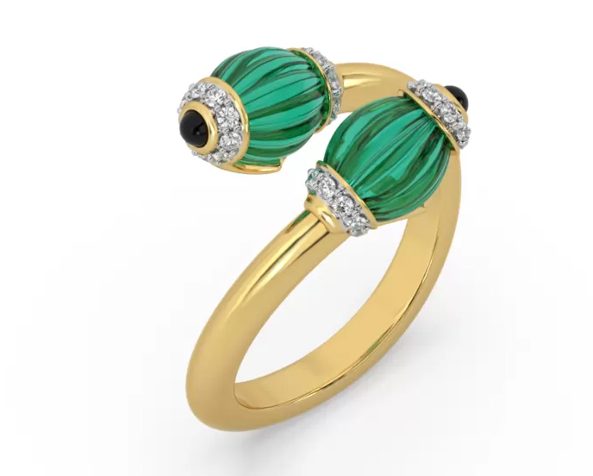 Rac n Stac
The Rac n Stac Collection are Rose's jewels presented for today's fast-paced world. All things new build excitement, and we get tired of the tried and tested jewellery, so Rose offers its take on stackables. Featuring some of the latest jewellery design 
ideas, the Rac n Stac Collection is the encapsulation of versatility; each piece is designed to suit your many moods and looks. Made from different colours of gold, vibrant enamel, and iconic motifs, these interchangeable elements in this collection are sure to liven up your daily looks.
Signature Forevermark Diamond Cuff Bracelet
The Diamond Cuff Bracelet features a unique interchangeable plate, and exquisite butterfly motifs. Made from 18K Rose Gold, the luxury jewellery piece is sure to become a signature style statement.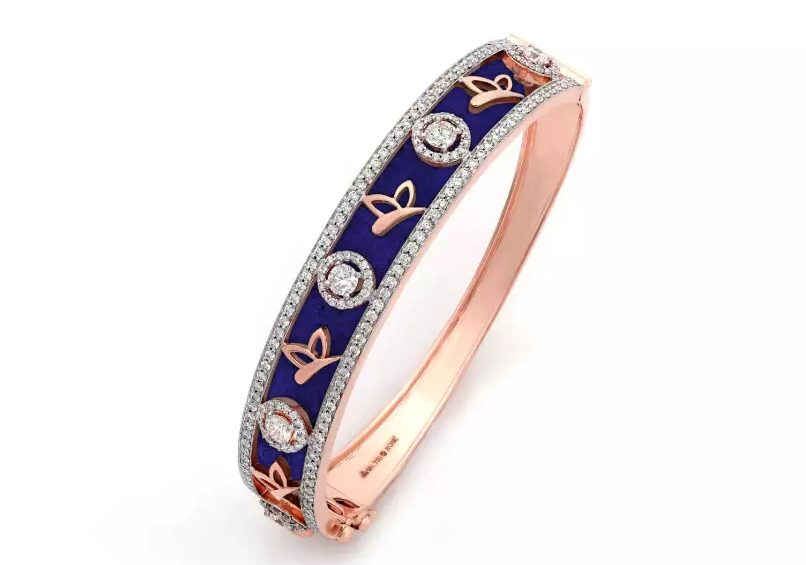 Commitment
Daily life can be exhausting and stressful; with pressures abounding from all sides, we all need a pick-me-up every now and then. There is perhaps no greater motivator than love, and what better way to help power through your day than a reminder of a near and dear one, never far from you. Rose's Commitment Collection was designed with this in mind, created in remembrance of an 'everlasting promise'. Each singular piece is made from a trilogy of colours and diamonds, symbolizing the three most important aspects of an everlasting commitment; the heart, the mind and the soul. Intricate yet subtle in its design language, the Commitment Collection is sure to become a go-to in your prêt jewellery collection.
Triangle Spring Bracelet
Classic in it's design, the piece will easily go with both formal and casual looks, highlighting any ensemble effortlessly. Made in 18K Rose Gold and Diamonds, the luxury jewellery spring bracelet is easy-to-wear.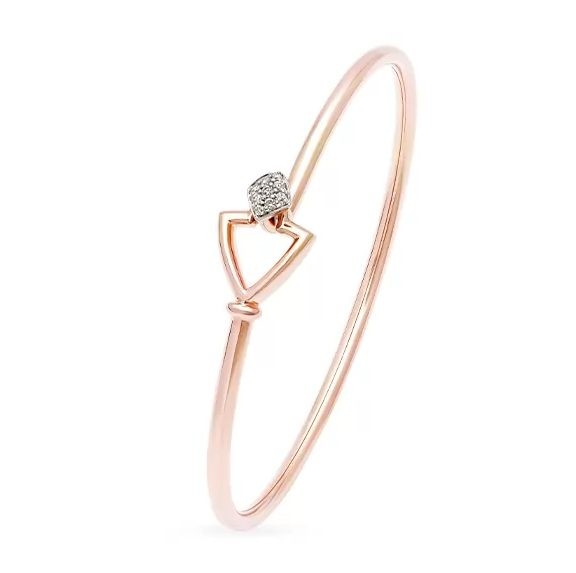 Tivoli
Inspired by the exuberant flora of Italy's Tivoli Gardens, this collection by Rose captures feminine beauty with its bright colours and playful symmetry. A testament to nature's most delicate artistry, the Tivoli Collection is a reflection of today's women. Bold, beautiful and strong, these pieces are perfect for easy occasions, ensuring you look your best every day.
Ruby & Chalcedony Bloom Spring Bracelet
With Chalcedony flowers, and an 18K White Gold Stem making up the bracelet, the piece is brought together with brilliant diamonds, as it immortalises Tivoli's greatest work.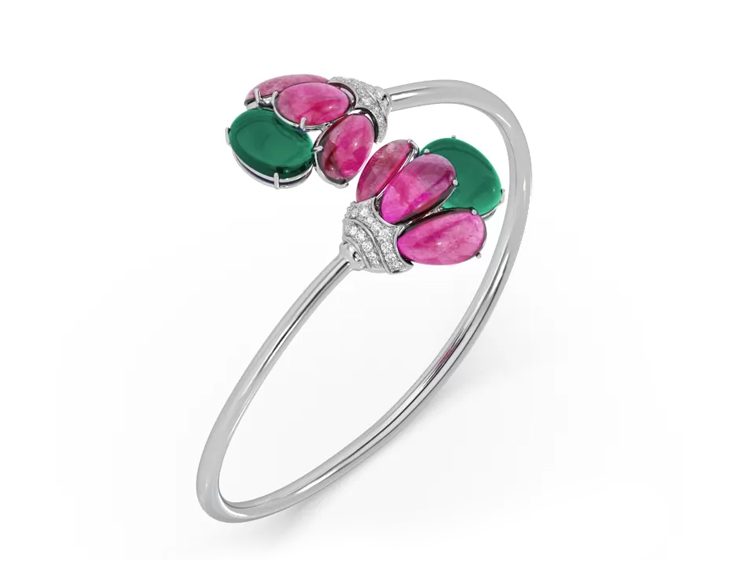 Ruby and Tanzanite Bloom Pendant
Set in 18K White Gold, the Ruby and Tanzanite Bloom Pendant is complemented with many sparkling diamonds. The pink and blue eighteen-inch necklace is a piece of luxury Rose jewellery that's an easy addition to your daily wear collection.