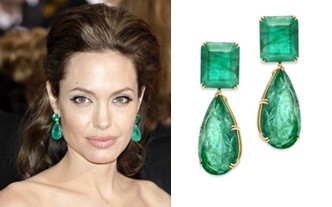 Today's superwomen don many hats- mother, daughter, businesswoman, wife, partner, friend, confidante- the list is endless. Multifaceted as they are, with the need to execute every role to perfection, their love for fine jewellery remains an expression of their personal style.
Whether it's a bride who chooses a princess-like ensemble for her big day or an entrepreneur who never leaves home without her signature work bracelet, women love a reflection of themselves that sparkles. Fierce danglers that captivate the onlooker, statement cuffs that signify power, dainty rings that hold an everlasting promise or elegant pearls that spell refinement, every look says something about the woman who wears it.
At Rose, this International Women's Day, we take a moment to celebrate those iconic pathbreakers, change-makers, leaders – WOMEN. Breaking the mould, they created a mark for themselves and set jewellery trends that transcended generations along the way. Here's an ode to some of our favourites who relentlessly strove to be an expression of their best selves- sparkling inside out!
Maharani Gayatri Devi
Reinventing Indian royalty with her classic, understated style, Maharani Gayatri Devi was considered a fashion icon for her chiffon saris and pearl jewellery. An opinionated and bold woman, she was the first-ever lady to have won the Lok Sabha seat. In 1943, she opened the Gayatri Devi School for Girls with 40 students and an English teacher.
Jacqueline Kennedy and Gayatri Devi's popular image caught the masses' attention as they posed with matching double-stranded pearl necklaces.
Shop this look now at Rose.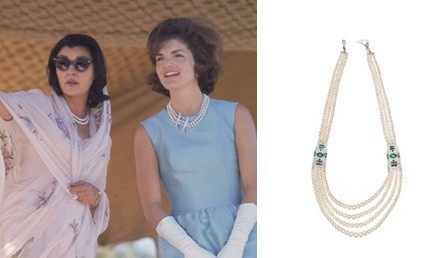 Cleopatra
Cleopatra, the bold, fabled queen of the Nile, was known for her massive, golden headdresses, serpentine armbands and statement cuffs. Beauty wasn't her only asset. She led a navy battle fleet, spoke as many as a dozen languages, and was educated in mathematics, philosophy, oratory and astronomy. Historians and biographers describe her as one of the most charismatic rulers the world has ever seen. Always dressed in her best finery, she could reinvent herself to suit any occasion.
Shop this look now at Rose.

Princess Dana
Loved by the world and known to rule millions of hearts, 'Lady Diana's essence will never fade. She was known for her assemblage of tiaras, necklaces and pendants. A patroness to several charities, she worked tirelessly with the homeless, youth, addicts, the elderly, HIV and leprosy patients. She is known as one of the foremost philanthropists of her time. Her most talked-about jewel was the blue sapphire engagement ring. It had 14 solitaire diamonds surrounding a 12-carat oval blue Ceylon sapphire.
Shop this look now at Rose.

Coco Chanel
A revolutionary fashion icon for her time, Coco Chanel denounced corsets and flounces and built an empire with her exquisite style. She learned to sew at an orphanage, was a licensed milliner and designed the famous Chanel logo by herself. 'A woman needs ropes and ropes of pearls' – she once exclaimed. Resounding elegance and flair, she continues to be an inspiration to many and her unwavering love for pearls is seen in almost every image captured.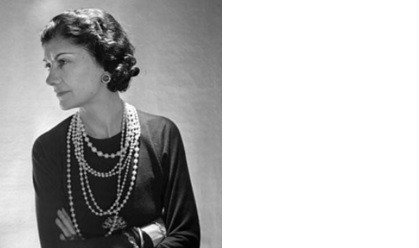 Elizabeth Taylor
An icon for owning OTT looks, Elizabeth Taylor was known for her life-long love for jewellery. She amassed legendary pieces from Cartier, Van Cleef & Arpels, Bulgari, Tiffany & Co. and more. Appalled by her friend's death to AIDS, Elizabeth vowed to speak out against hypocrisy and discrimination. In 1985, she formed the American Foundation for AIDS Research (amfAR). Taylor was the inspiration for Bvlgari to create this emerald necklace.
Shop this look now at Rose.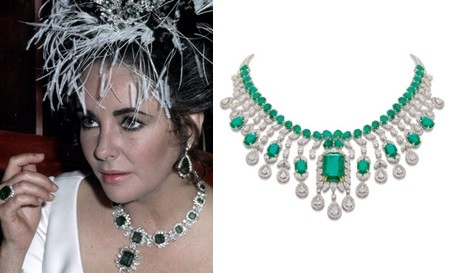 Michelle Obama
Known for her grace, power and stylish avatar, Michelle Obama has a sophisticated fashion sense. As First Lady, she was a role model and relatable to most women of today. A lawyer and writer, she advocates girls' education and openly talks about life as a black woman. Amongst her statement pieces was the shoulder-brushing earrings with natural amber, rubellite tourmaline and rose-cut diamonds.
Shop this look now at Rose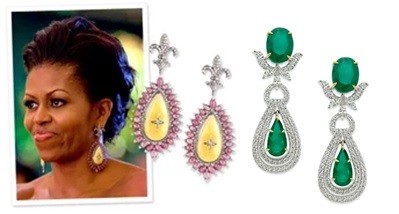 Angelina Jolie
Known for her beauty, philanthropy and foxy cinematic appeal, Angelina Jolie has always been a muse for the paparazzi for her dazzling jewels and striking assemblage. In 2005, Jolie was awarded the Global Humanitarian Award by the United Nations Association for her work with UNHCR and refugees. One of her most unforgettable looks was at the Oscars red carpet, thanks to her staggering emerald drop earrings. The emeralds weighed 115-carats and were the only jewels that adorned Angelina that night.
Shop this look now at Rose.