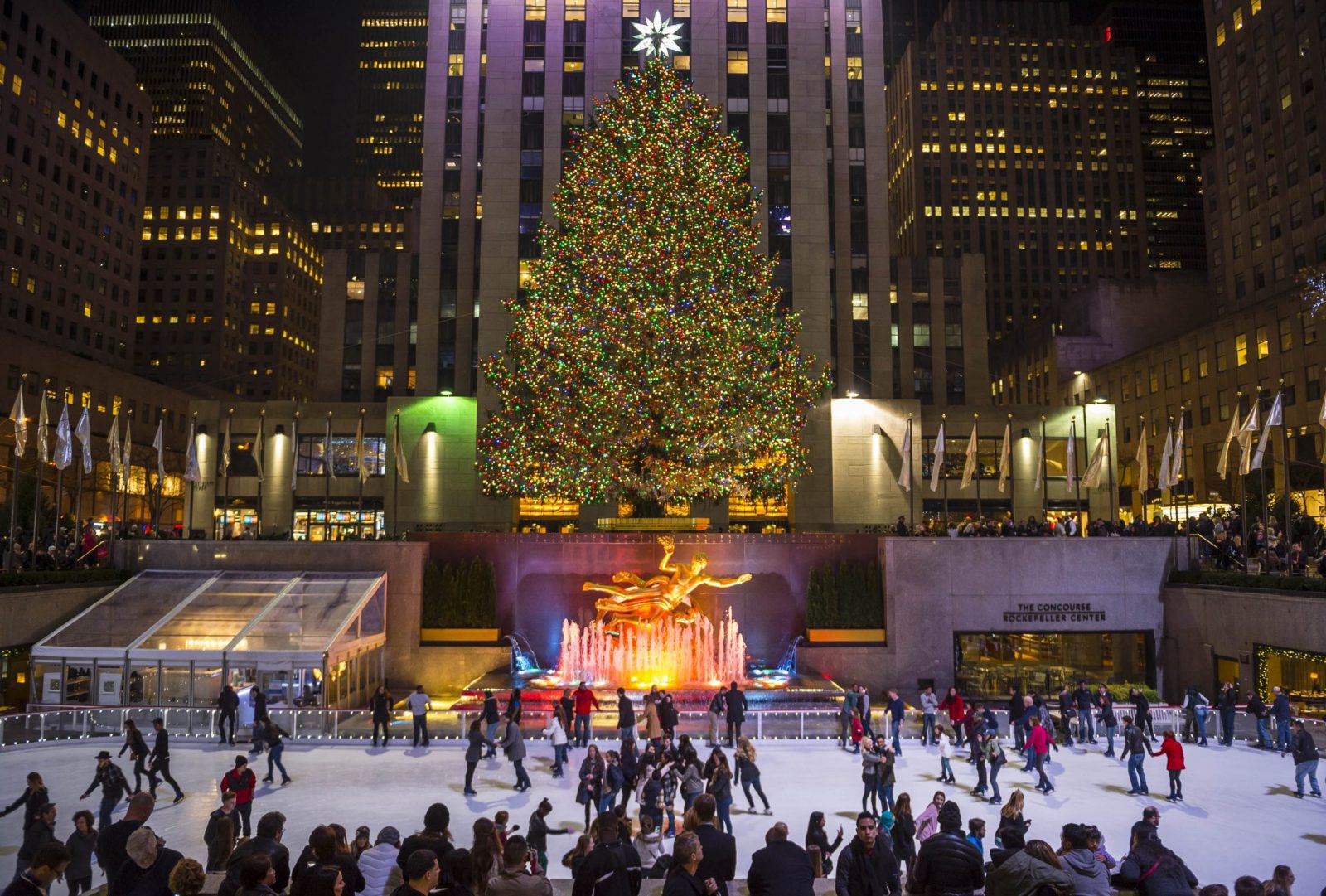 Reminiscing The Cheer: A Throwback To The Best Christmas Celebrations Across The World
'Tis the season to be jolly! Christmas is approaching but with travel being limited this year, many of us are choosing to cosy up to our loved ones. Be that as it may, let's take a moment to remember our favourite cities around the world that transform every December and could be family favourites again, soon. From a gamut of European cities to Asia's very best, these heartening displays of celebratory cheer make them worthy of putting on your future travel list.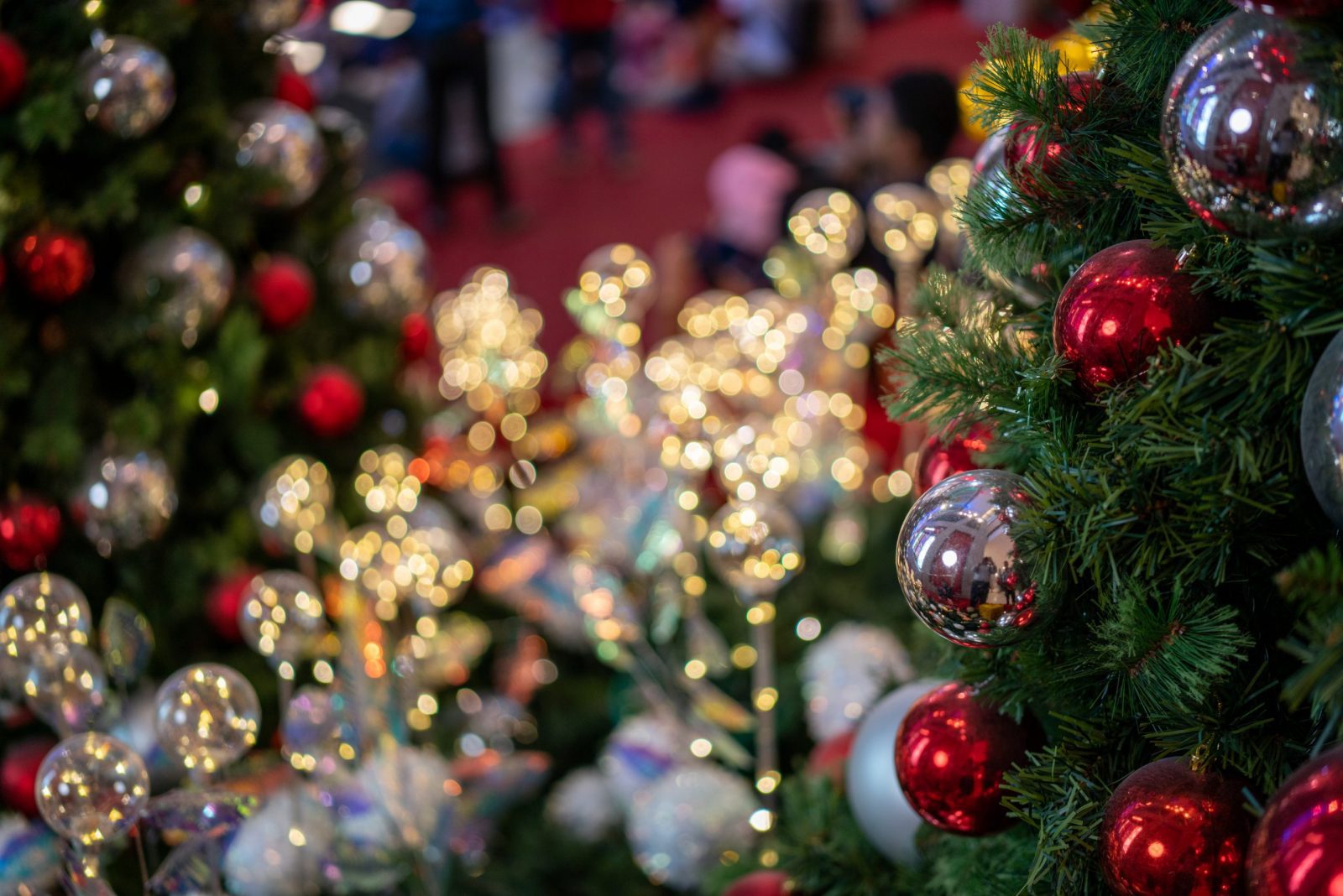 Here's a throwback to the Best yuletide celebrations across the world:
I. Bruges, Belgium: Oozing romantic charm all-year-round, this preserved medieval city during the holidays becomes more magical, as you wander the cobblestoned streets and admire the shimmering lights. Grab mugs of delectable Belgian hot chocolate and bask in the Winter Glow light trail, through the historic city centre. Don't forget to stop at the Church of our Lady Tower to see the lights, as well as the projection show at Gruuthese.
II. Salzburg, Austria: Known to be the backdrop for the Sound of Music, this UNESCO World Heritage Site is amongst the world's oldest cities. The famed Christkindlmarkt is amongst the best of its kind, filled with music and over 100 christmas stalls stocked with cheerful Christmas time bric n brac. With its roots dating back to the 15th century, traditional wind music, sing-alongs, kids story recitals, mulled wine and bauernkrapfen are all laid out for you to experience. It's Christmas all-year-round at the stunning Goldgasse, a shop in Salzburg, known for its frilly ornaments and specially hand-painted eggshells.
III. New York City, U.S.A: Rockefeller Centre, an imposing 75-feet-tall Christmas tree and lights that grace Fifth Avenue shopping centres, are all a part of New York City's magical Christmas charm. The window displays along Fifth Avenue and watching the Rockettes perform at Radio City Music Hall are just some of the highlights of a New York City Christmas. We recommend Macy's Thanksgiving Parade, an ostentatious and delightful display of holiday cheer that leads up to Santa's arrival. You can also catch a glimpse of the lights displayed on the famous Empire State Building. Don't miss out on New York Botanical Garden's holiday train show for the full immersion into the holiday spirit.
IV. Inari, Finland: Heated sleighs, sparkling wine and the Aurora Borealis (Northern Lights), this is home to Santa Claus – so it's no wonder it is a pure winter wonderland. Dotted with hotels and restaurants that dawn a spread of warm Christmas food and fireplace laden indoors, in-house Christmas activities, like baking, make your own gingerbread house and wine-making to fill your holiday experience. Riding dog sledges, feeding reindeer and chasing the Aurora are authentic and unique activities you'd get to enjoy.
V. Vienna, Austria: For those seeking sparkles during the holiday season, the lights of Vienna cover almost every single building. The traditional, world-famous Vienna Boys Choir performs in their hometown during the holidays. The Viennese Christmas Market in City Hall and the showstopper Christmas tree at Rathausplatz make this an extraordinary celebration. The Magic of Advent Market, turns City Hall Square into a mini fairyland tale, with stalls selling various Christmas Tree decorations, sweets, warming drinks as well as a carousel and craft stalls for children. For a touch of romance, pass by Schonbruun Palace for its imperial backdrop and beautifully decorated Christmas Tree, with thousands of shimmering lights.
VI. Dubai, U.A.E: For an over-the-top celebration, witness an Arabian style Christmas extravaganza transform this party city into a Christmas Wonderland. Don't miss the spectacular tree lightning's that occur all over the city- our favourites include at Towers Rotana, Fairmount at the Palm, the Irish Village and Dubai's very own Egyptian inspired mall, Wafi. Catch Jolly ol' St. Nicholas making his Christmas runs all over town! With several shopping sprees and Christmas goodies at every sight, this city's posh hotels and beaches lend an East meets West vibe to the celebrations!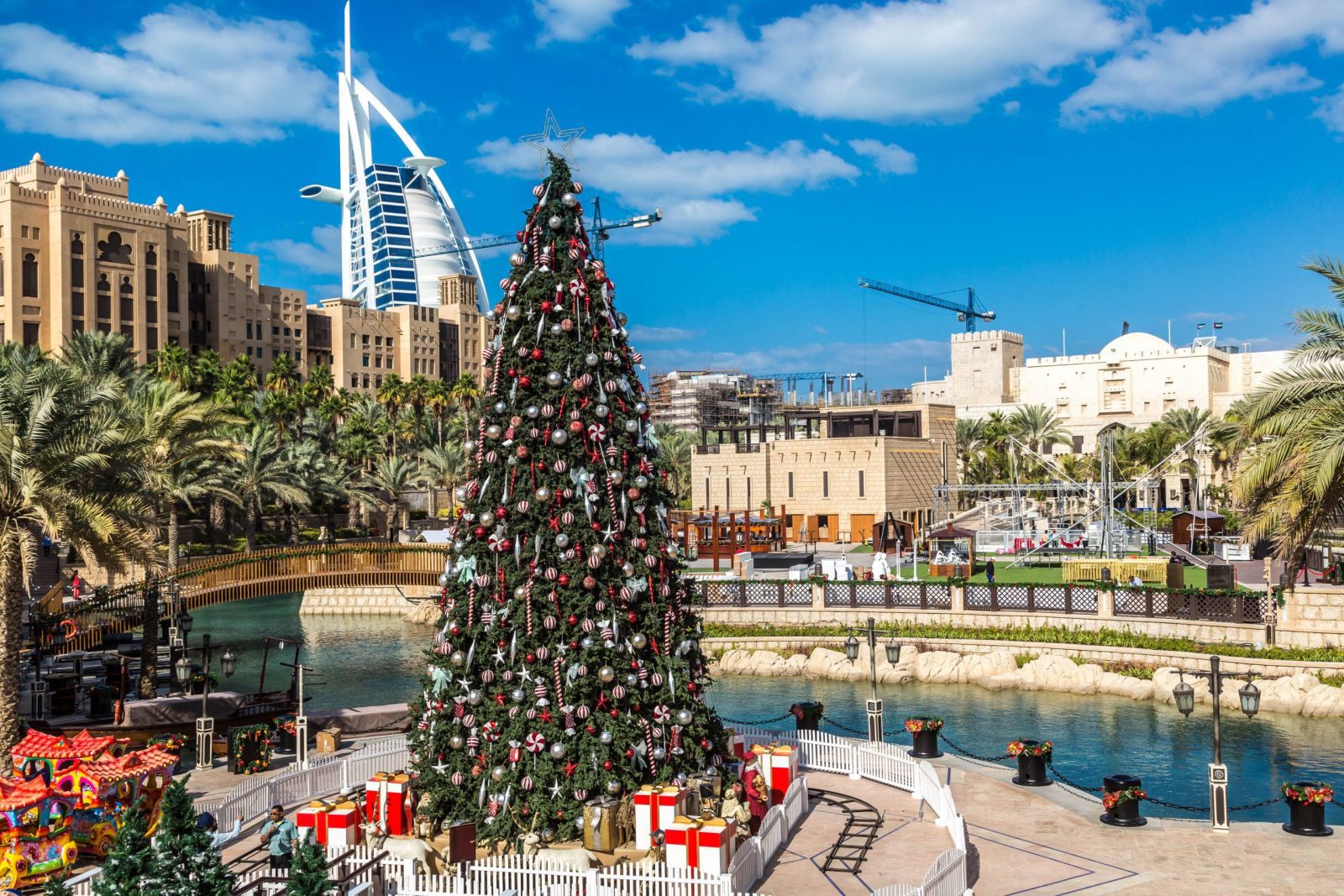 VII. London, England: With a timeless appeal and a dash of Dickensian Charm, London's row of decorated Georgian townhouses and frozen 18th Century courtyards like the one at Somerset House, exude a neoclassical vibe to your yuletide holiday. Spot Claridge's celebration for its brightly lit indoors and magnificent tree, as there's no perfect place to ring Christmas in than here. For Harry Potter fanatics, head over to Warner Bros. Studio to see them deck out Hogwarts Castle and experience a truly magical holiday. Marvel at the royal festive makeover of Windsor Castle or take an enchanting journey around the Royal Botanical Gardens. End this royal feat with a viewing of Tchaikovsky's Nutcracker Delight's, an altered version of scenes from the original, performed by the English National Ballet at the London Coliseum.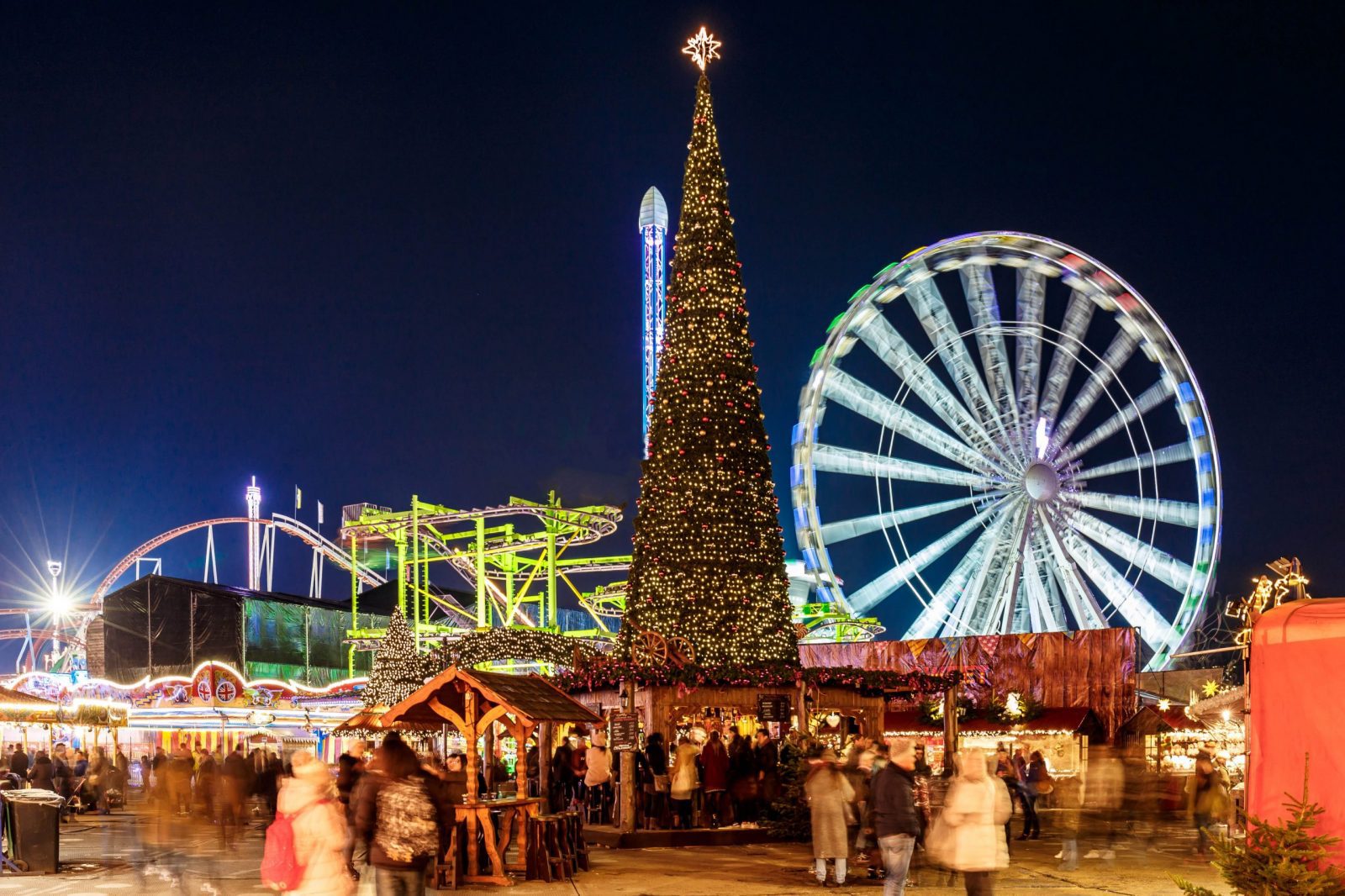 VIII. Tokyo, Japan: Turn the voltage up on Christmas Celebrations by viewing the winter illuminations present in each different district of Tokyo. It truly competes with some sensational displays like the 10-foot-tall snow globes, with falling snow in Tokyo Midtown. The massive Barracat crystal chandelier at Yebisu Garden place is an architectural marvel- at 5 meters tall and 3 meters wide it is one of the largest in the world. Be there at 5 pm, to see the chandelier turn a luminescent blue colour. These bright lights are so popular that they are present through the months of January and February as well. Inspired by the blue grottos of the Mediterranean, witness one of the most famous illuminations, titled the Blue Cavern (Ao no Dokutsu). Have a special dinner, with a unique festive dining experience of fried chicken and traditional sponge cake decorated with strawberries and whipped cream, with Beethoven's Ninth Symphony and Ode to Joy, playing in the background. These eccentric traditions can only be found in Tokyo!
So, revisit the variety of different Christmas celebrations in the past, cosy up with a mug of hot cocoa and marshmallows and take a trip down memory lane to lift your mood. It's okay to make plans for the future during this merry season.